The best lunch spots in the Loop
From a food hall to upscale eateries—and all the sandwich shops in between—we ranked the Loop's best lunch spots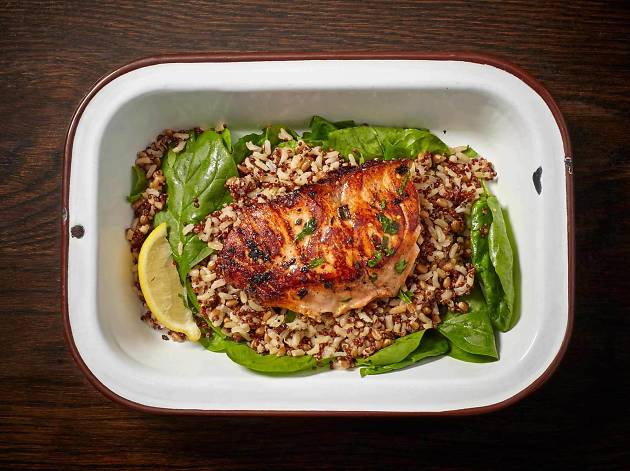 As the unofficial office epicenter of Chicago, the Loop is naturally brimming with lunch spots. From casual to-go counters fit for busy bees to upscale digs made for leisurely afternoon meetings, there's an endless supply of options. We narrowed down the list and ranked our top lunch picks in the Loop.
RECOMMENDED: The best weekday lunches in Chicago
The best lunch spots in the Loop
1
Revival Food Hall, a.k.a. the lunch headquarters of the Loop, offers 15 different top-notch vendors, including Furious Spoon, Graze Kitchenette, Antique Taco, Black Dog Gelato and the Fat Shallot. Stop by for a meal or a drink—there's something for everyone with plenty of seating to make your next lunch stop a relaxed one.
Read more
2
Former food truck chefs Amy Le and Rafael Lopez teamed up to create a menu inspired by their family's dishes. We can only imagine that these two ate very, very well, if the bao tacos, dubbed "bacos," are any indication. They're two-bites big and filled with taco ingredients like chicken and tofu.
Read more
3
This friendly wine-and-cheese shop doubles as a grab-and-go lunch destination for busy Loopers. Sandwiches are your best bet, with options like the Blue Pig & Fig, which is topped with ham, blue cheese, fig preserves and mustard. Though you can expect a line, the staff is speedy, allowing you to get in and out in a flash.
Read more
4
Brown Bag Seafood Co. is simple in the best way possible. Choose a protein—like shrimp, crab or salmon—then choose how you want it. Options range from tacos to salads and more. For those days when you want to eat something light and guilt-free, this is the place to go. Plus, you can find Brown Bag's second location inside Revival Food Hall.
Read more
5
You don't have to claim a bunk at the adjacent Hostel International to get your hands on one of this café's ridiculously good Cuban sandwiches. Sure, sides of roasted eggplant, cannellini bean salad and briny artichokes are flavorful, but there's no confusion over the star of the show: The Cubano's crusty bread is toasted just right, its roast pork juicy, its pickles thick, and its mustard and gooey cheese plentiful. And once it's devoured, only a potent café con leche will keep you from calling the café's comfy couch home for the day.
Read more
6
Situated on Michigan Avenue, this culinary gem is best for sit-down lunches with clients (or playing hooky with friends). Soups, salads, entrees, sandwiches and burgers round out the menu, but a few favorites include the Scotch egg with mustard and Katie's smoked salmon BLT with caper aioli.
Book now
Read more
7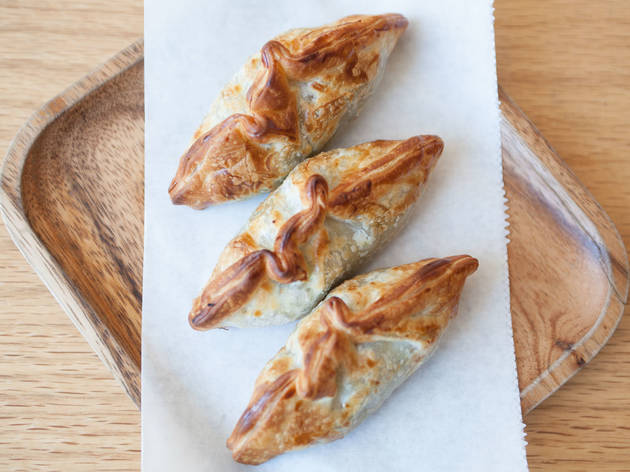 5411 Empanadas
When the lunch hour is cut short and you only have time to grab and dash, 5411 Empanadas' Loop location has you covered with a variety of baked-to-order empanadas. From BBQ chicken to sweet corn, these doughy pockets always hit the spot.
8
Fit for those days when you're not counting calories, Shake Shack's location inside the Chicago Athletic Association has a quick fix for all cravings. The ShackBurger and fried chicken sandwich make awesome lunch choices, and if you're feeling wild, go ahead and toss in cheese fries.
Read more
9
Lucky for you, FireFin has two locations in the Loop (10 S LaSalle St and 174 N Franklin St), doubling your odds of raw fish for lunch. Choose from a roster of bowls like Tuna on Fire with ahi tuna, Fire sauce, pickled jalapenos, avocado, sweet onions, cucumber and crispy shallots.
Read more
10
With a falafel joint on every corner, the Loop is competitive territory in which to open a Middle Eastern restaurant. Fortunately, Naf Naf is a veritable lion, a place whose creamy falafel, juicy chicken shawarma or crispy chicken schnitzel can easily go head-to-head with any existing quick-serve spot in the city. The secret to the success: exceptional condiments and the just-out-of-the-oven pitas (rolled and baked on site).
Read more
11
New York-based Luke's serves up a pretty solid lobster roll for $15. The meat is lightly dressed with both butter and mayonnaise, sprinkled with spices, including thyme and celery salt, then tucked into a well-buttered bun. The meat is just a bit too cold, so let it sit for a few minutes before digging in. But it's the crab roll, packed with tons of sweet crab, that steals the show.
Read more
12
When those expense account-worthy lunch meetings strike, Cochon Volant has you covered with a cozy sit-down option. The menu boasts a variety of French dips, sandwiches, seafood, salads and appetizers. Psst! You can't go wrong with the foie and chicken liver mousse.
Book now
Read more
13
Go ahead and have breakfast for lunch. Eastman Egg Company offers killer breakfast sandwiches, a customizable burger, an omelet and a variety of small bites.
Read more