Chicago Bears: A guide for the football fan
Prepare for the Chicago Bears season with our guide to the best restaurants, bars and t-shirts for football fans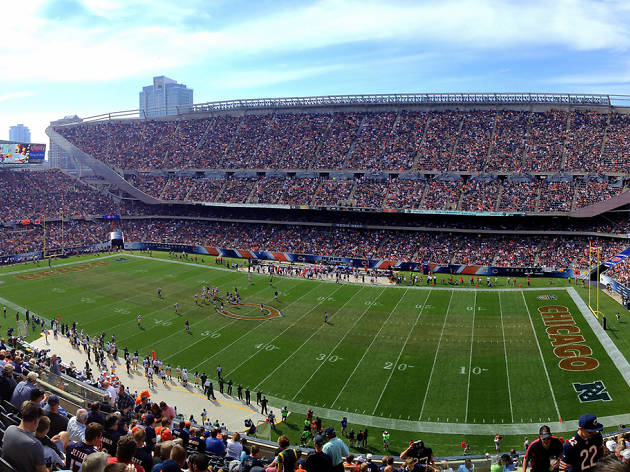 "Bear down," has been the rallying cry of the past few seasons of Chicago Bears football, thanks to changes in management as well as the lineup of players on the field. But no matter how tough the season gets, crowds still flock to Soldier Field each weekend to fill the stands and stake out tailgating spots in the parking lot. Located in the South Loop, amid some of the city's best museums, the stadium will be just as packed this fall as the Bears set off in search of their first Super Bowl championship since 2016.
Whether you want to show off your hamburger cooking skills in the parking lot or are content to watch a game from a neighborhood bar, check out our Chicago Bears guide, where you'll find the places to eat, drink and buy t-shirts while you're cheering on your team.
South Loop bars and restaurants
Archive Chicago Bears coverage
Taste test: Mike Ditka's Hot Beef Polish Sausage
Here are a few things we asked this week that we can never unask. At the Cell: "Do you have Mike Ditka's sausage?" At America's Dog: "I know you're supposed to carry Mike Ditka's beef sausage, but is it on the menu?" We learned our lesson by Jewel, and phrased things differently: "Do you carry the Vienna Beef sausage that Mike Ditka made?" After striking out at the Cell and America's Dog and getting perplexed looks from the staff there, we began to wonder if Mike Ditka's sausage, which he made with Vienna Beef and released earlier this month, actually existed. So we made a last ditch visit to Jewel, where the amused deli counter worker directed us away from the sausage section and toward the cheese section, where the sausages were hidden underneath a pile of Lunchables. Alas, the Chicken Sausage with Tomato & Mozzarella was not available, so we just picked up the "Hot Beef Polish Sausage," which uses a "Hall of Fame Recipe" and is 1/3 of a pound and 8 inches long. So how does it taste? We heated them in the office, where we're sadly lacking a grill, so we settled for microwaving them. The package provides instructions for boiling, grilling/broiling or microwaving the sausages.  Brent DiCrescenzo: I don't think microwaving was the best way to experience this sausage. Zach Long: Yeah, it doesn't look very appealing. Erin Delahanty: It's definitely greasy. BD: There's grease just sitting on the plate. Amy Cavanaugh: They're really pretty beefy, but there's nothing real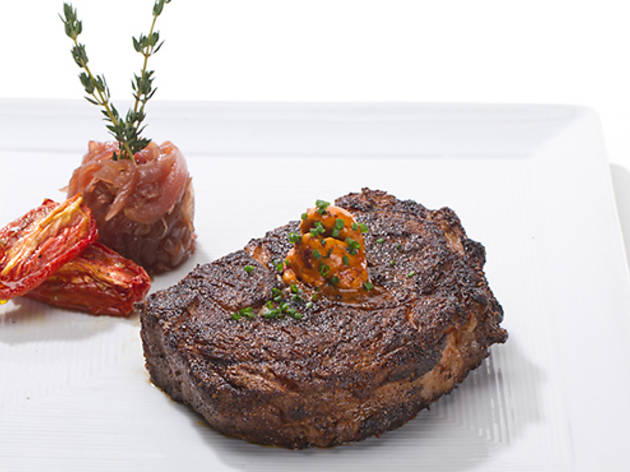 Ditka's
It started as kind of a joke. During a meeting a couple months ago to plan our Chicago Bears–related coverage, I said I wanted to review Ditka's, Da Coach's Gold Coast steakhouse/shrine to his days as a player and coach, because that would be hilarious. But then it sort of made sense—we've never reviewed it, even though we've reviewed Michael Jordan's Steakhouse, and if people are flocking to eat somewhere, well why not review it? And, oh, they are flocking. On our visit, the memorabilia-encrusted restaurant was packed, and this is not a tiny restaurant. No, there's a patio, a bar, an upstairs, a downstairs and several dining rooms. Not to mention, a few private rooms where people were holding events. There are Ditka things everywhere, from books and jerseys to photographs of young Ditka hung in every bathroom stall (that last one is rather creepy). From our vantage point in the upstairs dining room, it seemed like there was a good mix of tourists and locals, as well as Iron Mike himself, who sat at a table at the top of the stairs and presided over the restaurant. Ditka was dining with a couple other people—one of whom, later in the evening, got up, grabbed a microphone and started lip synching Louis Armstrong's "What a Wonderful World," as well as a Sinatra song—but stood up approximately every two minutes to sign a jersey or have his photo taken with fans. I'd be irritated, but this is, of course, the man who hawks Vienna Beef sausages, his own brand of wines and a Blood
Book online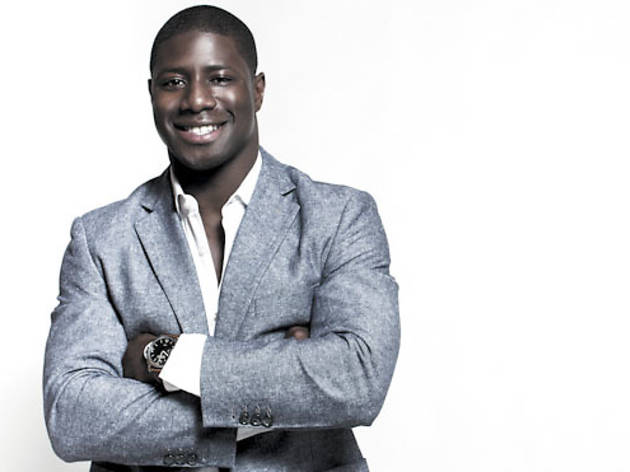 Jerry Azumah of the Chicago Bears on the Super Bowl
Jerry Azumah is a former cornerback/kick returner for the Chicago Bears. One of the most memorable moments of his career was in 2002 when he scored the last touchdown on the old Soldier Field before it was completely renovated. He retired in 2006 and is now an entrepreneur and philanthropist who also provides Bears commentary and postgame coverage on various networks and radio programs. You received some great personal honors as a Bear, including a Pro Bowl selection. Do you think there are players in the NFL who want individual awards more than a Super Bowl championship?Jerry Azumah: I kind of hate to speak for everyone, but the reason we play this game is to become a champion. Everyone watches the Super Bowl. It's what every kid dreams about. I'm sure there are guys who want individual honors, but there's nothing like a Super Bowl ring. How do you think the rest of the league, or the country, perceives the Bears as an organization?JA: That's a good question. I think that for some odd reason—and I felt this as a player—we don't get the recognition we deserve. The defense always gets recognition, but as a whole the Bears don't get that recognition. It's just one of those mysterious things. What do you think of the guy who took your number after you left? [Devin Hester, No. 23]JA: [Laughs] The greatest that's ever done it. He's the GOAT [Greatest of All Time]. He is literally running into the Hall of Fame right now. What's it like watching the NFL now?JA: I remember m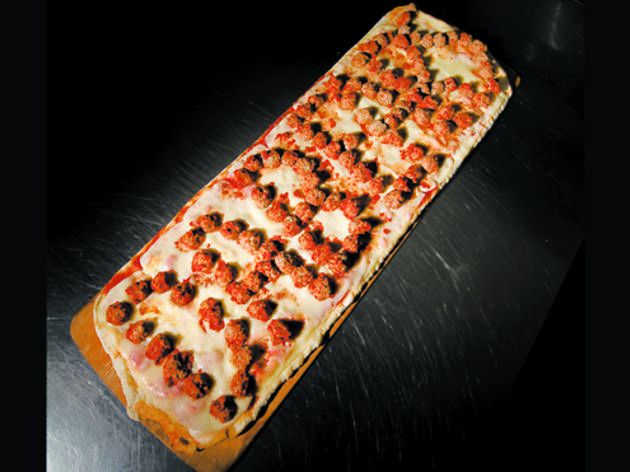 Tastes like team spirit | Chicago Bears foods
There are football fans, and there are football-foods fans, and if you're in the latter camp (key indicator: You only know the names of Bears players so you can name dishes after them), you'll be fine with the Pigskin Burger at DMK Burger Bar (2954 N Sheffield Ave, 773-360-8686). But if you're in the former, it may stir feelings you'd rather keep at bay. The burger, available during home and away games, takes a basic beef patty and tops it with root beer–braised pork, pickles, onions and—here's where things get dicey—Wisconsin cheddar. Wisconsin. On top. Again! Luckily, those football fans not emotionally stable enough to face such a thing can opt for a different Bears promotion, this one from Dough Boys (626 S Racine Ave, 312-243-9799). Order a standard-size thin-crust or deep-dish pizza during Bears season, and they'll put the Bears logo on it. Order the massive, three-foot-long "Pizza Metro," and the pizza shop will spell out da bears on it in meatballs. And if you order enough of those Pizza Metros, and you ask nicely enough, and the Bears are doing poorly enough, maybe the shop will use those meatballs to spell dammit, cutler, what are you doing? But who knows, there's a chance it won't come to that.
Show more