Cheap things to do in Chicago
Strapped for cash? You don't have to shell out to make the most of the city with these excellent cheap things to do in Chicago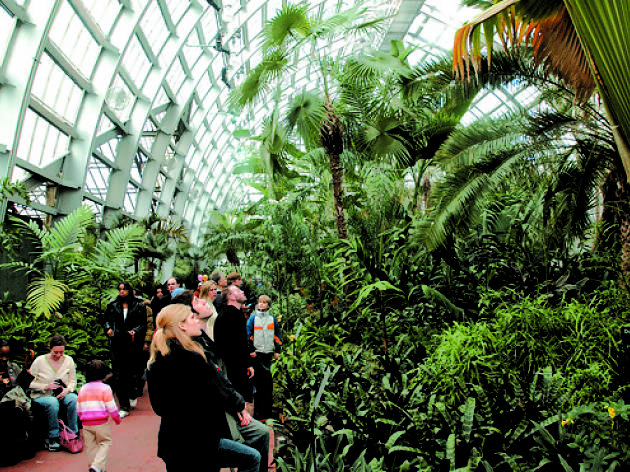 Got limited funds but unlimited energy? Join the club. To alleviate your all-too-real FOMO, we've compiled a list of the best things to do in Chicago on the cheap. After all, there's no need to miss out on the best dishes in the city or Chicago comedy nights just because you're on a budget. So save up your pennies for that vacation you've been dying to take and hit up these cheap things to do in Chicago. And while you're at it, check out the best free things to do, too.
Cheap things to do in Chicago
If eating your way through the city on a fairly tight budget sounds like a challenge you're up to, we've got a good one. We've rounded up the 50 best cheap eats we could find around the city, from fantastic tacos and burgers to pizza. See how many you've tried and how many more you need to hit to round out your list.
Read more
There's no shortage of great Chicago plays and musicals to see any day of the year—but sometimes there might be a shortage in your wallet. Traditionally, most theaters in Chicago (including Broadway in Chicago) have offered incentives for full-season subscriptions. But anecdotally at least, subscription bases are on the wane, as younger audiences want more flexibility. And subscriptions do no good for visitors to the city. So what to do if you want a deal? Here are seven avenues to seeing Chicago theater on the cheap.
Read more
Under a glass dome and in greenhouse rooms on just more than a half acre thrive more than 40,000 plants representing around 200 species. Attractions include an extensive fern collection, a room full of dozens of orchid varieties and a 100-year-old, 50-foot rubber tree. Flower shows change with the seasons.
Read more
Cheap can mean chintzy or substandard, but not when it comes to this list of bargain shops. While many of these stores offer cheap clothes, bargain accessories or marked-down menswear, the quality is anything but inferior. Not to be confused with vintage clothing or thrift stores, these shops are the place to score amazing new merchandise at a fraction of the cost—whether it's 65 percent off designer handbags, a plethora of affordable bow ties at a men's store or the perfect little black dress for just $30.
Read more
Housing of one of the largest collections of modern art in the nation, the Museum of Contemporary Art also hosts major touring exhibits, film screenings and performing artists. When they're not browsing the extensive galleries, visitors can grab a bite to eat at the on-site restaurant or take a stroll through a picturesque sculpture garden. Don't forget to exit through the gift shop—it boasts one of the city's best selections of offbeat tchotchkes.
Read more
Hop off the train at the Fullerton Red and Brown line station and you'll find yourself at the front door of this underrated art museum on the DePaul University campus in Lincoln Park. The currators of the DePaul Art Museum have made a habit of hosting exciting exhibitions culled from the school's personal collection, including photographs taken by Andy Warhol and Jeff Carter's sculptures made from IKEA furniture.
Read more
Polish American painter Ed Paschke grew up on the Northwest Side, attended the Art Institute and taught at Northwestern University. The Ed Paschke Art Center makes a collection of his work available to residents of the city he loved. His confrontational, brightly-colored paintings typically dealt with topics like fame, sex and violence, inspired by the pop art of Warhol. The gallery include a recreation of Paschke's 2004 studio and works from each period of his artistic career.
Read more
You don't have to look any further than Pilsen to find one of the largest Latino cultural organizations in the U.S. Visit the National Museum of Mexican Art and explore a 6,000-piece permanent collection, rotating exhibits, performing-arts showcases and educational programming that represents an illustrious Mexican culture.
Read more
When this institution opened in 1961, African-American history was suffering serious neglect at the hands of the city's—and for that matter the nation's—cultural institutions. The Hyde Park cultural hub is now one of the oldest African-American–focused museums in the country. On display are documents and artifacts from the lives of overlooked or unjustly marginalized movers and shakers, plus a collection of vibrant African-American art.
Book now
Read more
Since being converted to the Cultural Center in 1991 (it used to be the Chicago Public Library), this city-block-wide institution now offers free classical concerts Mondays, Wednesdays and Sundays. Most of the center's classical offerings take place in Preston Bradley Hall on the second floor near the Washington Street entrance, but the Claudia Cassidy Theater (named for the Tribune's venom-penned theater and music critic from the '40s) on the Randolph Street side is used for experimental concerts, too. Concerts are always free.
Book now
Read more
More than 200 vendors hawk their antique housewares, furniture, ephemera, clothing and more at this indoor-outdoor festival. Stop in for vintage clothes and jewelry, a vinyl swap meet, a fancy food market and global goods bazaar or bring your own items for appraisal. This event typically occurs on the last weekend of each month. During the warm-weather months of May–September, the market adds an outdoor area, offering even more vintage shopping and a beer garden.
Buy tickets
Read more
This polite Lincoln Park club has an unusual setup–two different bands in two different rooms on two different stages, with MC Frank Pellegrino keeping things moving at all times. Expect to find local bands that lean in a rock direction while playing standards such as "(I'm Your) Hoochie Coochie Man," though the club occasionally books out-of-town acts as well.
Buy tickets
Read more
Intuit is the only nonprofit organization in the U.S. devoted to the exclusive presentation of outsider and contemporary self-taught art. More than simply a gallery, Intuit is a vital resource for students, scholars and the art enthusiasts, featuring a permanent collection containing 1,100+ works of art, the Henry Darger Room collection, the Robert A. Roth Study Center, educational programs and more.
Read more
More cheap things to do