Montreal, Quebec
Quebec's major metropolis is a must for foodies, Francophiles, rockers and history buffs.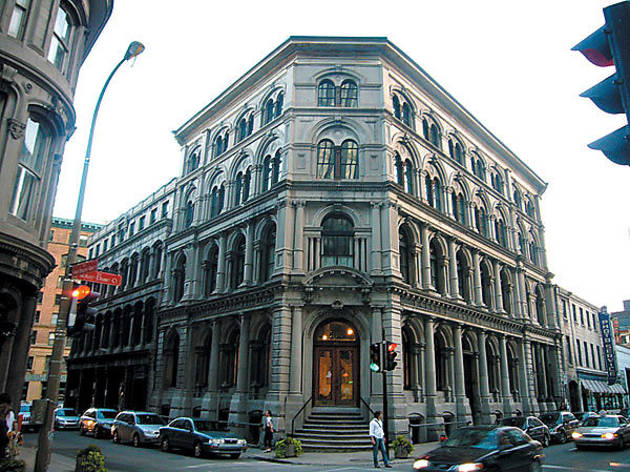 It may seem a put-down, at first, to call Montreal the budget alternative to a European getaway. But the truth is that the French-speaking, Canadian city has many of the amenities of a major European metropolis: It's largely walkable with great public transportation, its architectural charms are both modern and historic, and it's imbibed with a vibrant culture and history underlied with a pleasure-seeking mentality. It also has quite a bit in common with Chicago, as a former industrial center and immigrant destination with a rep for bone-chilling weather. Summer is a good time to visit the city—it buzzes with a jazz festival in June and July—but considering its accessibility (a 3-hour flight from O' Hare) and affordable lodging, there's no excuse not to go whenever it moves you.
For lodging, you can't go wrong with Hotel Gault Montreal (449 Rue Sainte-Hélène 514-904-1616, hotelgault.com, rates begin at $349), a chic, modern boutique hotel in a historic building that combines convenience and style. The hotel offers 35 percent off when you pay in advance, so you can get in for $169 a night for a room with a balcony. It's a quick five-minute walk to the city's Old Port attractions, and the price includes a formidable breakfast buffet (you'll feast on fruit, crepes and fair-trade coffee).
Catch a bit of colonial fever in Old Montreal, once a walled district and trading center; its handsome, greystone architecture remains well preserved. The area around City Hall (275 Notre-Dame St E), and the Old Customs House (400 Place d'Youville) are worth a stroll, only marred by a dozen too many schlocky tourist shops. If the weather allows, it's a nice spot to start a bike excursion—rent rides at Caroule (27 De la Commune Street E, 877-866-0633)—then cycle along the canals and across the St. Lawrence to the islands of Notre Dame and St. Hélène. Along the way you'll come across Habitat 67 (2600 Ave Pierre-Dupuy, 514-866-5971), the sci-fi utopia-looking housing complex unveiled at the Montreal Expo and recently featured in the, uh, cinematic masterpiece, Blades of Glory. Refuel with sandwiches at lunch spot Café Titanic (445 Rue St-Pierre, 514-849-0894) .
A visit to the Frederick Law Olmsted–designed Parc du Mont Royal affords a magnificent overlook of the city. During the summer, Sundays echo with the sound of a long-running hippy percussion jam called the Tam Tams—follow the scent of patchouli and, er, weed. You'll also find a serious, costumed LARP (Live Action Role Playing, pictured) contingent in frenzied swordplay almost every weekend—make sure to ask before taking photos unless you're ready to rumble.
Musicians, authors and other such independently spirited folks can be found in the city's newest hipster neighborhood, St-Viateur, maxing at coffeehouses or shopping for vintage clobber. It's also a good place to try the city's unique bagels, which many say are the best in the world. St-Viateur Bagel Shop (263 St Viateur West, 514-276-8044) has been making hand-rolled, brick oven–fired bagels in its original bakeshop since 1957.
Hitting the town at night, the nightclub district and red-light zone overlap—making a trip to perennial three-level rock spot Foufones Electriques (87 Ste-Catherine E, 514-844-5539) a chance to marvel at the sleazy charm of tempting neon-clad peep-show joints like Sexotheque.
Montreal boasts excellent French fare, a new- school foodie scene and even a really good Chinatown— Beijing (92 Rue De La Gauchetiere, 514-861-2003) serves tasty, cheap food in mammoth portions. But Restaurant au Pied de Cochon (536 Ave Duluth E, 514-281-1114) might be the city's most controversial restaurant, serving high-end versions of regional fur-trapper delights: Its menu is hit-or-miss unless you love foie gras. A better bet is L'Express (3927 St-Denis, 514-845-5333), a classic but reasonably priced French bistro on the city's main drag that's nearly always packed and nails classics like steak frites.
To blend in with the well-dressed locals, head to the family-owned department-store staple Maison Simon's (977 Rue Ste-Catherine Ouest, simons.ca, 514-282-1840), which offers wallet-friendly, European-leaning fashions. For the avant-garde enviro-conscious look, visit Preloved (4832 St-Laurent, preloved.ca, 514-499-9898), which features one-of-a-kind frocks, sweaters and jackets constructed with repurposed vintage fabrics. Youthful Montreal has got an edge on Chicago in the style department—but no one says you can't bring some back with you.
THE TAB

Two nights, two people
Flight $530 each
+ Hotel $433
+ Meals $150
TOTAL $1,643

Travel time 3hrs

For more information, visit tourisme-montreal.org