Novigrad restaurant guide
Novigrad restaurant culture is thriving: read our critical guide to the best tables in town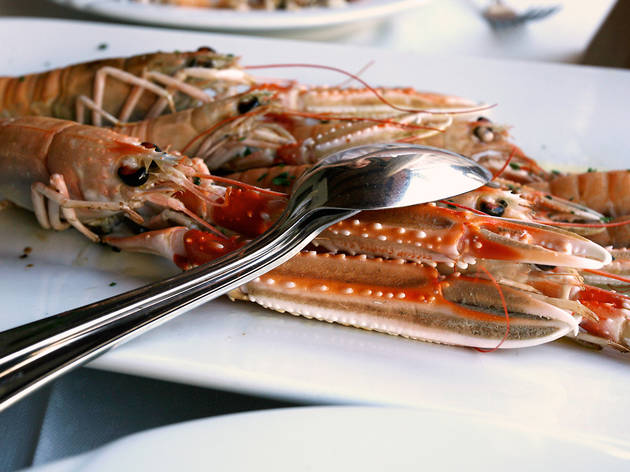 Novigrad restaurant culture is surprising top-class. Most noteworthy is Damir i Ornella, although Konoba Čok, Marina and Pepenero are of a high standard too. There are others on Rivarella with a sea-view terrace and a reliable kitchen for popular standards. Several of them are year-round.
Where to eat in Novigrad...
Acknowledged as one of the best places on the coast, this 22-seat diner is worth booking ahead for. Signposted on Velika ulica, it's set in a narrow sidestreet near the seafront. Inside, a bare-brick interior is a comfortable setting for fish and shrimp specialities and most of what they serve is raw. Damir and his daughter, the sommelier, run the floor. Ornella runs the kitchen. Desserts include kiwi flan.
While his son Viljam runs the kitchen, Sergio takes care of guests and the wide range of Istrian wines on offer. This simple, well-run and highly regarded seafood eaterie is indeed a welcome treat, with fresh sea bream, sea perch and sole, lobster, and all kinds of shellfish including oysters. Truffles decorate the steak and pasta starters, and meals are generally bookended by the arrival of a complimentary fruit brandy.
The town's heavy hitter, this spot has been given gourmet appeal by renowned TV chef Marin Rendić. Inventive mains include fish fillets in pea, beetroot and pear sauce; home-made ravioli stuffed with sea bass in a black-truffle sauce; and poached sea bass with fried seaweed. It's also worth splashing out on the multi-course tasting menu, with each course served with a glass of the appropriate tipple. The wine list is extensive enough to cover the best Istrian choices as well as a wide-ranging global selection. Wicker chairs and a nice terrace provide comfortable relaxation. Reservation essential. The same team are also behind the new Pepebianco pizzeria.
Set, as its name suggests, on the Novigrad Marina, this creative seafood restaurant is run, as its name also suggests, by bright culinary hope Marina, along with her partner Davor. As well as fresh fish, the couple put local greens to excellent use. Mention must also be made of the quality desserts on offer.
Hotels, Rental apartments
Djurdja and Lino Beletić run this sturdy three-star pension and restaurant in the centre of town with a dozen clean, comfortable rooms, some overlooking a courtyard. Their homely eaterie is a destination in its own right, offering a fine spread of local specialities at knockdown prices to guests and non-guests alike.
In its third generation, this family-run classic has been around since the start of modern Istrian tourism. Sidro ('Anchor') only uses fish from the immediate vicinity, heavy on shellfish and sole as the sea is shallower here. It's right on the fishermen's marina and locals show up to eat. For the best shells, come in November. The fish platter No∫tromo is a solid tip: white fish, squid, grilled scampi, potatoes and spinach. Same goes for the lobster with spaghetti, which runs to 200kn. There's a nautical interior and terrace – ignore the neon sign and pictures of the food.
A family business for two decades, this was opened by ex-footballer Sergio Makin. Lobster with tagliatelle, risotto with scampi and asparagus, fuzi pasta with truffles and manestra soup are house specialities. Oysters and quality white fish are also served. The garden terrace is secluded from the street by thick shrubs, palms and vines. An accordion is provided for guests as is a list of top Croatian wines. Rooms are let upstairs – note the pool and sauna.
The flagship restaurant of the waterfront Hotel Nautica offers top-notch Mediterranean cuisine, prepared in an open kitchen, to guests and non-guest alike. The à la carte menu changes with the seasons, with local hams, asparagus and truffles a key feature according to availability. Ingredients are locally sourced whenever possible.
The walls of Mandrač's backroom are covered in gastronomic awards and even though there are seats for 200-plus diners, it's best to reserve in summer. Fresh fish and grilled meats are well presented on warmed plates, garnished according to the friendly advice offered by the waiter. Despite the high standard of service and preparation, prices are reasonable.