Recommended restaurants in Korčula town
With a clutch of formidable restaurants, alongside some above-standard pizza and seafood options, Korčula town's status as a foodie-destination is growing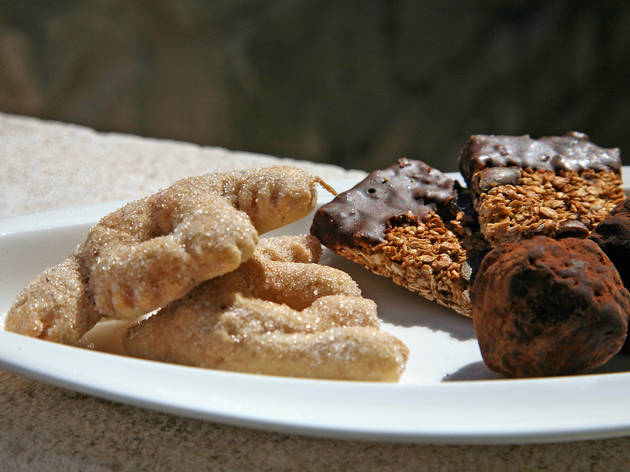 A string of venues line ulica Korčulanskog Statuta or the surrounding street of Šetalište Petra Kanavelića in Korčula town – ranging from the dependable (Pizzeria Caenazzo) to the decidedly swish (the LD restaurant at the Lešić-Dimitri Palace Korčula). Alternatively, sample one of the rustic bistros advertised on wooden signs by the road between Korčula town and Vela Luka. Korčula island is known for its sweet cakes. Under the general heading of cukarini, they come in different varieties, such as prikle (deep-fried dough with almonds and raisins) and lumblija (sweet bread with wine and spices). Marinero has theirs baked daily. Renowned cakeshop Cukarin is set in a sidestreet in the Old Town.
Where to eat in Korčula town
Restaurants, Mediterranean
Befitting its historic, five-star hotel surroundings, the panoramic terrace of the Lešić-Dimitri has significantly raised the bar when it comes to fine dining in Korčula town. The menu, delivered by talented young chef Toni Erceg, celebrates local, seasonal produce and reproduces traditional dishes in a healthy and contemporary manner. The menu changes daily but breakfast features fresh smoothies, home-made granolas or classic cooked meals. For lunch and dinner example dishes include prawns with couscous, platters of Ston oysters, or squid in black ink topped with mashed potato; fillets of tuna, poached white fish, braised beef cheeks and roast lamb. Desserts include a seductively smooth chocolate cake. Informed staff will guide you through an extensive wine list that specialises in indigenous Croatian grape varieties, including some of the island's best Grk and Pošip – which can be tried by the glass. This carefully conceived approach has ensured LD, for the fifth year running, has been awarded one of Croatia's most "Wine Friendly" restaurants. LD also offers olive oil (some of the local oils are deservedly award-winning) and wine tasting menus, Chef's Table dining and take-away wines for boat guests to stock-up. With it's sea and island views this is an idyllic spot to enjoy some of Dalmatia's finest cuisine.
Restaurants, Mediterranean
A bit of an institution, Adio Mare is Korčula town's oldest-family run restaurant and little has changed since it opened in 1974. It's a friendly, buzzy, hearty Dalmatian restaurant showcasing tradition rather than innovation. Book a table on the shaded terrace upstairs and enjoy the brodet fish stew with polenta, the grilled meats or the pasta with beans. There's a decent enough selection of local wines. Baby-seats are available if needed.
Decent pizzeria with perhaps the best location in the Old Town, its tables scattered around one corner of St Mark's Square in front of the imposing cathedral. Expect friendly service, good cold Laško beer, and fine prices.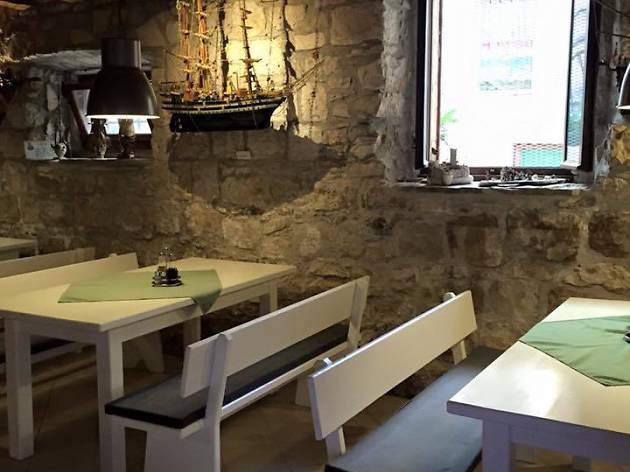 Small, maritime-themed restaurant that does a good line in Italian and Croatian. A year-round haunt for locals, it also attracts tourists in summer with fresh local ingredients and a reasonably priced bill.
Restaurants, Mediterranean
Set among the stone houses and alleys of Postrana, Gera is a traditional family konoba with wooden benches set out on a terrace overlooking a leafy garden. Their strong point is fish, meat and vegetables, simply grilled, washed down with local wine. They also serve up the ubiquitous local favourite Žrnovski makaruni.
Restaurants, Mediterranean
Having moved from its old position in an Old-Town alleyway to a new site on the battlement-hugging promenade, Komin ('The Hearth') now features a small sea-facing terrace. The grilled meat and fish at this traditional Dalmatian konoba are hearty and fresh – this is also a great haven out of season.
Restaurants, Mediterranean
A relaxed place with fair prices that's become fairly established. Leut opens early for breakfast and stays open for coffee, sandwiches and pizza, taken in or taken-away. Leut is not trying to do anything special but does the basics well.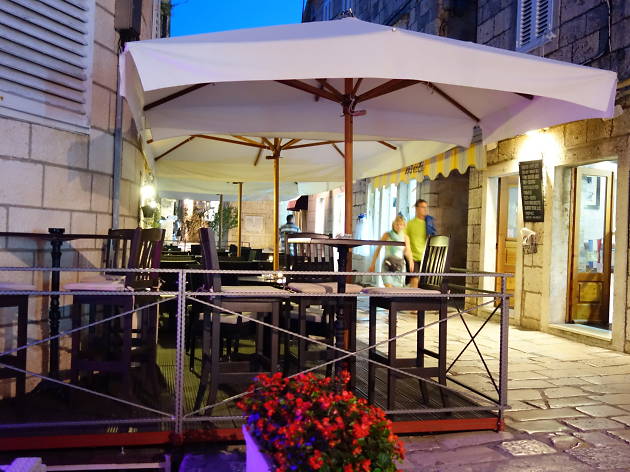 Restaurants, Mediterranean
Set just off the main square, Kolenda isn't a bad spot for a light snack and refuelling drink.
Shopping, Chocolate and sweets
Traditional local cakes are the mainstay of this landmark outlet, which is famous for its cukarin: whisper-light, crescent-shaped little biscuits traditionally dipped in prošek wine. They also make the irresistably chocolatey Marko Polo bombice, and several other own-brand cakes that are displayed provocatively in the glass cabinet below the counter. There's a growing range of other speciality products on sale too, allowing you to stock up on Korčulan wine, olive oil and specialty chocolate bars while you're here.