Gaspar Noé röportajı
Tartışmalı filmlerin yönetmeni Gaspar Noé ile !f İstanbul'da gösterilen kışkırtıcı filmi 'Love' ve günümüz seks sahnelerinin samimiyetsizliği üzerine konuştuk.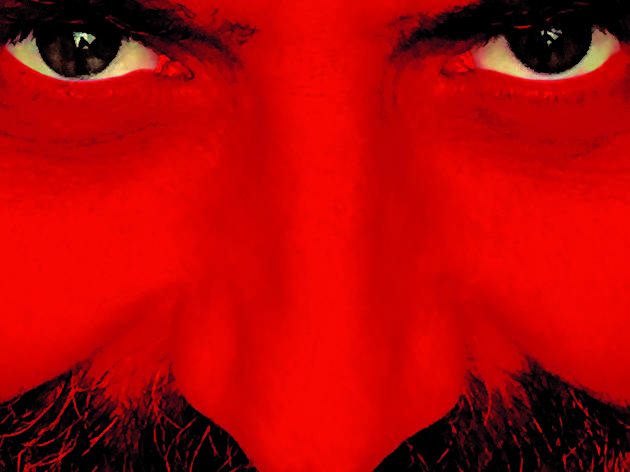 Caspar Noé'nin sıkıcı olduğunu iddia eden beri gelsin. 'Irréversible'deki (2002) tecavüz ve şiddet sahneleriyle bizi allak bullak etmiş, 'Enter the Void' (2009) ile baş döndürücü ve mide bulandırıcı bir saykedelik yolculuğa sürüklemişti. 51 yaşındaki yönetmen kimine göre kült bir kahraman, kimine göreyse izlenmesi zor saçmalıkların yaratıcısı. Noé'nin, genç bir çiftin ilişkisini tüm çıplaklığıyla anlatırken sınırları zorlayan son filmi 'Love' Paris'te üç boyutlu çekildi. Akıllarda tek bir soru var: Filmdeki sahneler gerçek mi?
'Enter the Void'den sonra bir porno çekmek istediğini söylemiştin. 'Love' bu bahsettiğin porno mu?
Porno kelimesini gelişigüzel kullanmıştım. Belki bu nesille ilgili bir durum ama bence porno kötü bir imaja sahip değil. Gençliğimde, VHS kasetlerden 1970'li yıllardan kalma Fransız ve Amerikan pornoları izlerdim. O zamanların pornoları bir başkaydı, şimdi hepsi ruhsuz. Artık pornolar, dövmeli erkekler ve estetik yaptırmış tüysüz kadınlardan ibaret.
Yani filmlerdeki seks sahneleri genelde seni hayal kırıklığına uğratıyor…
Evet, hep keşke benim ya da arkadaşlarımın hayatlarına daha çok benzeyen filmler olsa demişimdir. Neden karakterlerin cinsel ilişkiye girmediği duygusal filmler izliyoruz? Neden tamamen duygudan yoksun, fuzuli cinsel ilişkilerden oluşan aptal pornolar izliyoruz? Neden yaşadığımız hayata benzeyen daha çok film yok?
Bu tarz açık saçık filmlerde oynayacak oyuncu bulmak zor mu?
Sorun oluyor. Birinin rahatça çıplak kalabilmesi için bedeniyle barışık olması şart. Aileleri, erkek arkadaşları ya da kız arkadaşlarıyla da uğraşmaları gerek. Bu tarz filmler için oyuncularla konuştuğun zaman, yüzde doksanının hayır diyeceğini zaten biliyorsun.
'Love' hakkında herkesin merakla sorduğu soru, oyuncuların film boyunca gerçekten seks yapıp yapmadığı. Bu soruyu soranlara ne diyorsun?
Hiçbir şey. Bu bir sorun değil. 'Evet' ya da 'hayır' dersem ne değişecek ki? Hiçbir şey. Film, filmdir.
Oyuncularla ne yapıp yapmayacaklarına dair nasıl pazarlık ediyorsun?
Onlarla sınırlarını masaya yatırıyoruz. Çekilen birçok sahne gerçek değil, çünkü gerçekten yapmak istemedikleri sahneler var. Ama neyin gerçek olup olmadığı konusuna girmeyeceğim. Önemli olan ekranda izlediğimizin gerçek gözükmesi.
'Love'ı neden üç boyutlu çekme kararı aldın?
Dört yıl kadar önce, ucuz bir üç boyutlu video kamera satın almıştım. Annem çok hastaydı ve birkaç ay sonra da öldü. Kamerayı onu filme çekmek için kullanmıştım. Çektiğim görüntüleri üç boyutlu bir ekranda izlediğimde çok gerçekçi göründüklerini fark ettim, sıradan iki boyutlu bir filme kıyasla çok daha dokunaklıydı.
Üç boyutlu bir film yaptığın için boşalma sahnesi çekmen kaçınılmaz bir durum muydu?
Ekrandan dışarıya taşan görüntülere pek yer vermedim. Ama karakterin sigara içerken dumanın ekrandan dışarı süzüldüğü sahneyi seviyorum. Bahsettiğin o boşalma sahnesi ise gerçek, sadece biraz daha güzelleştirmemiz gerekti. Ama bir sihirbaz asla sırlarını açıklamaz!