Contest: Win a full travel and festival package to Ultra Singapore 2017
Score a trip to Singapore and attend the popular Ultra Music Festival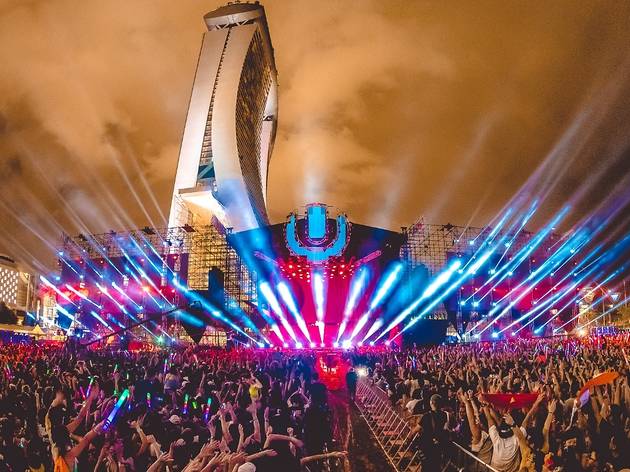 Prize: Full travel and festival package to Ultra Singapore 2017 worth a total of RM9,265
Here's your chance to win a trip to Ultra Singapore 2017. What began as a one-day festival in Miami in 1999 is now the globally recognised Ultra Music Festival, an annual outdoor electronic music extravaganza that regularly draws over 150,000 people to party with internationally renowned DJs and artists. Thanks to its consistently stellar line-ups and growing fan base, the brand is now present in over 20 countries worldwide, including Singapore.
After a sold-out one-day one-stage Road to Ultra event in 2015 and a highly successful three-stage debut last year, Ultra Singapore is returning for its second edition over the weekend of June 10 and 11. There will be three stages again this year – Main, Live, Resistance – each with its own line-up of artists. Ultra Singapore has seen the likes of deadmau5, Axwell, DJ Snake, Marshmello and more gracing its stages. And this year's line-up has no shortage of powerhouse names as well – think Steve Aoki, Showtek, KSHMR, Tiësto, Hardwell and more.
This prize includes return flight tickets from KL with Malaysia Airlines, a four-day three-night stay at Marina Bay Sands (June 9-12), F&B credit worth SGD50 (about RM158) per person per day, and of course, two Premium General Admission tickets to Ultra Singapore. The tickets allow you admission to the festival grounds via the exclusive South Entrance, access to the VIP Village, and get you up close and personal with the Main and Live stages.
1. This contest is organised by Time Out Kuala Lumpur (hereinafter referred to as the 'Organiser').
2. The prizes for this contest are neither exchangeable for cash nor transferable.
3. All persons ('Contestants') taking part in this contest agree that these rules shall be binding on them, and that the entries in this contest, including their name and likeness, may be used without restriction in any future publicity material by the Organiser.
4. The Organiser reserves the right to amend these rules or terminate the contest at any time at its sole and absolute discretion. All decisions made by the Organiser under these rules shall be final and no discussion or correspondence will be entertained. The Organiser may, but is not required to, justify any decisions relating to this contest.
5. The Contestant acknowledges that the interest and good reputation of the Organiser is of paramount importance. The Organiser reserves the right to disqualify a Contestant from the contest, or to withdraw the prize if it believes the Contestant is in breach of its obligations under the rules. The Contestant shall not by act or omission, directly or indirectly bring the Organiser into disrepute.

6. All entries are sent at the risk of the Contestant and in the event that there are technical difficulties experienced arising out of the internet or from any associated equipment or internet security is compromised, the Organiser may at its sole and absolute discretion disqualify the entire entry and shall not accept any liability doing so.
7. Contest entries may only be submitted via the stated medium of communication.

8. This contest is open to anyone above 18 years old and contestants under 18 years old are prohibited from entering this contest.

9. Each entry must be completed in full. The Organiser reserves the right to disqualify any incomplete entries in its sole and absolute discretion.

10. Contestants shall only submit one entry and multiple entries of the same shall be treated as 'spam' and shall be ignored.

11. Incomplete entries will be deemed void.

12. Entries will be judged by Time Out Kuala Lumpur solely on the correctness of the answer(s) furnished and accuracy of personal details furnished with the judges' decision as final.
13. Winners will be informed by email.

14. Uses of 'aliases' shall be considered a form of deception and is prohibited.

15. The winner must produce their original IC / passport with legible IC / passport number in order to claim the prize. The winner may also be required to produce additional original proof of identity at the discretion of the Organiser.

16. All Prizes are accepted entirely at the risk of the winner, and the Organiser excludes all warranties in connection with the prize to the extent permitted by law.
17. All Contestants release from, and indemnify the Organiser, its agencies, sponsors and representatives against, all liability, cost, loss or expense arising out of acceptance of any prize or participation in the contest including (but not limited to) personal injury and damage to property and whether direct or consequential, foreseeable, due to some negligent act or omission or otherwise.
18. All personal particulars furnished are meant for identification purposes and will not be sold or given to any third parties.
19. Prizes will be forfeited if not collected within the time frame stated after the announcement of winners.