A Little Farm on the Hill
Experience farm to table gourmet meals made with fresh seasonal produce at this organic farm in Janda Baik, just 40 minutes from KL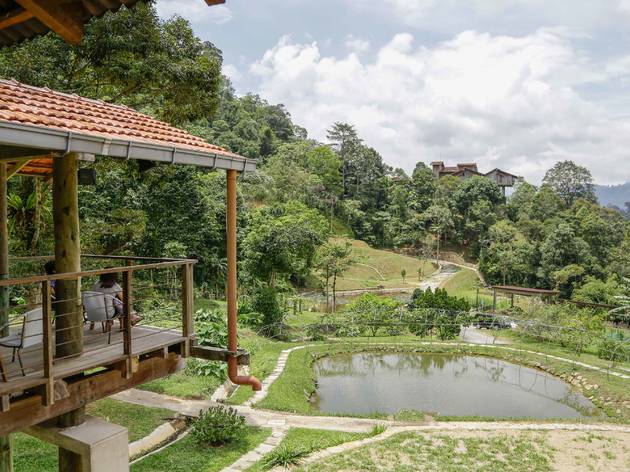 When I first heard of A Little Farm On The Hill, I was intrigued. Here was this farm, a mere 45-minute drive from KL (it takes me longer to drive into the city), where fresh organic produce is grown, harvested, and then used in its seasonal lunches. Visitors can book a slot (but they're usually sold out months in advance), or book the space for personal events.

Owners Pete Teo (filmmaker and musician) and wife Lisa Ngan (architect) left their city lives and leapt into a whole new trade, taking over the decade-old farm three years ago and adding a dining area. In the simplest explanation by Pete, the farm is an extended retirement project.

Prior to this, the duo had no farming experience; Pete says they're farmers who learned everything from the internet. 'We had to learn from Google; how to grow this and how to grow that. We've been city people all our lives. We didn't even grow potted plants.' It's constant trial and error with the planting and the nurturing, and both Pete and Lisa are still learning about the land. 'At my guess, right now we're only at 50 percent of what we can produce. It's been three years of trying and Googling,' says Pete.


'It's always important to be reminded where your food actually comes from'

Photo: Daniel Chan

Lush green grounds
This seven-acre farm is filled with beds of crops – think organic fruits, vegetables and herbs. Here, there are about thirty-odd varieties including herbs such as basil and rosemary, Chinese leafy vegetables, corn, kale, sweet potato leaves and even mulberry trees. And based on what they can harvest at the time, the farm supplies to organic shop Justlife and some of the fi nest restaurants in the city, including Dewakan and Sitka.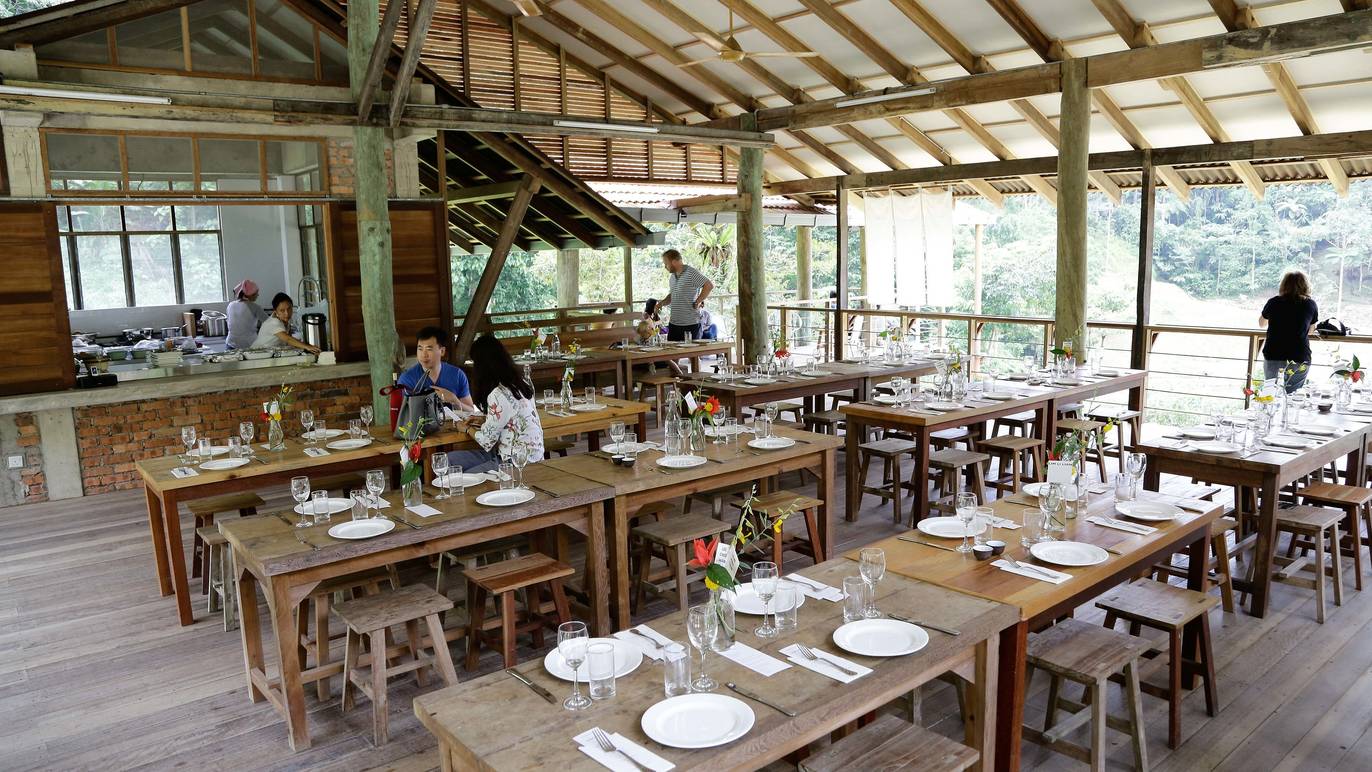 Photo: Daniel Chan

The dining estate
Meals take place in two dining areas lit by natural light (the Dining Room and the Farmhouse) with different menus to choose from; a little customisation is possible as well. For private functions, the Dining Room fits 20 people; the Farmhouse is designed for bigger events and can hold a maximum of 60 people. With an open-concept design that features lots of wood, glass and steel, these buildings designed by Lisa complement the suroundings, highlighting panoramic views of the farm and the surrounding hills – it's hard not to fall in love with the space.



Photo: Daniel Chan

When it comes to the food, Lisa is in charge of the menu while Pete handles the smoker where he cooks vegetables and mains like short ribs and fish. Seasonings are kept light, forming very clean flavours; 'The main strength we can offer is the freshness of the produce, and we should let it speak for itself,' Lisa explains.



Photo: Daniel Chan

Vegetables that will make a vegetarian out of anyone
On our visit, it was a traditional English lunch special (their typical menu usually consists of Middle-Eastern and Mediterranean flavours) featuring chicken, Angus beef wellington and lots of greens. While the chicken and beef wellington were tasty enough on their own, what stood out were the greens.



Photo: Daniel Chan

During the meal, I was surprised at just how enjoyable the vegetables were – the green beans were crunchy, the peas were sweet, and the heirloom tomatoes (all four types) were some of the juiciest I've ever eaten. Fun fact: the tomatoes were grown in soil that has been steamed – in a pau steamer, no less – to get rid of bacteria, resulting in tomatoes that taste entirely different from the hydroponic tomatoes that we usually get.

Up here, the phrase 'fresh produce' takes on new meaning. Lisa mentioned that some of the greens on the table were picked just the night before; it's literally farm to table. If this is what it means to be a vegetarian, then sign me up.



Photo: Daniel Chan

Get away with a stay at the hill
In the near future, a stay at A Little Farm On The Hill will be possible. (Right now, the place is only open for meals and the occasional terrarium workshop.) The proposed accommodation allows guests to live close to the farm (just on the other side of the stream) and will provide a peaceful retreat. 'You gain a different experience when you come up here.' Pete says. 'The environment is different; you're surrounded by sounds from the birds and insects, plus there's fresh air all around.'

The city girl in me, with all her love of busy streets and fast-paced city life, actually enjoyed the peace and quiet, and didn't miss her phone signal at all.

To top it all off , it's always important to be reminded where your food actually comes from.

Lot 161 Tanarimba Janda Baik, Persiana Enderong, Bukit Tinggi, Pahang (09 233 0194). Pre-bookings only. For more information, check out their website.
Also check out these farm stays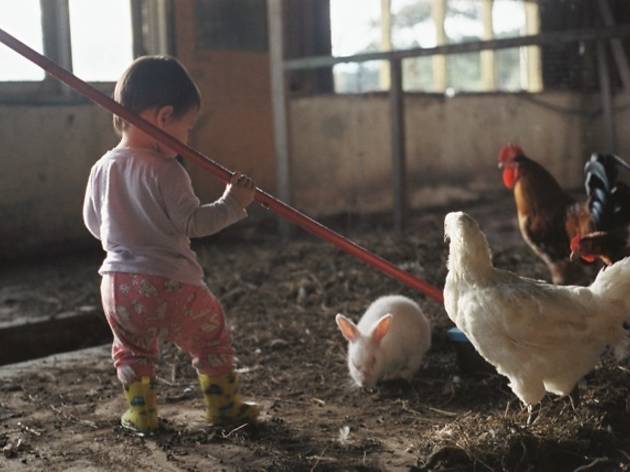 Tea plantation-turned-nature school Permaculture Perak is a rural refuge to enjoy simple living – splash in waterfalls, participate in hands-on workshops, and even make bread without an oven.
Lenggong, Perak (permacultureperak.com).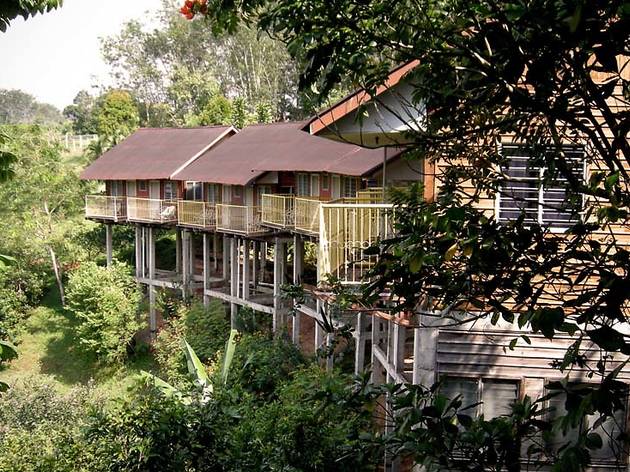 Discover how fruits, vegetables and poultry grow in an organic environment at this sustainable farm.
Jelebu, Negeri Sembilan (titieco.com.my).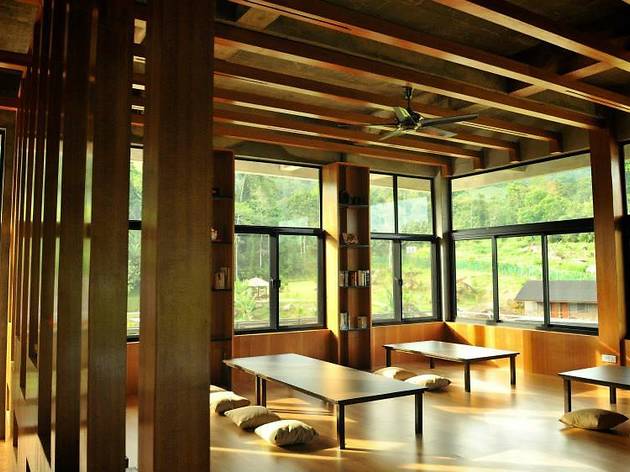 Have a hot pot brimming with organic ingredients (there's even homemade tofu) grown onsite at in-house restaurant Greens@Song Yan, or check in for a night's stay at this eco-leisure village, located 1,500 feet above sea level.
Kampung Bukit Tinggi, Pahang (songyan-eco.com).