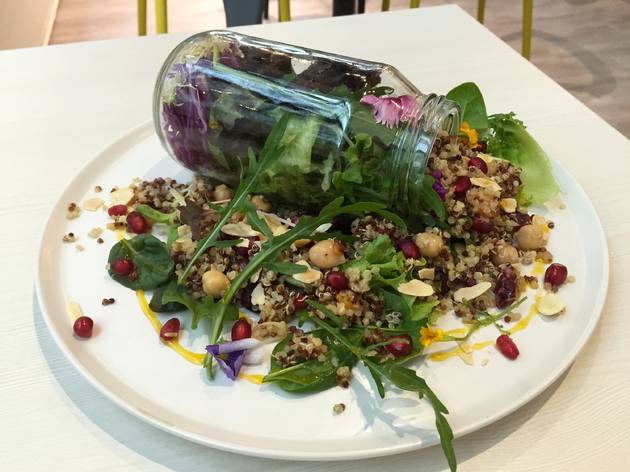 Time Out says
An airy café hidden at the back lanes of Solaris Dutamas, Pan & Tamper offers a straightforward menu dominated by comforting brunch classics, such as fry-ups, chicken pot pie, potato rosti, eggs on toast, and more. A lot of these dishes feature the now-trending 63C egg with runny yolk. We were particularly taken by the Garden in a Jar, which quite literally is salad spilling out of a glass jar. The ingredients in this well-balanced, colourful salad are a sure winner: quinoa, pomegranate, mango, cherry tomatoes, chickpeas, salad leaves and the café's zesty house dressing.
There's a decent cake selection as well, with choices such as lychee watermelon cheesecake, pistachio raspberry cake, peanut butter chocolate cake, nutty Daim cake and lemon curd cake, just to name a few. Espresso-based coffees are brewed using beans from a local micro-roaster, and there are also teas (including green tea latte), sodas (with flavours like lime, basil and blueberries; and lemongrass, lime and mint), juices and chocolate drinks.
In the near future, more items will be added to the menu, such as the buttermilk-brined chicken burger (which we can't wait to try), Bacon McDaddy (fried eggs, beef bacon mac & cheese, and tomato jam on toasted croissant), and a chicken and seafood paella.
Details