Ramadhan bazaars: Dato' Keramat
What to get from the Dato' Keramat Ramadhan bazaar
One of the biggest Ramadhan bazaars in the city, this gritty market offers some of the best buka puasa comfort food. Look out for the lauk stall near the entrance where the lady who runs it is literally surrounded by huge woks of freshly cooked dishes.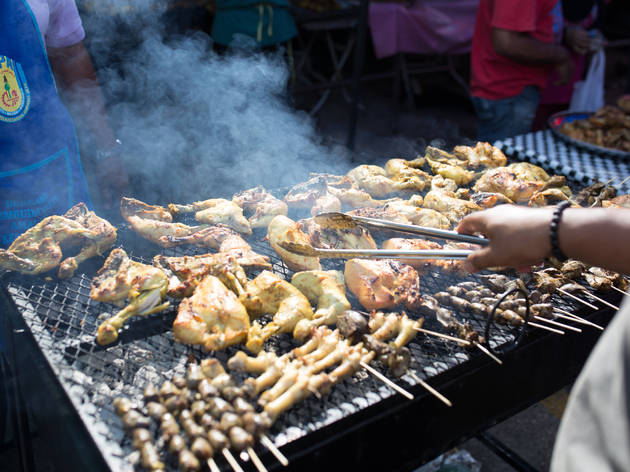 Charcoal-grilled chicken
Every part of the chicken is used here (we repeat, every part). Grilled on top of a charcoal grill, the chicken's smoky, tender and flavourful taste makes it a good alternative to the usual ayam goreng or ayam rendang.
Assortment of lauk
The lady manning this stall has to run from crock to crock to pack orders from customers. She is literally surrounded by all the different types of lauk – think lamb curry, udang sambal, ayam masak lemak and more – which makes for quite a sight. All you need to cook is a pot of rice and you're set to break fast with a feast.
Akok
Akok is made with simple ingredients – eggs, coconut milk and palm sugar. These oval-shaped kuih come piping hot fresh off the brass grills and straight into takeaway packets of hungry customers. You can also get the bright green pandan akok here, which has an extra whiff of pandan.
Putu piring
Each piece of freshly-steamed putu piring at this stall melts in your mouth. The little kuih filled with palm sugar and topped with coconut shavings are a great way to buka and a delicious prelude to a full meal.
Penyet
For a complete meal, the penyet stall here offers three options of protein – chicken, catfish and tilapia – alongside rice, tempeh, vegetables and sambal. We recommend getting the crispy and slightly salty tilapia.