Heads up! We're working hard to be accurate – but these are unusual times, so please always check before heading out.
Ramadhan bazaars: Shah Alam
What to get from the Shah Alam Ramadhan bazaar
Located just opposite Stadium Malawati at Padang Dataran Shah Alam in Seksyen 13, this mammoth Ramadhan bazaar is easy to find (just follow the crowd and the smell of grilled meats) with plenty of parking spaces. A word of caution: because of the enormous size of the bazaar, you might be tempted to bite off more than you can chew since pretty much everything looks good.
RECOMMENDED: Ramadhan bazaar food guide
Photo: Bryan Ong
Only open during Ramadhan, Ayam Golek Gelek Mamma Mia is never without its line of waiting customers – some who wait for more than 30 minutes to buy the oven-grilled chicken. The secret to its success lies in owner Pairin Wagiman's secret marinade recipe, which he started working on since the '80s. Today, he sells over 300 chickens within three to four hours, and has a second stall operated by his son to ease the waiting time.
Photo: Bryan Ong
While most popular places have long queues of hungry customers, Popiah SS Ali nixes that with speed and efficiency so you can have your popiah without too much waiting time. Get both the popiah goreng and popiah basah so you can alternate between fried and fresh. Just have a packet of tissues handy as both versions are heavily coated with chilli sauce.
Photo: Bryan Ong
Making kek batik is simple: mix broken Marie biscuits with condensed milk and chocolate (cocoa or Milo), and you have yourself a chocolaty treat. We say get at least two slices of it from one of the many stalls offering this sweet, or ask for the Oreo pudding (topped with Oreo biscuits) for more sugary variety.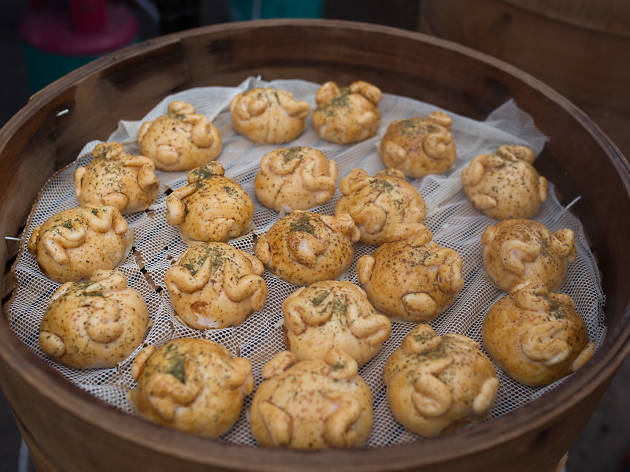 Photo: Bryan Ong
Who needs ordinary bao-shaped bao when you can have bao in the shape of a roast chicken? Looking exactly like the bird (complete with wings, thighs and golden brown skin), the pau ayam panggang resembles a mini Sunday roast. Once you bite into it however, it's all bao with a filling made of roast chicken pieces, black pepper and onions.
Photo: Bryan Ong
It's hard to go wrong with the staple tea time item; whether it's crispy or chewy, everyone would be happy munching on this childhood favourite. Don't think twice about ordering more than your usual RM2 worth of keropok lekor; we say RM6 of each type of lekor should keep you crunching after you've had your proper buka meal.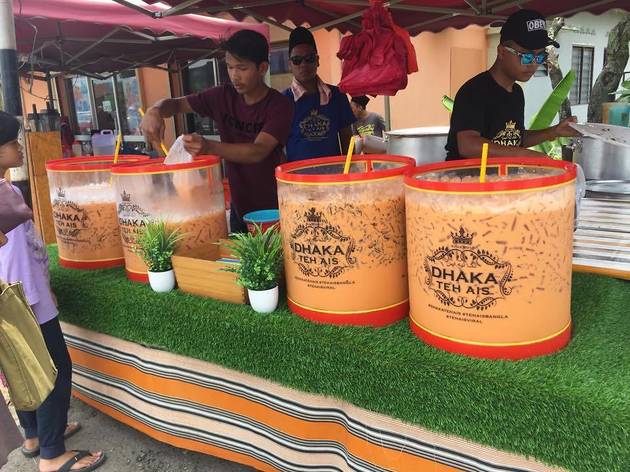 Photo: Dhaka Teh Ais
This tea stall from Klang made the news last year when it became a social media sensation, and today it has 77 stalls across the Klang Valley. The sweetened tea here is brewed using a method used in Tongi, Pakistan, which makes the tea thicker and stronger than your usual teh ais.
See more Ramadhan bazaars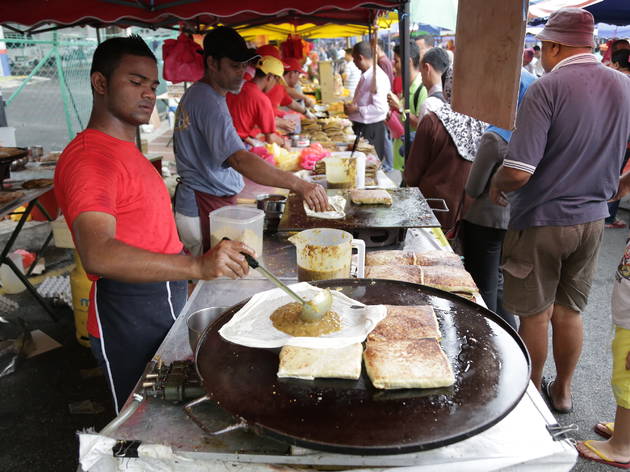 They only come once a year, so feast on roti John, murtabak and more street food at some of KL's best Ramadhan bazaars.