One of KL's favourites Ramadhan bazaars, this bazaar probably boasts the best good food to number of stalls ratio in KL. While the bazaar isn't particularly huge, there's still a lot of variety on offer here – from pisang goreng covered in salted caramel to halal mojitos, there's something here for everyone.
RECOMMENDED: Ramadhan bazaar food guide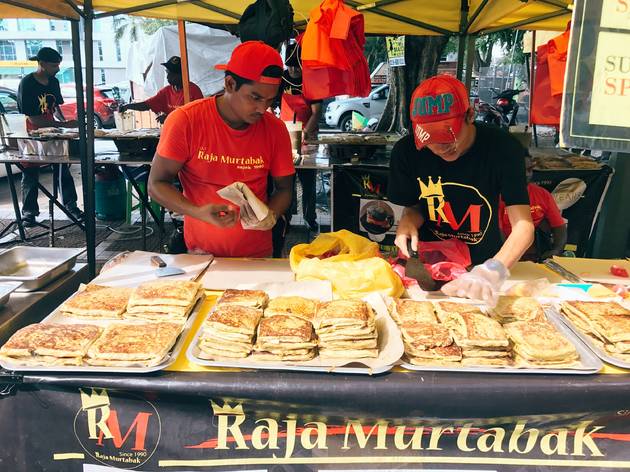 Photo: Eijas Ariffin
A crowd favourite here in TTDI, Raja Murtabak has perfected the art of making the perfect murtabak. The hearty version here – with chunks of tasty meat – is fresh, filling and flavourful. If you like cheese, go for the murtabak special.
Photo: Eijas Ariffin
If you're looking for an authentic Johor beriani gam experience then look no further. The beriani here is fragrant and fluffy while the meats are freshly marinated every day. You have the option of having your rice with beef, chicken or lamb.
Photo: John Lim
Meat on a stick is nothing new, but the pan-grilled chicken and lamb kebabs sold at this stall can serve as a small meal on their own. Each skewer has three large pieces of flavourful meat coated in a smoky-sweet sauce, with chunks of onion and bell peppers in between.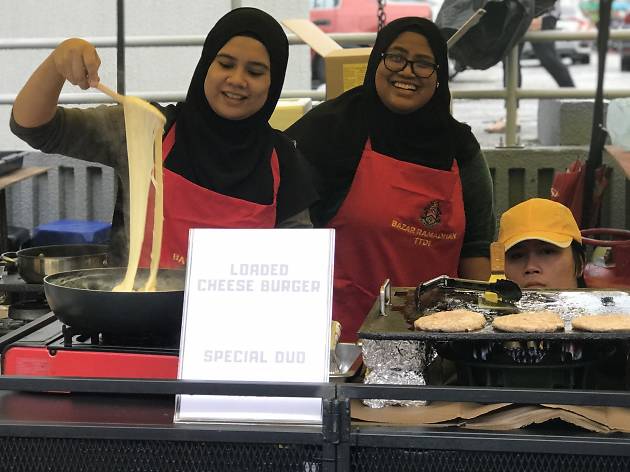 Photo: John Lim
For those who can't get enough of cheese, drop by the Loaded Cheeseburger stall operated by The Pisang Cheese. True to its name, the burgers here (RM15 for one; RM26 for two) are topped with a generous helping of raclette-like stringy cheese. For dessert, go for their pisang goreng cheese – banana fritters coated in a cheesy batter mix, with optional toppings of chocolate and caramel sauce.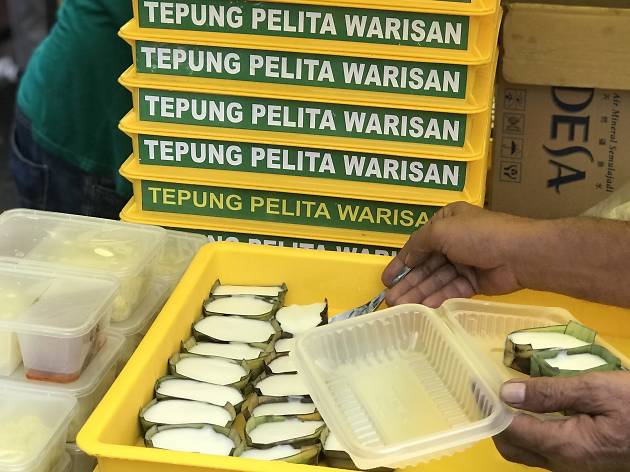 Photo: John Lim
For dessert, head to the Tepung Pelita Warisan stall where you'll find an abundance of tepung pelita – a traditional steamed kuih (made from santan and rice flour, wrapped in banana leaf) hard to come by outside the Ramadhan and Hari Raya periods.
Photo: Eijas Ariffin
A good pulut udang is hard to come by in KL so it's no wonder why the ones here usually sell out by around 5pm. The sticky rice goes very well with the sweet and spicy sambal udang that wrapped inside. Brace the heat and come early before they're all sold out.
Photo: Eijas Ariffin
Fasting can be quite difficult with the Malaysian heat so it's always best to berbuka with a cold refreshing drink. At this stall you can find drinks that you wouldn't usually find at other stalls, such as katira and mojito (don't worry, it's halal).
Show more
See more Ramadhan bazaars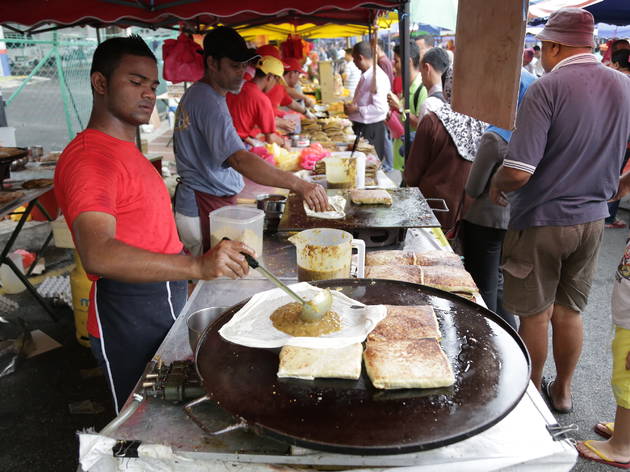 They only come once a year, so feast on roti John, murtabak and more street food at some of KL's best Ramadhan bazaars.