Best shops in KL
We handpick the best local and independent stores the streets and malls have to offer. Get your wallets ready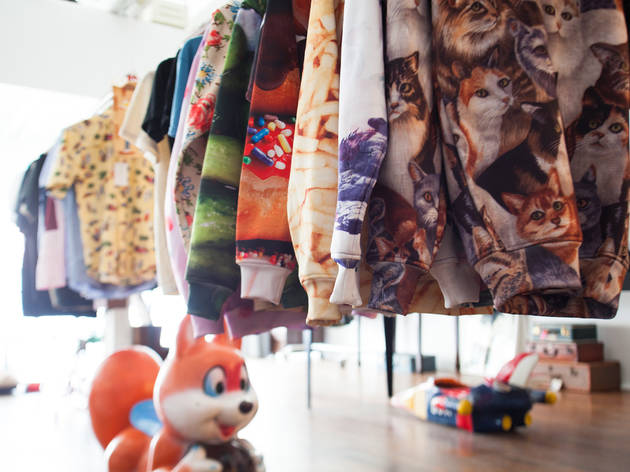 Everyone says KL is a shopper's paradise, but not many people look beyond the big brands and international chains. We've handpicked the best local and independent stores the streets and malls have to offer. Get your wallets ready.
Best shops for fashion
I Love Snackfood specialises in fashion, home decor and general curiosities. They also stock a small quantity of Kinfolk, Smith Journal and Uppercase magazines. Customers can email or call the store to book their purchase (since we all know how parking is almost impossible to find in the Telawi area).
Read more
This brand is most popular for their hand-stitched headbands, bowtie and buttonaires for adults, babies and children alike. You can also find bejeweled pieces and pearl-encrusted tiaras as well as Lolita-esque bows. For men, there are uniquely-shaped bowties and buttonaires in structured floral outlines.
Read more
Stylist and designer Allien Gan has taken over a small corner of Publika, and with great results. His edit of streetwear and accessories, designed by himself and other regional designers, is cool but not intimidatingly so – there's a line of simple, sharp leather bags, alphabet totes, slouchy T-shirts and slinky tops. If you're looking for a slightly funkier outfit for a night out, that can be arranged too – Allien's recent collection that showed at Kuala Lumpur Fashion Week is available in store, and it involves, among other things, leather harnesses. For a more casual purchase, cheeky socks by Medium Rare also make an appearance.
Read more
M Store is one of KL's most exciting multi-brand boutiques. There is a fair amount of auntie-wear on the racks, but mixed among Elizabeth & James, Clover Canyon, Emma Cook and, perhaps most excitingly, Jonathan Liang. You'll also find an excellent edit of accessories in store, from stackable Vita Fede bangles to Philippe Audibert gems, plus Schutz and Sam Edelman shoes. If the prices are a little too steep for you, head to the MO Outlet, which sells past season stock at very good prices.
Read more
The guys from Pestle & Mortar launched this multi-label retail chain in June, stocking up on international brands that focus on street wear, fashion and lifestyle. Major Drop has all your daily sartorial needs: caps, T-shirts, pants, shoes, wallets, sunglasses and more. They want to provide a space where people have access to international brands that aren't available in KL, according to Hugh Koh, the creative director and co-founder of Pestle & Mortar.
Read more
Seven years on and Shoes Shoes Shoes is still one of the best local shoe brands around. Owner Ung Yiu Lin is big news now – her shoes are worn by all the local celebrities and civilians, and her bag line KLutched is carried (literally and in stores) in Paris. (Plus she's married to sports star heartthrob Azlan Iskandar.) Shoes Shoes Shoes now has outposts in BSC and Great Eastern Mall, but the best is still the original Telawi store.
Read more
Sole What is one of very few sneaker specialist stores in Malaysia. With two stores across the town, you can find anything from Onitsuka Tiger, Vans, Feiyue to the only recently available Dr.Martens. Nearly everything here is limited edition, and they also bring in selected accessories, like bracelets, watches, caps and bags. Stock is limited and the staff can be a pain, but it's worth it for sneakers no one else has.
Read more
Independent retailers do not simply sell fashion apparel and accessories; they sell lifestyles as well. Combining its raw and rustic interiors with a mix of street wear and surfing labels, Venue feels warm and laidback. Here's a breakdown of what you can get from the store: clothing, backpacks and luggage, headgear, swimwear, skateboards and accessories.
Read more
This denim specialist in SS15 looks like a grown up streetwear store, with a downtown kind of cool. Minimal and uncluttered, Nusantara pride themselves on being Southeast Asia's denim hub. From Doku Jeans and Fifth Requisite from Thailand, Oldblue from Indonesia to local brand Tarik Jeans, the selection is well-curated – for both men and women.
Read more
MORE FASHION SHOPS