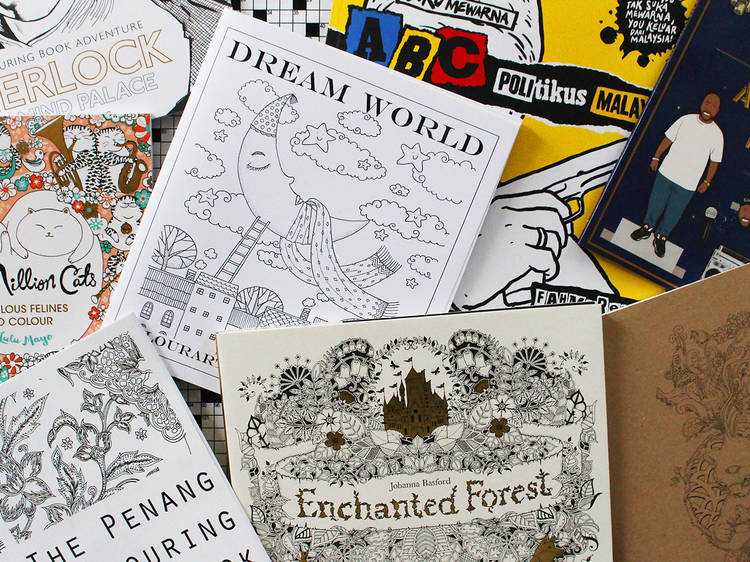 Photo: Hizwan Hamid
Blame
Johanna Basford
. When she drew 'Secret Garden' – a colouring book marketed for adults, mind you – it sold millions of copies worldwide, sparking a colouring craze that has translated into second and third Johanna Basford successes: 'Enchanted Forest' and 'Lost Ocean', filled with intricate ink illustrations of flourishing forests, flowers and shoals of fishes.
It's safe to say that colouring books have brought a new lease of life to the publishing industry; publishing houses are chasing the colouring books trend, printing colouring books almost as fast as they fly off the shelves. There are colouring books of the animal kingdom, there's one for fans of '
Game of Thrones
', another with hip hop artists, plenty of options for the modern art snob ('
The Modern Art Doodle Book
' for example, imitates the styles of famous artists), and pages after pages of sophisticated, swirly patterns.
It's been said that colouring books for adults is a cultural shift, and one that's not necessarily all good – critics claim it's escapist infantilisation, functioning as a form of regression for adults not adult enough to confront their adult problems.
Clearly, colouring books for adults are a thing. Clearly, it's supposed to be therapeutic – psychological research backs it up, citing mindfulness, organised thoughts and stress relief through the satisfying act of colouring and seeing the colours spread through the page. Clearly, there's a difference between colouring books for adults and those for children – those filled with laughable kiddish bunnies with bow ties, or something – even though a part of the appeal of the former is that it takes one back to one's childhood.
Last year, Fahmi Reza published a successfully crowd-funded alphabet colouring book featuring satirical drawings of Malaysian politicians.
Stickerrific
, the arts and crafts store in PJ, has published its own watercolour colouring book with pictures of Malaysian food – think kuih and noodle soup.
Emila Yusof
, too, has illustrated a series of successful picture books.
It's not all black and white. You're never too old to colour inside – and outside, if you so wish – the lines.