Heads up! We're working hard to be accurate – but these are unusual times, so please always check before heading out.
Best street art in Old KL
These masterpieces can be found in alleys, on walls along busy highways or propped up in a public parking lot
The next time you have an afternoon off, take a walking tour around Old KL and check out these impressive paintings by local and international artists.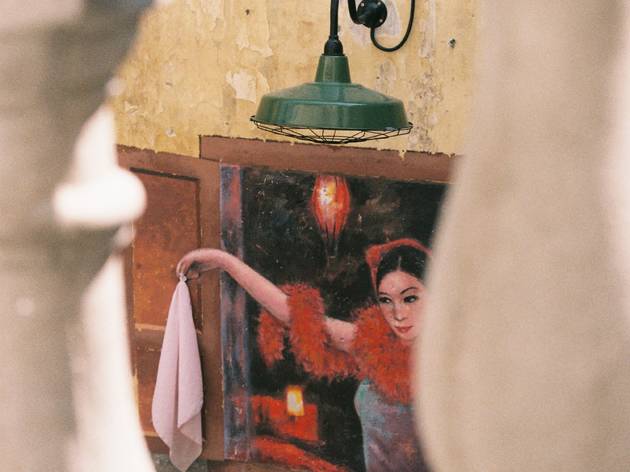 Photo: Haifa Nabila
'Kwai Chai Hong' between Lorong Panggung and Petaling Street
Once home to Chinese settlers in the past, this long-abandoned laneway has been revived into a street art masterpiece. A mere five minutes away from the Pasar Seni MRT Station, you can relive the bygone era with six beautiful murals depicting 1960s Chinatown at 'Kwai Chai Hong'. This is a hot spot for photos ops like you playing marbles and skipping rope with the neighbourhood kids or getting a haircut at an outdoor barbershop. You can also scan QR codes next to the murals to get an immersive sight and sound experience.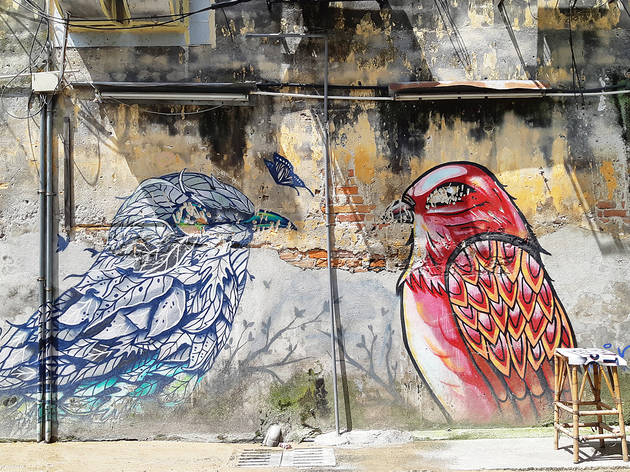 Photo: Melissa Mazlan
'Birds' on Lorong Panggung
Right opposite the entrance to BarZhen and just a few steps away from 'Goldsmith' is this fun mural of two birds on Lorong Panggung. The startlingly bright cobalt blue and crimson street art of the feathered duo is a vibrant addition to the quiet alley, also guaranteeing a great photo. The uncle at the nearby kopitiam might shoot you a quick glance while you snap your pictures, but he won't mind as long as you don't camp out at the spot.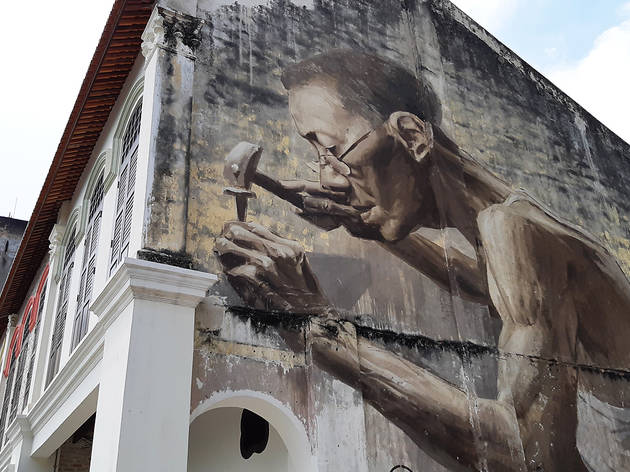 Photo: Melissa Mazlan
'Goldsmith' on Jalan Panggung
While it's all hustle and bustle at colourful Chinatown, Jalan Panggung – just a little further away – is hushed, with the occasional tourist and office worker traversing the street to get to the Pasar Seni LRT and MRT station. Right behind The Travel Hub Guesthouse in an alley is 'Goldsmith', a large mural of an elderly goldsmith at work by Russian artist Julia Volchkova. In shades of taupe, faded jet and off-white, the old man seems almost to fade into the dilapidated walls of the abandoned building; in a way, a moment caught in time.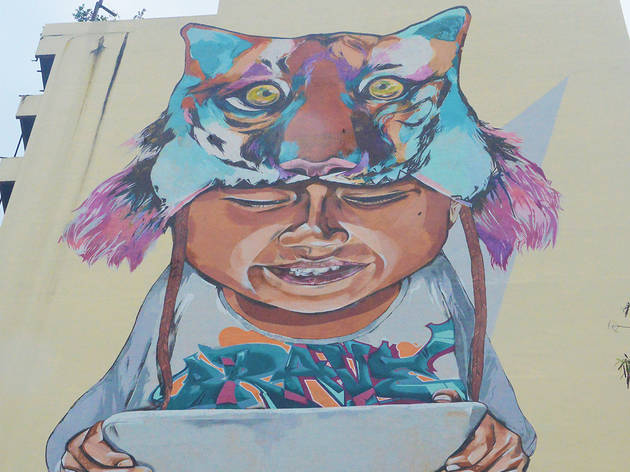 Photo: Tracy Celine
'Brave' on Jalan Raja Chulan
Local street Artists Anokayer and Yumz joined hands to work on 'Brave' for Petronas's #tanahairku 2014 Street Art Project. The painting depicts a young boy in a colourful tiger hat, playing a handheld device. This image brings to life the line that is constantly toed by the youths of today, of the relationship between the allure of modern technology and the traditions of our cultural values. You can spot it at Jalan Raja Chulan opposite Arenaa Star Hotel.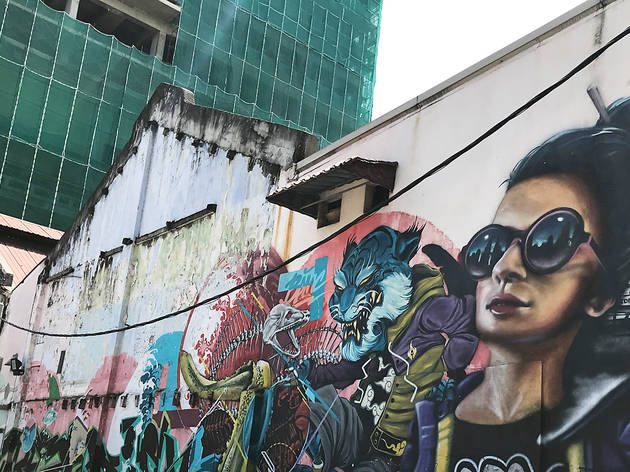 Photo: John Lim
'Funkdamental' in Petaling Street
Painted on the side of a building that houses Cocha Foodstore and Merchant's Lane is Funkdamental, a collaborative street art project led by Malaysian illustrator and graffiti artist Katun, whose work revolves around drawing and reinterpreting cartoon characters. Done together with fellow street artists BlackMarket, voyder, Reeze and Siek, this giant piece of street art spans the length of the entire building, and can be best appreciated on the weekends when there are fewer cars parked in front of it.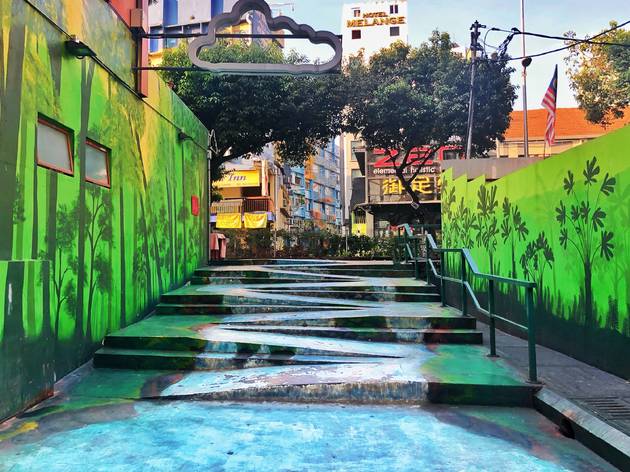 Photo: Haifa Nabila
'The Lost Stream' of Jalan Alor
From dingy alleys back then to vibrant colourful alleyways now, discover eye-catching street arts along Jalan Alor. The one that should not be missed is a mural of a small stream that was once part of Jalan Alor itself. At this 'Lost Stream', you can literally walk on water surrounded by green jungle walls and cloud lights hanging from above. The stone steps were designed to give out a 3D effect as if the water is going downstream, and it also acts as a wheelchair ramp.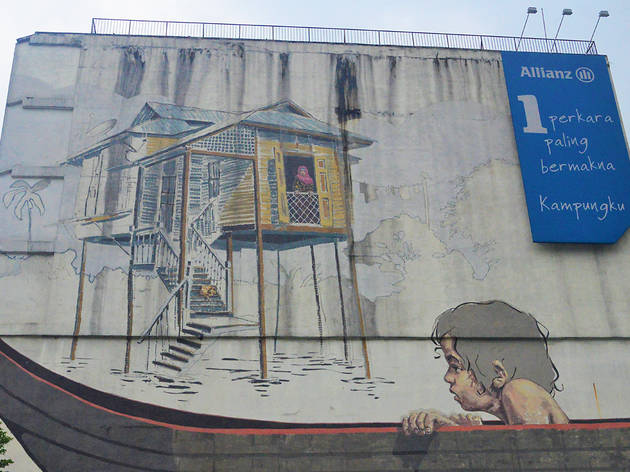 Photo: Tracy Celine
'The Sampan Boy' on Jalan Gereja
When it first launched its 'KampungKu' insurance plan for rural communities, Allianz General Insurance Company recruited Lithuanian artist Ernest Zacharevic to help create awareness about its new product. The result is an enormous mural against the side of Wisma Allianz on Jalan Gereja of a peaceful kampung scene – a boy in a sampan floating by a house on stilts, an old woman looking out of its window and a cat napping on the stairs.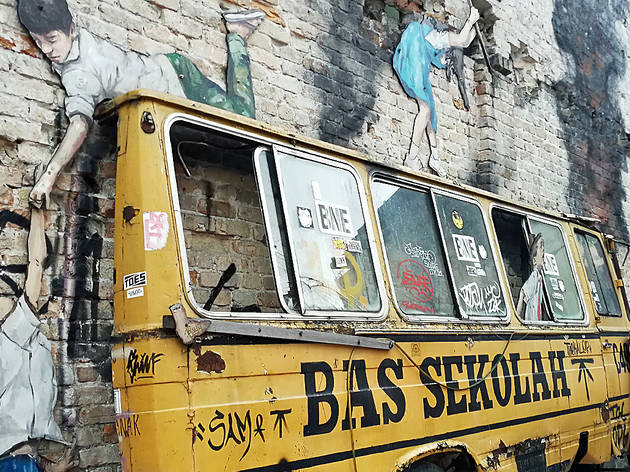 Photo: Victor Ng
'Rage Against the Machine' along Jalan Sultan
You'll find this art installation at an empty lot along Jalan Sultan. Created by Lithuania-born artist Ernest Zacharevic, 'Rage Against the Machine' (no relation to the rock band) is one of the more well-known murals in KL and it frequently draws visitors. It's almost a mixed media type of installation – the artist has attached half an actual school bus to the wall and painted smoke billowing out of the bus and life-sized school children around it.
Time to eat your way through Old KL
Looking for places to eat in Petaling Street and Old KL? From a steaming bowl of beef noodles to coffee and cake in trendy cafés, here's our list of the best places to eat and drink in these historical areas in the city.