Contest: Win an Indulge experience by TGV Cinemas
Win an exclusive Indulge experience access pass including two movie tickets and two sets of three-course meals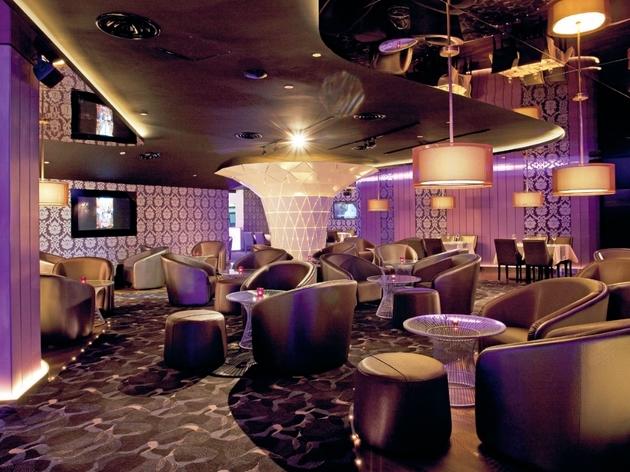 Prize: An Indulge experience exclusive access pass, consisting of 2 movie tickets – available for all movies and redeemable Mon-Sun (value up to RM110), and 2 sets of 3-course meals – available for any pick from the à la carte menu (value up to RM172)

Malaysians do love to go to the movies. And with changing times comes changing expectations of the whole movie-watching experience. Where moviegoers used to just focus on the show playing on the big screen, they now look for more exclusivity and indulgence. Cue TGV Cinema's luxurious Indulge cinemas in 1 Utama. Providing a whole new cinematic experience, TGV Cinemas plans to elevate the moviegoer's whole trip of going to the movies to the same level of importance as the show itself.

Indulge affords an experience like no other with its own private ticketing counter, lounge and dining area, on top of its two exclusive cinema halls. This splendid experience starts the moment you step into the Indulge space. The rich purple façade and smartly-dressed staff who greet you upon arrival provide a level of classiness that is not found in normal cinemas.

If you arrive way before your movie starts and don't want to face the throngs of people shopping in 1 Utama, spend time relaxing to modern house music in their swanky lounge. Experienced in-house chefs have designed an exquisite menu with contemporary cuisine that is guaranteed to please diners. You even have the choice of having your meal and indulging in this experience before, after or even during your movie. The halls themselves are fitted with reclining chairs and personalised waiter-services. Great care has been taken to ensure the experience one gets from Indulge cinemas remain unparalleled and distinctive from the usual 'chilled' movie-going atmosphere we are accustomed to.

And that's not all. Indulge also allows for corporate and private functions with catering services provided, regardless of whether the cinemas are used for the function. The space is ideal for events the likes of press conferences, product launches, company employee nights and even wedding proposals.

So if you're looking for a more exclusive movie-watching experience, Indulge is certainly for you.

TGV Cinemas Indulge1 Utama Shopping Centre (www.tgv.com.my).
1. This contest is organised by Time Out Kuala Lumpur (hereinafter referred to as the 'Organiser').
2. The prizes for this contest are neither exchangeable for cash nor transferable.
3. All persons ('Contestants') taking part in this contest agree that these rules shall be binding on them, and that the entries in this contest, including their name and likeness, may be used without restriction in any future publicity material by the Organiser.
4. The Organiser reserves the right to amend these rules or terminate the contest at any time at its sole and absolute discretion. All decisions made by the Organiser under these rules shall be final and no discussion or correspondence will be entertained. The Organiser may, but is not required to, justify any decisions relating to this contest.
5. The Contestant acknowledges that the interest and good reputation of the Organiser is of paramount importance. The Organiser reserves the right to disqualify a Contestant from the contest, or to withdraw the prize if it believes the Contestant is in breach of its obligations under the rules. The Contestant shall not by act or omission, directly or indirectly bring the Organiser into disrepute.

6. All entries are sent at the risk of the Contestant and in the event that there are technical difficulties experienced arising out of the internet or from any associated equipment or internet security is compromised, the Organiser may at its sole and absolute discretion disqualify the entire entry and shall not accept any liability doing so.
7. Contest entries may only be submitted via the stated medium of communication.

8. This contest is open to anyone above 18 years old and contestants under 18 years old are prohibited from entering this contest.

9. Each entry must be completed in full. The Organiser reserves the right to disqualify any incomplete entries in its sole and absolute discretion.

10. Contestants shall only submit one entry and multiple entries of the same shall be treated as 'spam' and shall be ignored.

11. Incomplete entries will be deemed void.

12. Entries will be judged by Time Out Kuala Lumpur solely on the correctness of the answer(s) furnished and accuracy of personal details furnished with the judges' decision as final.
13. Winners will be informed by email.

14. Uses of 'aliases' shall be considered a form of deception and is prohibited.

15. The winner must produce their original IC / passport with legible IC / passport number in order to claim the prize. The winner may also be required to produce additional original proof of identity at the discretion of the Organiser.

16. All Prizes are accepted entirely at the risk of the winner, and the Organiser excludes all warranties in connection with the prize to the extent permitted by law.
17. All Contestants release from, and indemnify the Organiser, its agencies, sponsors and representatives against, all liability, cost, loss or expense arising out of acceptance of any prize or participation in the contest including (but not limited to) personal injury and damage to property and whether direct or consequential, foreseeable, due to some negligent act or omission or otherwise.
18. All personal particulars furnished are meant for identification purposes and will not be sold or given to any third parties.
19. Prizes will be forfeited if not collected within the time frame stated after the announcement of winners.