Best of Melaka: Cafés, restaurants and bars
Forget playing tourist in Melaka; we show you the best places to eat and drink in the historical state so you can go on a bona fide Melaka getaway
Rickety rickshaws and tourist traps are all fun and games during your first visit to Melaka, but you'll be looking for the real deal soon enough. Skip the first-timers' attractions and sit down to a Peranakan dinner, eat putu piring, sip flavoured rice wine at a four-generation family-owned bar, and more with our guide to the best cafés, restaurants and bars in Melaka. Chicken rice balls still included.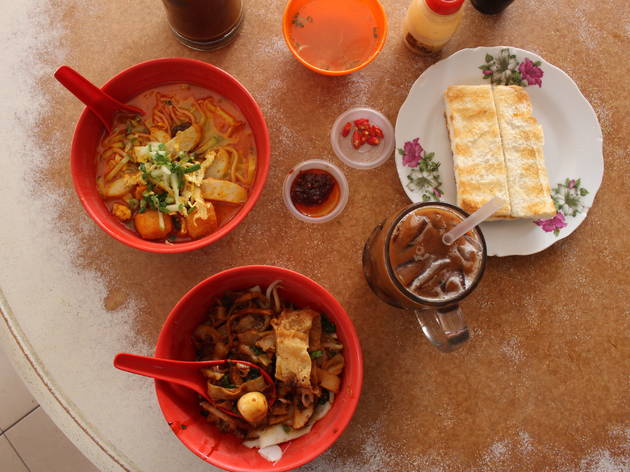 Photo: Joyce Koh
Have a leisurely breakfast Melaka-style
Before braving the congested streets of Melaka town, head to quiet neighbourhood kopitiam Kedai Kopi Juat Lye (371G Jalan Melor 2, Taman Peringgit Jaya. 06 283 3619) for a bowl of prawn noodles or Melaka-style yee kiao mee. Don't miss the kopi kaw with crispy charcoal-toasted Hainanese toast.



Photo: Joyce Koh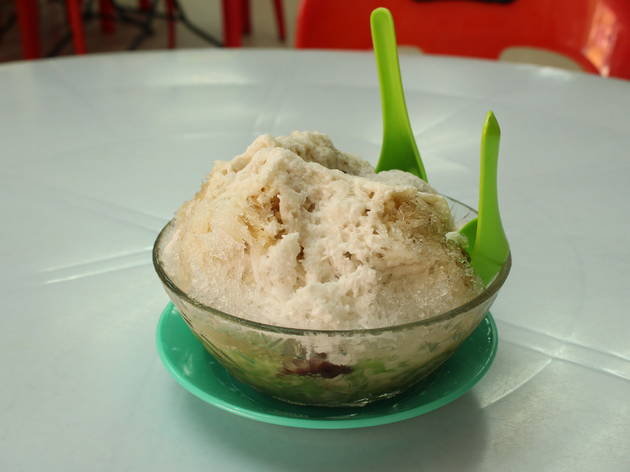 Photo: Joyce Koh
Eat Melaka's best-loved dessert with durian. Nyonya diner Jeta Groves's (115 Jalan Merdeka, Taman Melaka Raya. 06 282 1526) durian cendol is served with fresh coconut milk and thick, fragrant gula Melaka.



Photo: Joyce Koh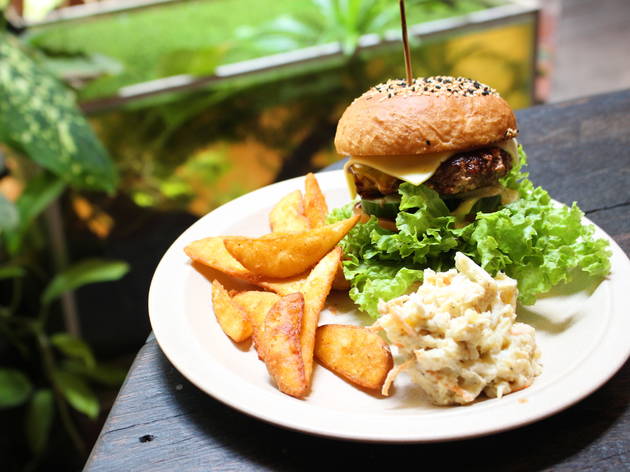 Photo: Ng Su Ann
Seek shade in this jungle-like café
You don't travel to Melaka for just any burger, but The Baboon House (89 Jalan Tun Tan Cheng Lock. 06 283 1635) does serve up a mean one. Order the Baboon Beef Burger – the signature comes with thick beef patties topped with cheddar cheese – and the honey wine, lemongrass drink or ginger beer, all homemade. The café is calmness incarnate – a garden of greens, and a break of sorts from the sun beating down on the streets outside. We commend the no-photography (read: no selfies) house rule too.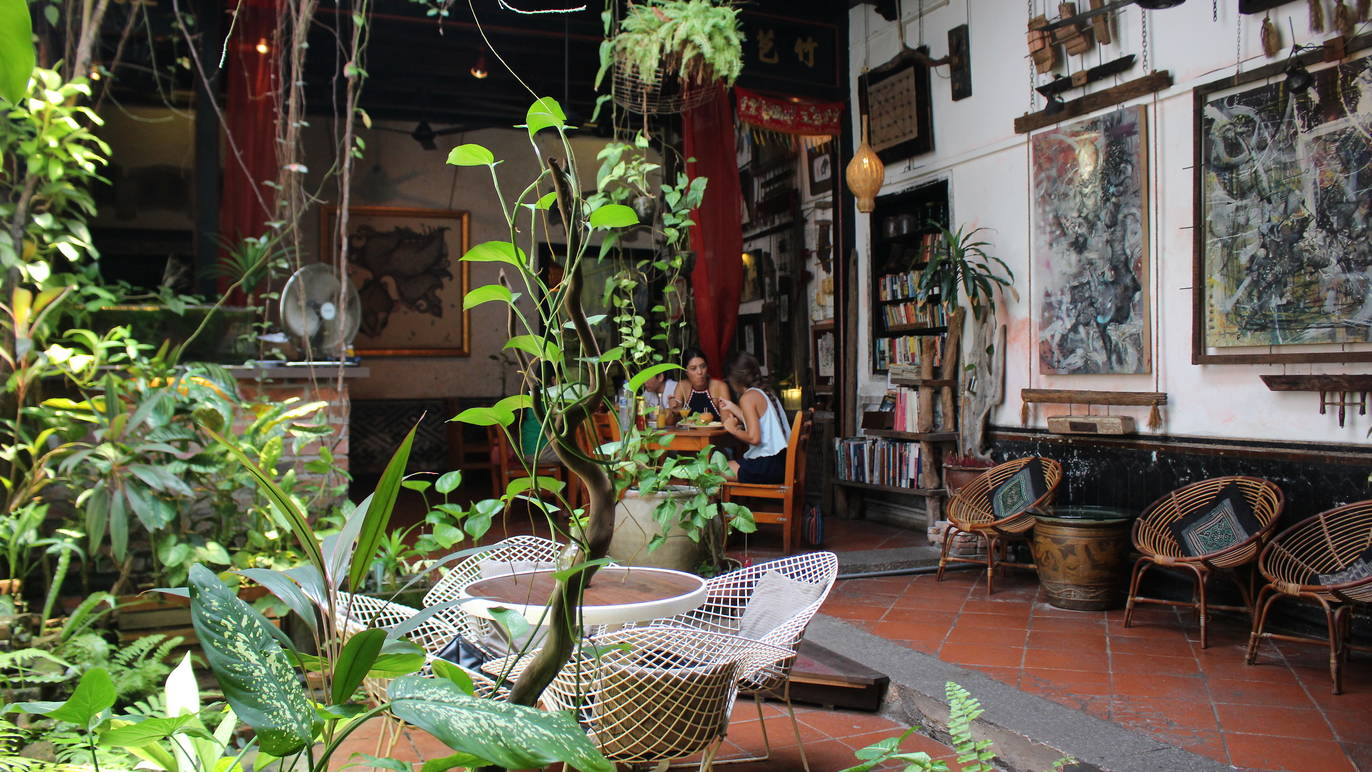 Photo: Ng Su Ann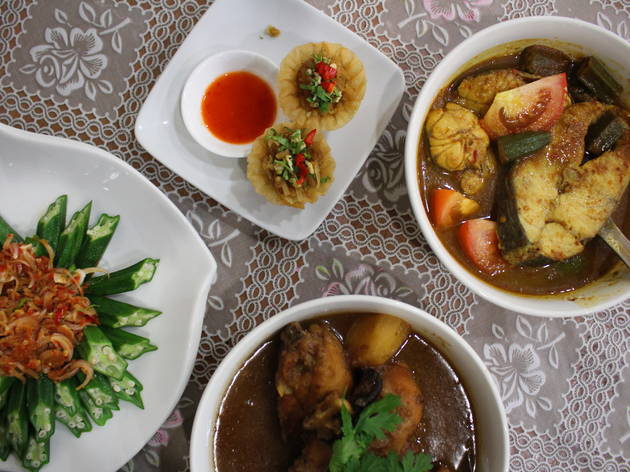 Photo: Joyce Koh
Make reservations for a Peranakan dinner
If you only have time for one Peranakan meal at the birthplace of Peranakan culture, make it Amy Heritage Nyonya Cuisine (75 Jalan Melaka Raya 24. 06 286 8819). Peranakan chef Amy Koh heads the kitchen, where she delivers stellar dishes of ikan gerang asam, ayam pongteh, udang lemak nenas and more, all which require lots of rice to mop up the accompanying gravies. As chef Amy makes everything herself, be prepared for the lengthy wait. It's worth it. In the meantime, snack on some pai tee.



Photo: Joyce Koh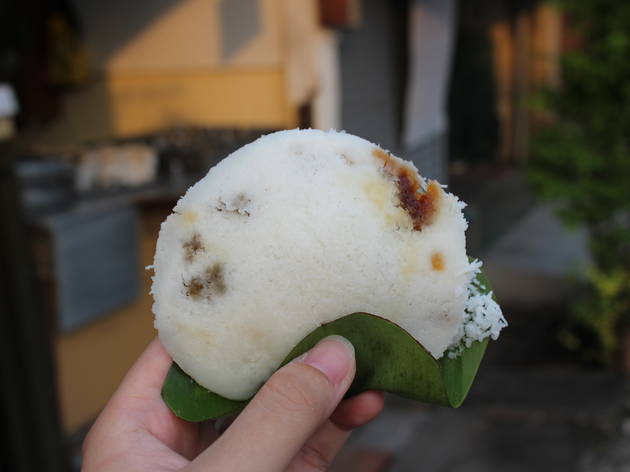 Photo: Joyce Koh
Escape the tourists and eat putu piring
When you tire of Jonker Street, Jalan Tengkera's putu piring stall (252 Jalan Tengkera. 06 282 1505), a family business that operates out of a humble home, will prove a pleasant experience. The rice flour cake, filled with gula Melaka, is steamed on the spot; it's then plopped on a banana leaf square and sprinkled with grated, lightly salted dessicated coconut. Have it hot.



Photo: Joyce Koh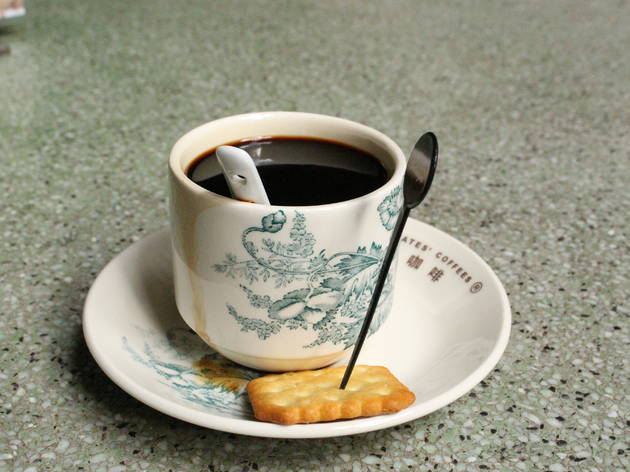 Photo: Ng Su Ann
Rise and shine and have coffee. Not just any coffee, but coffee sourced from Malaysia's 13 states at Calanthe Art Café (11 Jalan Hang Kasturi. 06 292 2960). Pick from Kedah's lightly roasted robusta, Johor's liberica roasted with margarine and sesame, Perlis's coffee with herbs, and more.



Photo: Ng Su Ann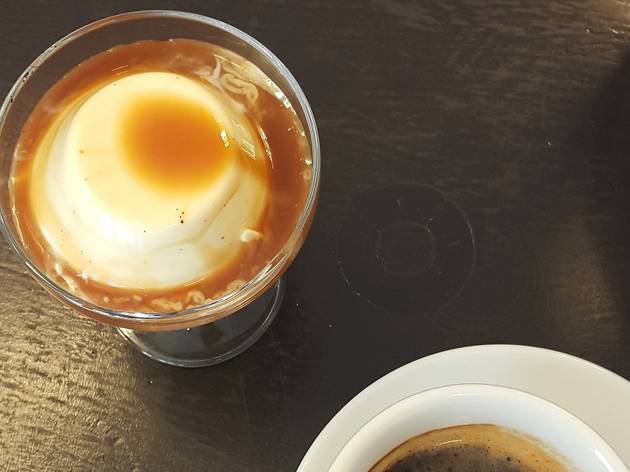 Dip a spoon into crème brûlée
Coffee roaster Khaki Coffee Bar maintains a simple menu of coffee, crème brûlée, panna cotta and the occasional tiramisu.

632 Jalan Melaka Raya 10 (06 281 9276). Tue-Sun, 10am-6pm.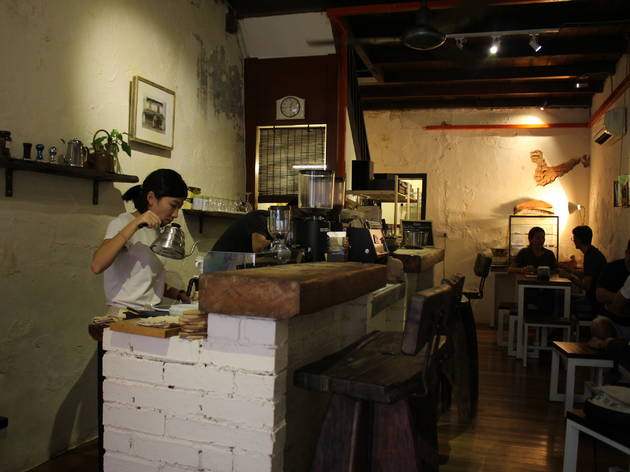 Photo: Joyce Koh
People-watch and munch on egg tarts
Spend an afternoon people-watching at this tiny café in the heart of the old town. Micro roaster and barista-owner Chong Joe Yee brews a mean cup of filter coffee (or matcha) to go with The Coffee Jar's (38 Lorong Hang Jebat) homemade pies and egg tarts.



Photo: Ng Su Ann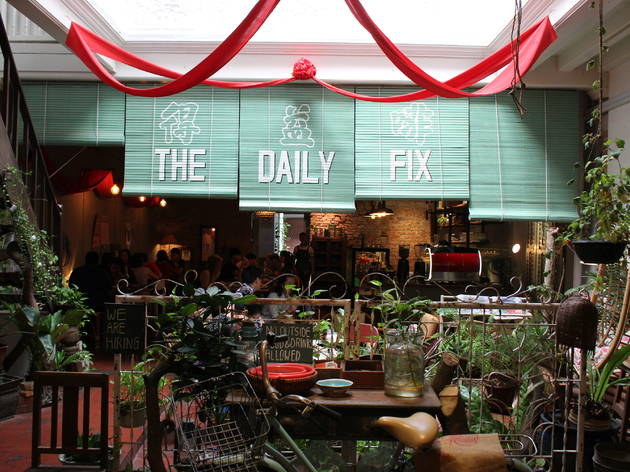 Photo: Joyce Koh
Have excellent pandan pancakes with gula Melaka
Hidden at the back of the Next KK gift shop (pick up a set of batu seremban), The Daily Fix (55 Jalan Hang Jebat. 06 283 4858) has a highly photogenic setting, excellent pandan pancakes with gula Melaka, good coffee (their beans are sourced from The Roast Things, Sprezzatura and Pulp) plus loaves of durian cakes.



Photo: Joyce Koh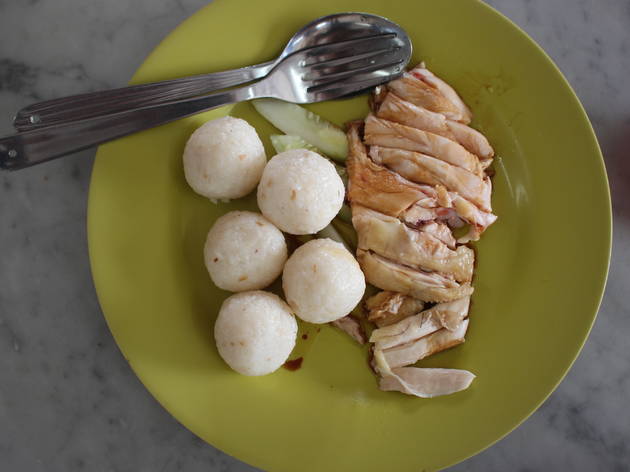 Photo: Joyce Koh
Skip the queue for chicken rice balls
For chicken rice balls, go where the locals go. Kedai Kopi Mei Sin Café's (between Jalan Bunga Raya and Lorong Bendahara) Hainanese chicken rice comes in compact bite-size balls with smooth steamed chicken doused in soy sauce. More things to try: kopi ais and wantan mee.



Photo: Joyce Koh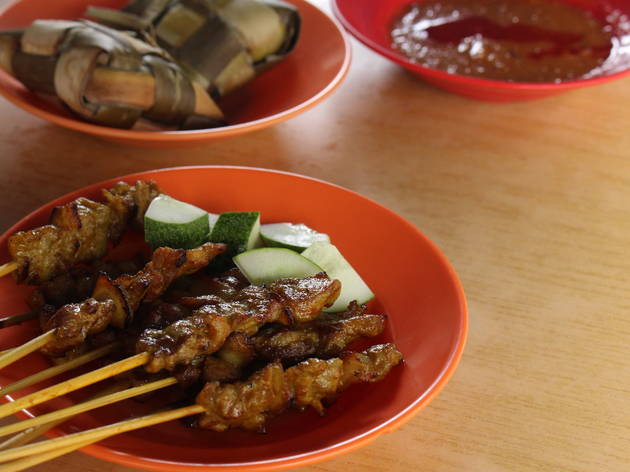 Photo: Joyce Koh
For lunch, have skewers of juicy grilled meat at Lung Ann Refreshments (93/807 Lorong Hang Jebat. 012 258 2972). Pick from pork, chicken and offal, and throw in a couple of ketupat to fuel up before exploring Lorong Hang Jebat (antique shops, Cheng Ho Museum, street art galore) on foot.



Photo: Joyce Koh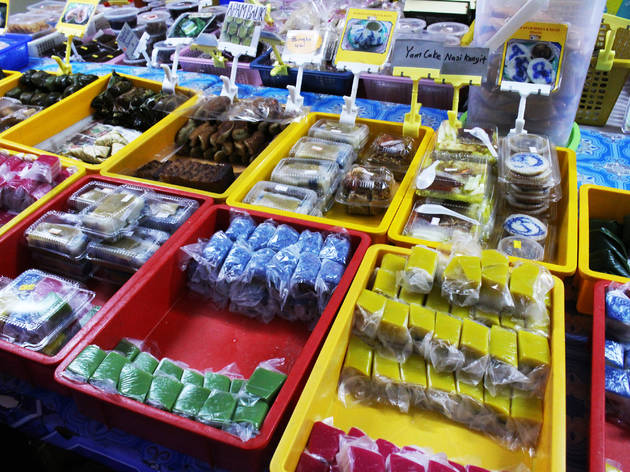 Photo: Joyce Koh
Shop for kuih at cult favourite Baba Charlie (72 Jalan Tengkera Pantai 2c). Located off Jalan Tengkera, Baba Charlie is a short drive away from the town centre but this kuih operation is a worthy stop. There's a wide selection of sweet kuih, savoury goods and even jars of freshly made acar. Things to get: acar and kuih koswee.



Photo: Joyce Koh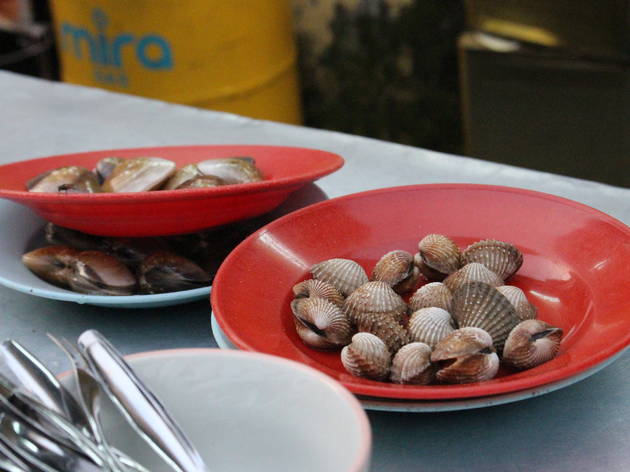 Photo: Joyce Koh
Eat cockles in a back alley
Tong Bee
's
siham
stall (
126 off Jalan Bunga Raya. 016 500 4490
) is an antidote to the tourist town's glare and glitter – for one thing, you'd be dining next to the drain (yes, we mean
longkang
). For the brave at heart, the succulent siham are blanched in boiling water for a few seconds; they're served to you still bloody, with a special chilli sauce topped with crushed peanuts. The
siham
may be the star of the stall, but also try the cuttlefi sh kangkung, lala and
luo
(sea snails).
Photo: Ng Su Ann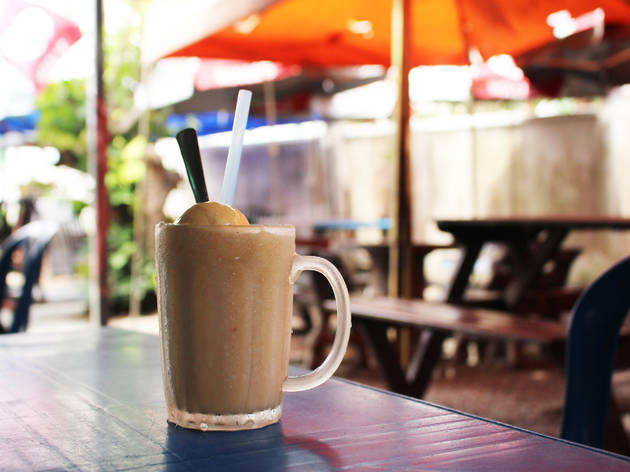 Photo: Joyce Koh
Shake things up with coconut desserts
Chill with some coconut-based desserts at Bikini Toppings (46 Lorong Hang Jebat. 012 316 6426); or take a drive to Klebang for the famed Klebang Original Coconut Shake (along Jalan Klebang Besar). After that, head to nearby Klebang beach, just in time to catch the sunset.



Photo: Joyce Koh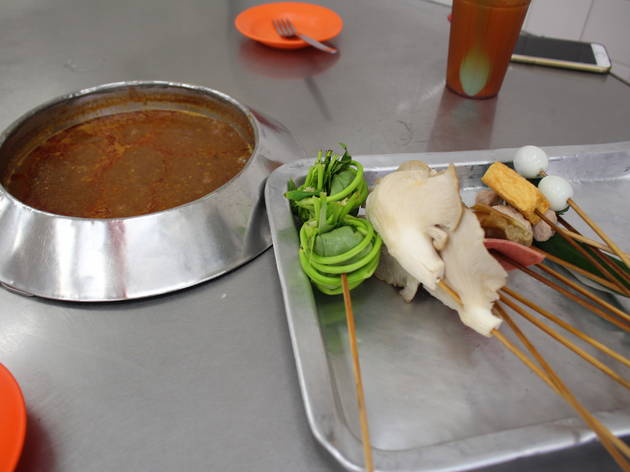 Photo: Joyce Koh
One of Melaka's more bizarre culinary inventions, the satay celup is an update on the steamboat – skewers of meat, seafood, fishballs and vegetables are dipped into bubbling pots of peanut sauce instead of broth. We recommend Ban Lee Siang (45E Jalan Ong Kim Wee. 012 651 5322) for its variety, flavourful sauce and slightly shorter queues.



Photo: Joyce Koh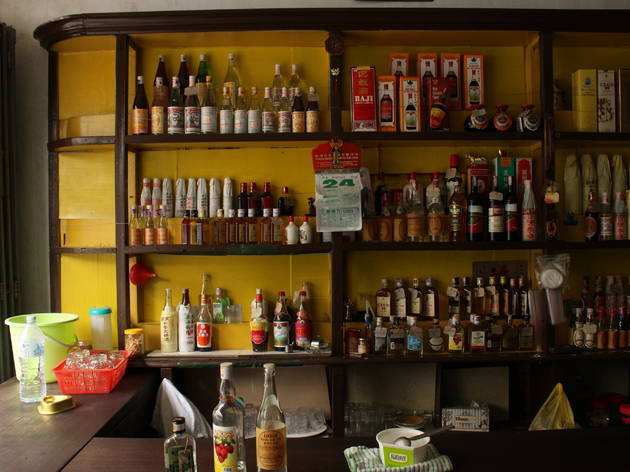 Photo: Ng Su Ann
Sip flavoured rice wine at a four-generation family-owned bar
A modest drinking hole in the little-visited Kampung Jawa, Sin Hiap Hin (5 Jalan Jawa) echoes with the ghosts it acquired for nearly a century. Back in the day, it used to be popular with boatmen working on the Melaka river; in colonial times, it counted British officials among its clientele – but the boatmen and Brits are no more.



Photo: Ng Su Ann

Today, one would be hard-pressed to read of Sin Hiap Hin in travel guidebooks and tourist brochures – and yet there's no better spot to soak up old-world charm than to sit at the sturdy timber bar and sip on shots of rice wine flavoured with ginseng, rose and lychee, among others. Hurry though; for one thing, it closes its doors after 6pm; for another, unless more people find it, it might just close its doors forever.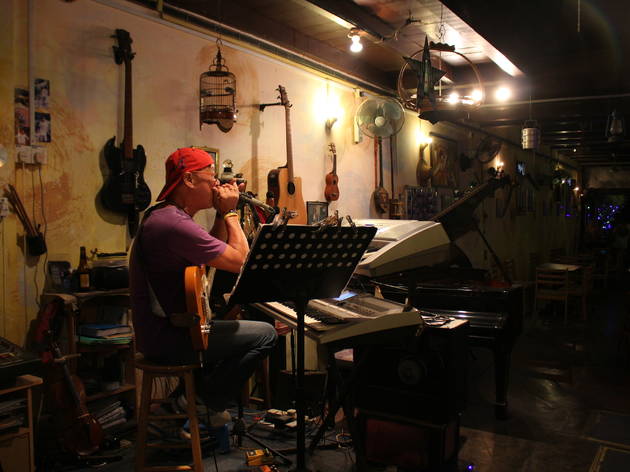 Photo: Joyce Koh
Reggae on the River
(
88 Lorong Hang Jebat. 012 218 7532
) is as its name suggests; begin your night at the bar that plays reggae music by the river. Beers by the bucket are reasonably priced, and you can boat-watch, which is vastly superior to people-watching.
Afterwards, keep up with the Joneses at
Me & Mrs Jones
(pictured above) (
3 Jalan Hang Kasturi. 016 234 4292
). The no-frills bar, run by Joan and her multi-instrumentalist husband Hawk, is a good spot for a cold one and some live music.
Photo: Ng Su Ann

Conveniently located at a corner of Jonker Street,
Geographer Café
(
83 Jalan Hang Jebat. 06 281 6813
) serves up cocktails, pub grub and live jazz.
Photo: Ng Su Ann
End the night at a hippie bar
Soon, of the aforementioned secondhand bookstore, used to own Shantaram (9 Jalan Tukang Emas), which explains the cat collages, the lingering hippie vibe and its tongue-in-cheek mantra, 'give piss a chance'. Shantaram is less bar and more a room stripped of all pretension: the space is strewn with some plastic chairs, and at the back, a fridge stocked with Tiger beers reigns. Settle in for the night with some beers and stirring conversation.



Photo: Ng Su Ann
There's more to do in Melaka
There's only so many times you can visit A'Famosa or the Stadthuys after the initial thrill of seeing those historical structures in Melaka. Give the obvious destinations a miss with our guide to the best things to do in Melaka.