Contest: Win a stay at The Club Saujana Resort
Win a stay for two, plus a spa package, a bottle of wine and afternoon tea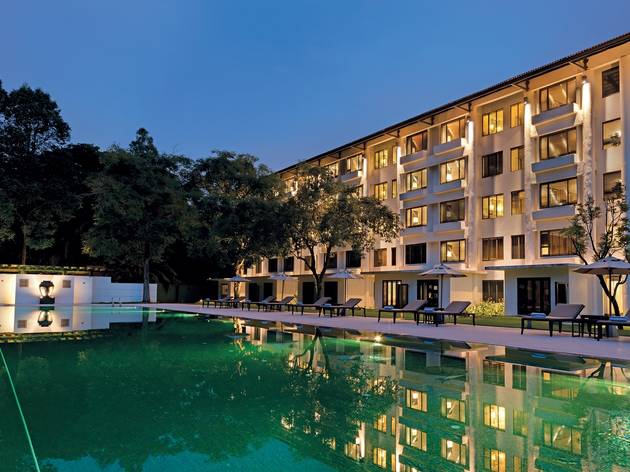 Prize: 2D/1N stay at The Club Saujana Resort's Club Room for two persons, with The Spa's Ultimate Head To Toe Mineral Indulgence package, a bottle of SHR wine and Afternoon Tea for two at The Lounge, worth RM2,000 each
The Club Saujana Resort is nestled just outside the city, making it perfect for a short weekend getaway. With 105 guestrooms, three boardrooms fully equipped with video conferencing facilities and wireless internet access as well as its convenient location next to a golf course, this resort is suitable for both business and leisure travellers. Breathe easy in the Club Room where you'll have a choice of three views: the gardens view, the pool view or the lake view. Each room comes in a suite-style open concept layout furnished with a kingsize bed, plasma TV, complimentary high-speed internet, a work station and a day-bed, just for some extra space to lounge about. Also included is a spacious bathroom with two washbasins, a separate toilet and also a bathtub and a rainshower feature.
When afternoon comes around, head over to The Lounge for Carcosa's traditional English afternoon tea for two. Chef Nazrie from Carcosa Seri Negara presents a menu of delectable afternoon snacks that include sandwiches, sweet treats like apple crumble and fruitcake, along with savoury munchies the likes of open tuna sandwich and smoked salmon croissant sandwich. Wash your meal down with tea like English breakfast and Earl Grey, just to name a few.
A getaway is not complete without a spa treatment. The Spa at The Club Saujana Resort is surrounded by a lush rainforest with eight spa villas and an intimate relaxation room. The Spa has three healing treatments that include the Ultimate Head To Toe Mineral Indulgence. This 150-minute treatment begins with a calming steam bath for 20 minutes. After that, sit back and enjoy the Dead Sea Salt foot bath for ten minutes that'll help get rid of the dry skin from your tired feet. Loosen up for an hour with a calming Balinese massage, which is then followed by the Full Body Exfoliating and Mineralising Anti- Aging Treatment for half an hour. No treatment is complete without a head massage and the indulgence package ends with a Spa Find Dead Sea Mud Envelopment Hair and Scalp massage for 30 minutes.
1. This contest is organised by Time Out Kuala Lumpur (hereinafter referred to as the 'Organiser').
2. The prizes for this contest are neither exchangeable for cash nor transferable.
3. All persons ('Contestants') taking part in this contest agree that these rules shall be binding on them, and that the entries in this contest, including their name and likeness, may be used without restriction in any future publicity material by the Organiser.
4. The Organiser reserves the right to amend these rules or terminate the contest at any time at its sole and absolute discretion. All decisions made by the Organiser under these rules shall be final and no discussion or correspondence will be entertained. The Organiser may, but is not required to, justify any decisions relating to this contest.
5. The Contestant acknowledges that the interest and good reputation of the Organiser is of paramount importance. The Organiser reserves the right to disqualify a Contestant from the contest, or to withdraw the prize if it believes the Contestant is in breach of its obligations under the rules. The Contestant shall not by act or omission, directly or indirectly bring the Organiser into disrepute.

6. All entries are sent at the risk of the Contestant and in the event that there are technical difficulties experienced arising out of the internet or from any associated equipment or internet security is compromised, the Organiser may at its sole and absolute discretion disqualify the entire entry and shall not accept any liability doing so.
7. Contest entries may only be submitted via the stated medium of communication.

8. This contest is open to anyone above 18 years old and contestants under 18 years old are prohibited from entering this contest.

9. Each entry must be completed in full. The Organiser reserves the right to disqualify any incomplete entries in its sole and absolute discretion.

10. Contestants shall only submit one entry and multiple entries of the same shall be treated as 'spam' and shall be ignored.

11. Incomplete entries will be deemed void.

12. Entries will be judged by Time Out Kuala Lumpur solely on the correctness of the answer(s) furnished and accuracy of personal details furnished with the judges' decision as final.
13. Winners will be informed by email.

14. Uses of 'aliases' shall be considered a form of deception and is prohibited.

15. The winner must produce their original IC / passport with legible IC / passport number in order to claim the prize. The winner may also be required to produce additional original proof of identity at the discretion of the Organiser.

16. All Prizes are accepted entirely at the risk of the winner, and the Organiser excludes all warranties in connection with the prize to the extent permitted by law.
17. All Contestants release from, and indemnify the Organiser, its agencies, sponsors and representatives against, all liability, cost, loss or expense arising out of acceptance of any prize or participation in the contest including (but not limited to) personal injury and damage to property and whether direct or consequential, foreseeable, due to some negligent act or omission or otherwise.
18. All personal particulars furnished are meant for identification purposes and will not be sold or given to any third parties.
19. Prizes will be forfeited if not collected within the time frame stated after the announcement of winners.