Heads up! We're working hard to be accurate – but these are unusual times, so please always check before heading out.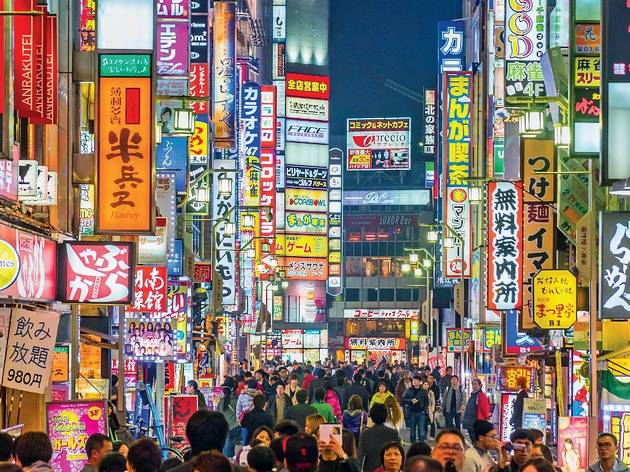 Guide to Tokyo
The perfect blend of chaos and calm, Tokyo makes you scratch your head and sigh with contentment in equal measure
HOTTEST 'HOODS
Harajuku
It's the neighbourhood that gave us Lolita girls, decora and all sorts of other unorthodox styles. Walk down Takeshita Dori and you'll understand why Lady Gaga likes to shop here.

Koenji
Famed for its underground music scene and scores of hip eateries and bars, Koenji hosts Tokyo's premier Awa Odori (dance) festival in August and lays claim to the title of 'Tokyo's coolest neighbourhood' year-round.

SHOP
Xanadu Tokyo
One of the few independent stores that actively supports young, relatively unknown Japanese labels such as Roggykei and Nyte. It's full of neo-futuristic brands.
Fourth floor, Plaza F4, 3-34-7 Jingumae, Shibuya-ku (+81 3 6459 2826).

Toga Harajuku
Elle calls Toga 'Katy Perry's go-to Japanese label'. The brand presents sophisticated and avant-garde garments and accessories for men and women, and has shown at Paris and London fashion weeks.
6-31-10 Jingumae, Shibuya-ku (+81 3 6419 8136).


Tsukiji street stall. Photo: Kisa Toyoshima

EAT
Afuri
The best ramen bar in Ebisu, on a side street out the back of Ebisu Yokocho. It serves dishes that are lighter than many, and attracts a hip young crowd who also appreciate Afuri's sleek industrial decor.
1-1-7 Ebisu, Shibuya-ku (+81 3 5795 0750).

Kibun Sohonten
Head to this street stall at Tsukiji Fish Market and try the Tsukiji Fry, a kamaboko stick made of crab-flavoured surimi seafood, or the Tuna Katsu Burger.
4-13-18 Tsukiji, Chuo-ku (+81 3 3541 3321)
Izumoya
Izumoya is a pocket of tradition and serenity – and, more importantly, a source of the highest quality eel-based meals in town. The fish, brushed with the restaurant's trademark sauce, grilled to a brownish-bronze hue and sprinkled with sansho pepper, is both salty and sweet, and compellingly moreish.
3-3-4 Nihonbashi-Hongokucho, Chuo-ku (+81 3 3241 2476)
Takano
If you can stay in business for 15 years, you must be doing something right. In the case of Takano, it's several things, with a diverse selection of dishes to keep even the most discerning noodle-lover happy. The basic chuka soba is a good starting point for newcomers: the combination of rich Akita free-range chicken with sweet niboshi (dried sardines) makes for a full-flavoured broth that's not too greasy.
2-15-10 Nakanobu, Shinagawa-ku (+81 3 3787 2100)
Sushi Daizen
This nine-seat restaurant specialises in silver-skinned fish like mackerel, sardines and gizzard shad. They only offer set meals and the basic structure is sashimi, a grilled dish, nigiri and miso soup. As for mackerel, their speciality, they often serve two types with different origins, both as sashimi, so that you can experience the difference in taste.
2-1-21 Yurakucho, Chiyoda-ku (+81 3 3581 6641)

DRINK
Xex Daikanyama
This rooftop bar is all sultry jazz ambience and quality cocktails, while outside on the terrace you'll find a pool, flickering lanterns and a perfect view.
Third floor, La Fuente Daikanyama, 11-1 Sarugakucho, Shibuya-ku (+81 3 3476 0065).

Sasagin
An excellent place to start any expedition into the world of the famed Japanese spirit saké, this long-running izakaya (traditional bar that serves food) comes armed with a well-chosen selection of nihonshu.
1-33-15 Uehara, Shibuya-ku (+81 3 5454 3715).
Koffee Mameya
For those still grieving the loss of Omotesando Koffee, this place is sure to bring respite. Opened by the same man, Eiichi Kunitomo, and located in the exact same place (albeit in a new building), Koffee Mameya is a bean specialist with enough shebang to turn you into a proper barista at home. As the focus is on selling beans, there's no place to sit down and drink, but regular coffee and espresso.
4-15-3 Jingumae, Shibuya-ku (+81 3 5413 9422)
Rock Fish
Highball enthusiasts will want to pay a visit to this quirky Ginza bar, if only for the ice-free 'Kaku' mixture served in a glass straight from the freezer. Praised as the whisky cocktail that puts similar concoctions to shame, it's best combined with a seafood choice off the lengthy appetiser menu.
2F, 7-2-14 Ginza, Chuo-ku (+81 3 5537 6900)
Jolly's
A venerable liquor store with nearly 100 years of history, Jolly's sits on Meiji-dori and is even more of a standout after a renovation in 2016. Now composed of a shop, a wood-trimmed counter and a basement music studio, Jolly's stocks up bottles that be tasted at the bar, which also serves up food including hot dogs and spam musubi rice rolls.
3-15-12 Higashi, Shibuya-ku (+81 3 3400 1029)



THINGS TO DO
Gotokuji
'Cat Temple' is thought to be the origin of maneki-neko, Japan's famous 'beckoning cat' that serves as a symbol of good luck. Gotokuji may seem ordinary at first glance – until you see the army of cat figurines sitting in the corner next to the temple.
2-24-7 Gotokuji, Setagaya.

Nakagin Capsule Tower
You might recognise this futuristic cell-like building as the love hotel in 'The Wolverine'. In real life, it is a rare remaining example of Metabolism – a post-war Japanese architectural movement that dreamed of cities filled with structures that would keep growing and evolving like living organisms.
8-16-10 Ginza, Chuo-ku.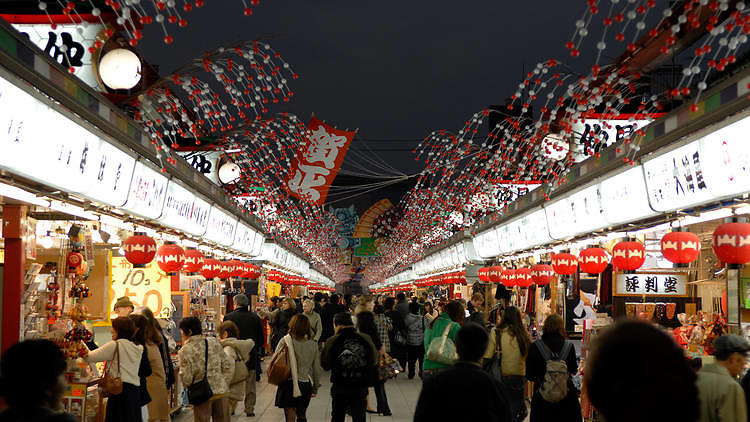 Nakamise-dori

HIDDEN GEMS
Nakamise-dori (early AM or late PM)
While most sightseers tend to visit the stalls on this shopping street during the day, you should pop by before 8am or after 8pm to experience a colourful world of painted rolling doors featuring drawings of traditional festivals and ukiyo-e images.
2-3-1 Asakusa, Taito.

Ueno Daibutsu (Kaneiji temple)
Forget about the pandas – inside Ueno Park you'll find the Kaneiji temple, which is the site of Daibutsu Yama (Great Buddha Hill) and its impressive statue of Buddha. The Ueno Daibutsu statue dates back to 1631 and its large Buddha face sits serenely in the park. Go early – it's opened 9am to 4pm.
Ueno Park, Taito (Ueno Station).

DON'T MISS
Shinjuku Golden Gai
More than 270 tiny drinking dens are crammed into seven ramshackle streets here. Impressive huh? Each place has a unique vibe – ranging from high-end cocktails to hard rock – and the atmosphere can be anywhere from friendly to downright hostile.
1 Kabukicho, Shinjuku-ku.

LOCAL'S TIP
If you're planning to visit Tokyo Sky Tree – look for the ticket queue specially for foreigners. That way you won't have to wait six hours to get in.
1-1-13 Oshiage, Sumida-ku (+81 5 7055 0634).
Learn more about Tokyo
Hot springs, or onsen, are a big deal in Japan. As winter descends, they also become desirable destinations for daytrips and weekend breaks from Tokyo, so we've rounded up six of the best.
Here are ten things you need to know about one of the world's greatest cities.