The best cafés in Johor Bahru
We take a break from KL for a café hop down south
Going to Johor Bahru for a weekend getaway? Make sure you add 'café-hopping' to your itinerary; Johor's capital city has everything from coffee shops with award-winning baristas to trendy brunch eateries. Here are five of our favourites. For more places to eat around Malaysia, see our list of best food trails.
PS: When you return to KL, head to these top KL coffee shops.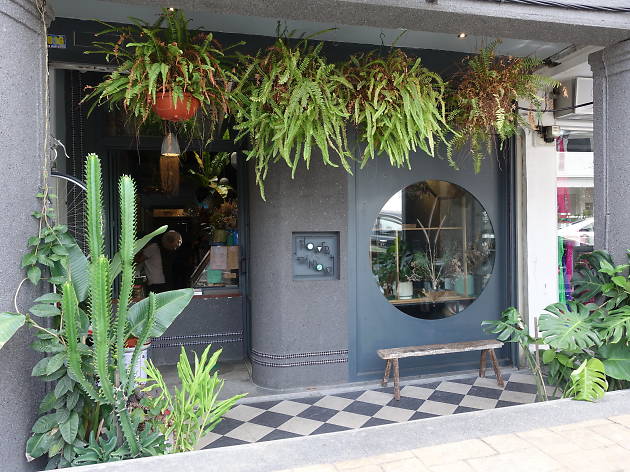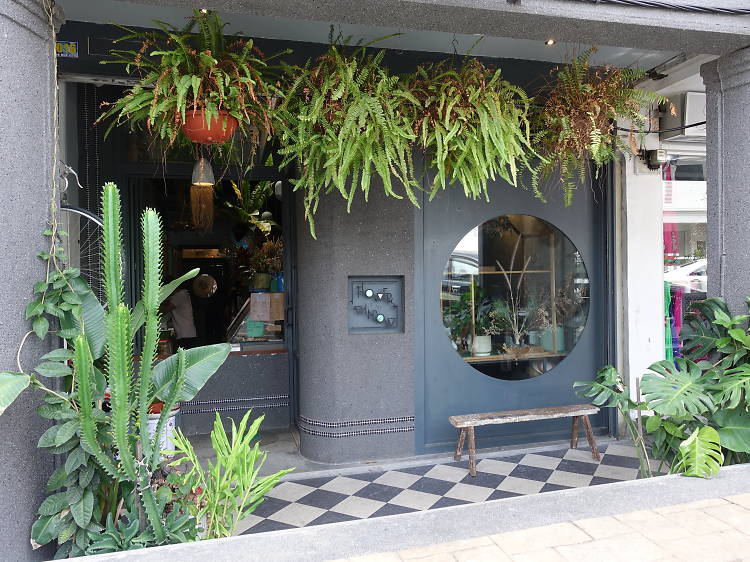 Littered with ferns and flowers, the first floor of this cosy two-storey café can feel a little cramped – what with plants, display shelves and the drinks counter along with tables and chairs all placed a bit haphazardly within the space – so head upstairs for more comfy seats to lounge on. Flowers in the Window is the other venture by the same people behind the popular Roost café, and offers up a similar menu.

The Hainanese chicken noodles dish is unlike anything we've tried: the noodles are thick, chewy and sticky, perfect with its sweet and spicy sauce. The chicken is lightly battered and fried, but not too greasy. Drinks and desserts pick up on the floral theme – try the lavender pineapple juice and lemon meringue curd.

9 Jalan Dhoby (07 222 7489). Mon & Wed-Sun, 10am-10pm.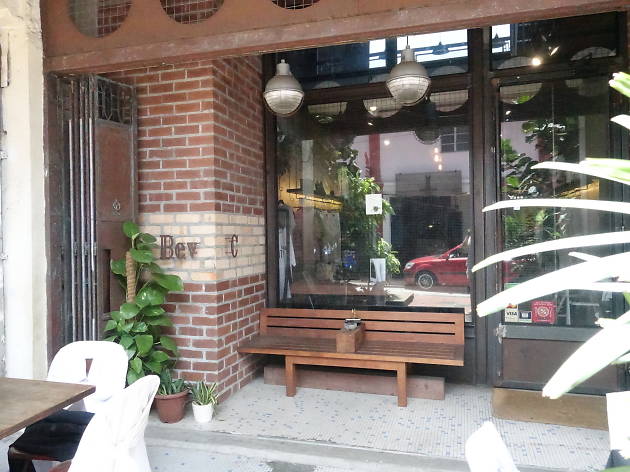 Don't be confused when you first step into Bev C and don't see the café – it's on the second floor. The first floor is a retail space that houses fashion basics, mostly in either black or white. Once you're happy with your purchase, climb up the narrow staircase and order yourself some coffee and snacks to refuel.

Snacks come by way of charcoal toasts and cakes, while the house special espresso ice cube is a favourite. Shots of coffee are frozen into cubes and served with a side of milk – this way, you can enjoy a cold cuppa without diluting it with ice.

54 Jalan Tan Hiok Nee (07 221 3530/www.bevcclothingbrand.com/cafe). Tue-Sun, 11am-8pm.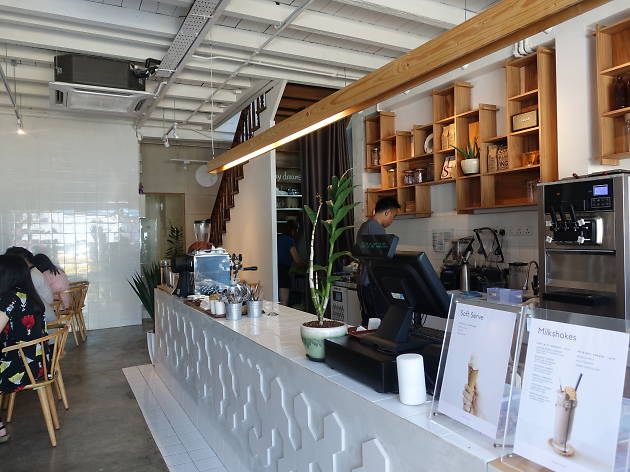 The newest café on the stretch, Shakespeare Milkshakes' specialty is, well, milkshakes. The advantage of this cosy little café filled with natural light is that the team doesn't go completely over the top with saccharine concoctions that have 'diabetes' written all over them. Try the Kinder Bueno Shake comes in a tall glass with a rim coated with Nutella, and topped with a cookie and half a Kinder Bueno.

If you're feeling peckish, waffles served with soft serve ice cream and other toppings like chocolate banana are available. And if you're looking for something savoury, we recommend getting a 'croffle' – croissants stuffed with cheese along with ham, tuna or beef pastrami before being pressed in a waffle iron.

9 Jalan Trus (016 421 8530/fb.com/shakespeare.milkshakes). Mon-Tue & Thu, 1-11pm; Fri-Sun, 1pm-12midnight.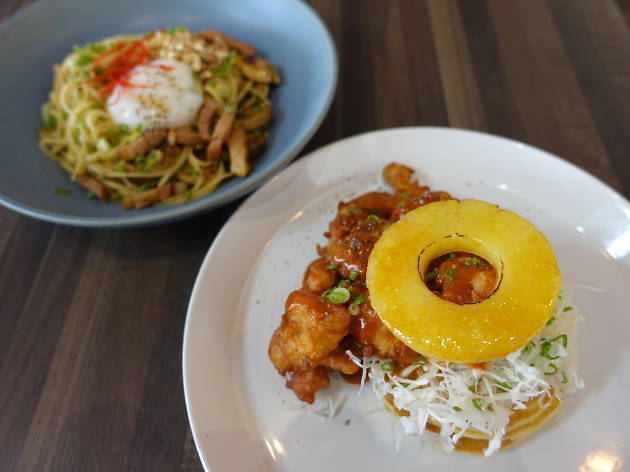 A short distance away from the main café district is Faculty of Caffeine. Pipes line the walls, fluorescent bulbs hang from the ceiling, and exposed brick walls that have been painted over in white all add to the charm of this quaint joint.

You can find the usual brunch dishes as well as pastas and savoury pancakes on their menu. The FOC Aglio Olio comes with your choice of beef bacon or smoked duck, button mushroom and 63C sous vide egg, creating a luscious sauce once we tossed our pasta. Skip the Korean fried chicken with pancakes – the rubbery pancakes were tough to swallow, and the sauce that coated the chicken tastes predominantly of ketchup.

106 Jalan Trus (016 720 0068/fb.com/facultyofcaffeine). Daily, 9am-6pm.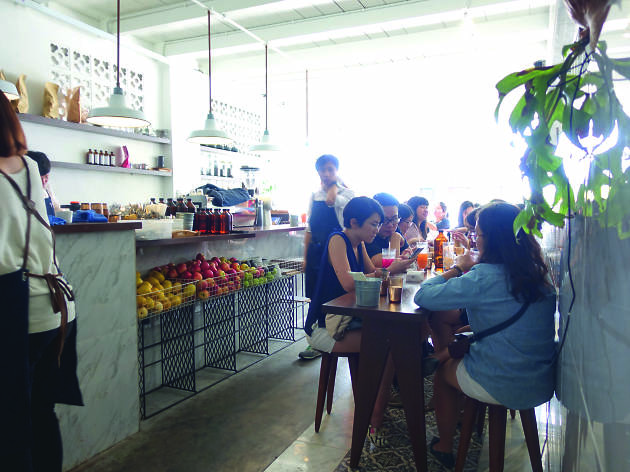 The Replacement - The Lodge and Kitchen
Compared to other cafés around these parts that are decked out in crazy decor, The Replacement stands out with its minimalist design. Natural light bounces off white walls and the marble bar, giving the spartan café a warm glow.

Order the soft shell crab bao with fries: the crispy texture of the crab has a nice contrast to the soft, homemade bun. For dessert, get a plate of piping hot churros with your choice of dip – there's salted caramel, dark chocolate, hazelnut Nutella and the ever-coveted salted egg yolk sauce.

33 Jalan Dhoby (010 226 0311/fb.com/thereplacementlodgeandkitchen). Daily, 9am-9pm.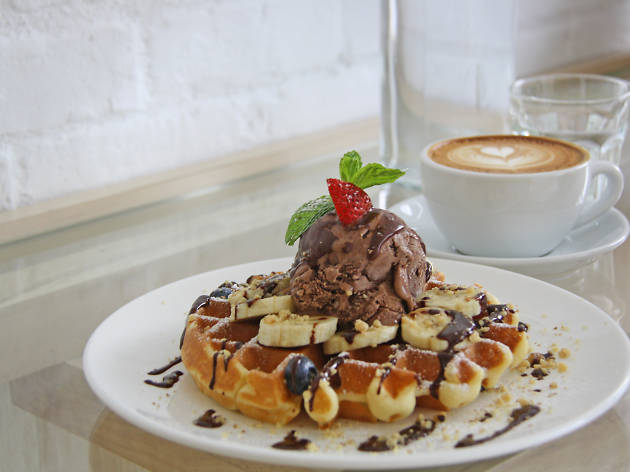 Photo: Ng Su Ann
The prodigal son returns – but alas, to Johor Bahru. JH Yee knows his beans and brews; last December, the 27-year-old winner of Malaysia Barista Championship in 2012, recipient of Time Out KL food personality award in 2013, and all-round coffee champion set up shop at Atlas Coffee Embassy. Serving its very own Atlas Signature Blend coffee – Brazil Santo Antonio, Costa Rica La Trinidad and Sumatra Tiga Raja Simalungun – the café is the reigning champ in a capital of contenders: a sunlit, white-washed space by Japan-based designer Jeff Ong for brew geeks from Penang to Singapore. The waffles, a throwback from Yee's Top Brew days, are wonderful too.

32 Jalan Austin Heights 8/7, Taman Mount Austin (07 358 7546/www.atlascoffeemy.com). Mon-Sat, 8.30am-11pm; Sun, 8.30am-7pm.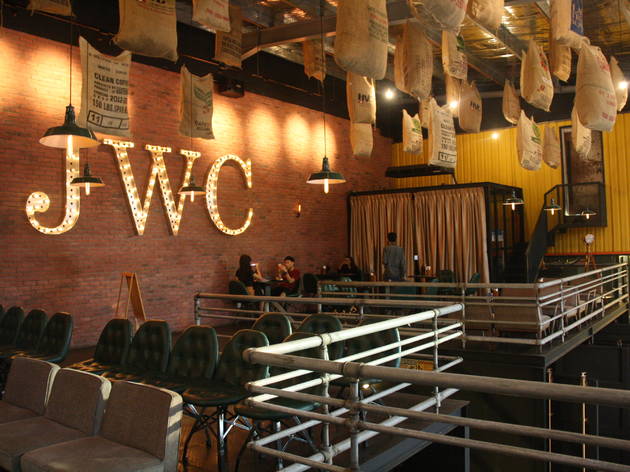 Photo: Ng Su Ann
Just Want Coffee, The Factory 30
The Factory 30 is as The Factory 30 suggests: a 4,000 sq ft, two-storey coffee place set up in the industrial area of Mount Austin, tucked away among warehouses and workshops. The Factory 30 is the headquarters of the Just Want Coffee brand; also good around Johor are Ink Brew by JWC, as well as Headmost Cafe by Just Want Coffee. For friendly service, and if you're fastidious about what's in a cup, you'd be happy here.

The menu, or the manual, which details different beans, brews and types of coffee roaster machines, can get overwhelming, but the baristas and staff are happy to talk you through it. Note that there's always a crowd, but also note that the bagels, baked fresh daily, are reason enough to wait for a table.

30 Jalan Mutiara Emas 5/3, Taman Mount Austin (07 350 7508/fb.com/thefactorythirty). Daily, 12noon-12midnight.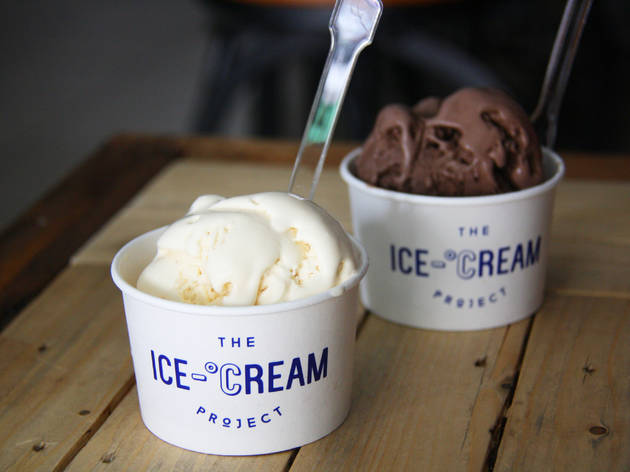 Photo: Ng Su Ann
TIP, The Ice-Cream Project
At this pint-sized Jalan Dhoby storefront – which, by the way, has a swing seat – the staff offer a twist on traditional ice cream with the help of some good ol' liquid nitrogen. Lest you start your naysay – 'But liquid nitrogen ice cream is nothing new!' – let the freshest, finest ice cream this side of southern Malaysia do the talking. There are only four fuss-free flavours: original in milk, chocolate, brownie and cream, and butterscotch. But less is more, especially when it comes to tried-and-tested classics.

Order a scoop of the original, top it off with a hot, homemade chocolate chip cookie, and wash it down with a glass of milk; it's as deceptively decadent, yet truly wholesome as any ice cream treat there is. There's coffee, but we suggest you select from the extensive Gryphon tea menu.

31 Jalan Dhoby (07 300 7286/fb.com/tipdonttilt). Tue-Thu & Sun, 3-10pm; Fri-Sat, 3pm-12midnight.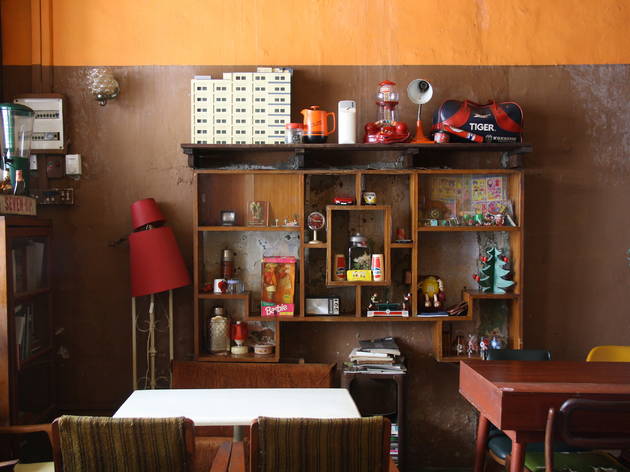 Photo: Ng Su Ann
Downtown at Jalan Dhoby, Roost is a two-storey time machine, a place to park yourself on lazy afternoons. It's determined to delight – and it does with its details, from mid-century modern sofas and mismatched tables and chairs, to antique telephone sets, mini jukeboxes and ornate mirrors, relics of a bygone time. A Malaysian will feel more at home here than in any other painfully hip, perennially all-style, no-soul café in Johor Bahru: the food menu is based on co-owner Wong's family recipes and the drinks are served in small, colourful buckets.

The Hainanese noodle and grilled chicken chop are highly recommended, and when you're done dining and drinking, pop over to Miss Ireen Handmade and The Girl Next Door: the custom accessories boutique and designer/vintage store and hairdressing salon share an alfresco area with Roost.

9 Jalan Dhoby. Daily, 10am-12midnight.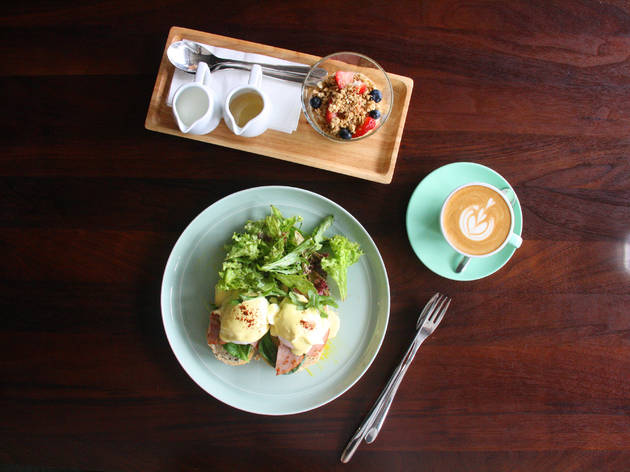 Photo: Ng Su Ann
The Brew Orchestra brings the entire symphony to its disciplined, distinct design; much like a concert hall, the ceilings are decorated with strings akin to string instruments, with light bulbs dangling off like musical notes. The decor, courtesy of Singaporean design consultancy Ehka Studio, is award-winning, but the spotlight is still on the coffee: café owner Isaac Loh is a licensed, professional cupper, one of Malaysia's few Q-Graders.

Standards are high here; the Orchestra acquires only grade 85 and above beans, with specialty coffee and seasonal house blends being standout offerings. Pair your coffee with a plate of eggs Benedict or the Breakfast Orchestra. We also like the yoghurt granola, which comes with a choice of fresh berries, or banana and pomegranate.

19 Jalan Molek 1/5C, Taman Molek (07 358 8234/fb.com/thebreworchestra). Mon-Thu & Sun, 8.30am-10.30pm; Fri-Sat, 8.30am-11.30pm.
Top 3 kopitiams in Johor Bahru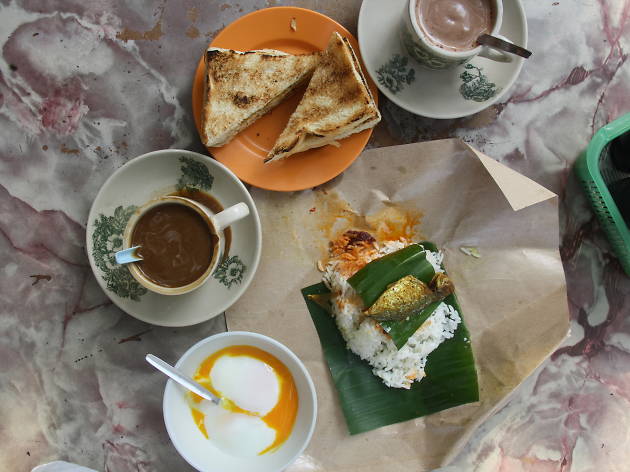 Photo: Ng Su Ann
Start your morning right with a cup of Hainanese coffee, two half-boiled kampung eggs, and toast with butter and kaya. Across the street is the bread shop and bakery Hiap Joo; get in line for its banana cake.

8 Jalan Trus. Daily, 7am-6pm.
Known for their great coffee-and- toast sets as well as Hainanese chicken chops since 1946.

131 Jalan Trus (07 224 7364). Daily, 8.30am-5pm.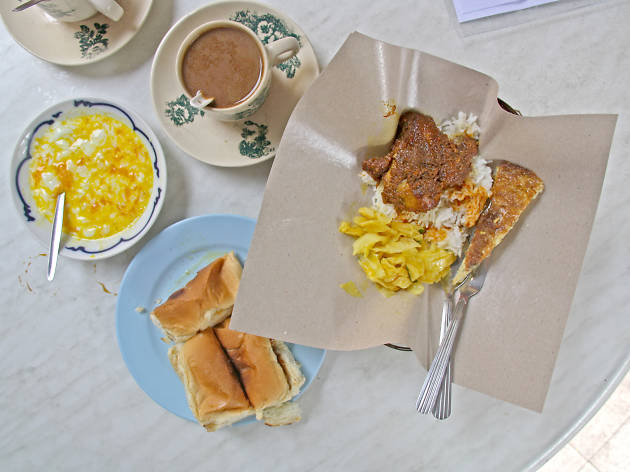 Photo: Ng Su Ann
Don't skip the Nasi Padang here; Adam Soroso has served up his famous beef and chicken rendang, fish assam pedas, and mussels fried with chilli in JB for nearly 30 years now. Round up your breakfast with coffee, toast and half-boiled eggs.

12 Jalan Trus. Daily, 7am-6pm, closed on alternate Fridays.