The best Airbnbs in Lisbon
Experience the Portuguese capital in style with our pick of the best Airbnbs in Lisbon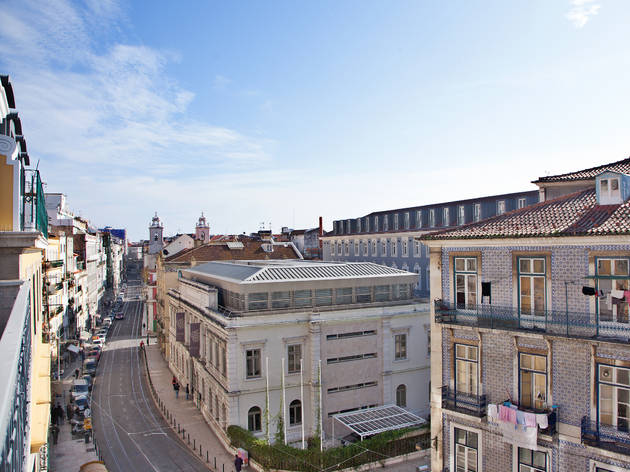 Finding things to do in Lisbon couldn't be easier. Why? Because ancient castles, beautiful churches and more are all in abundance. Plus there is also (deep breath): art museums, markets, beaches, fresh seafood eateries, bars in which to hear traditional fado music and one massive, ornate lift designed by a guy who studied under Gustave Eiffel. Phew. Told ya.
But while all of that sounds great, you're going to need a great base too, where you can start and end your days. So whether you're travelling solo, having a romantic weekend or enjoying a group trip, we've hand-picked some awesome Lisbon Airbnb's for you. Have a look below and start planning your adventure.
Recommended: The best hotels in Lisbon
Lisbon's best Airbnbs
1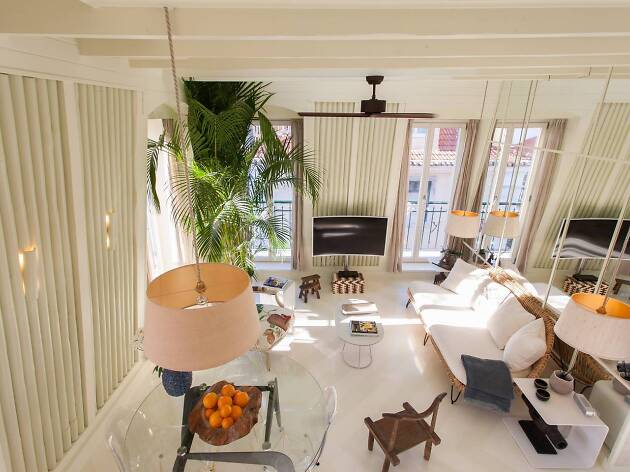 © Airbnb
Luxurious loft apartment, Chiado
If you want to know what it's like staying in an Ideal Home-style apartment, then this Airbnb is the perfect choice. Situated at the top of a pretty, traditional Portuguese building on a hill, this loft offer streams of light from floor-to-ceiling windows, plus views of the river and red-tiled rooftops. The level of design is as high as the fashionable district it's located in, and would make for a perfect romantic getaway thanks to a private balcony attached to the airy double bedroom.
2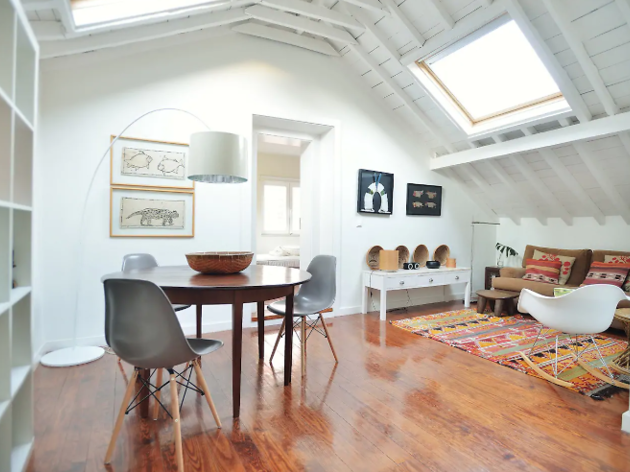 © Airbnb
Contemporary one-bed, Bairro Alto
Sandwiched within the cool neighbourhood of Bairro Alto, this bright one-bed provides a primo base for sightseeing. Top attractions like the National Museum of Contemporary Art, Santa Justa Elevator and São Pedro de Alcântara viewpoint are all nearby, as is a metro station and bus stops. Not only that, this newly-renovated space and is situated on a quiet street, so you can enjoy your getaway uninterrupted (if you want to).
3
© Airbnb
Perfectly located penthouse, Cais do Sodré
Practically perched on the river (well, almost), this penthouse provides clean and crisp modern style with plenty of home comforts. En suites, plush furnishings, three generous double bedrooms, big windows and a well-equipped galley kitchen can all be found here. Plus, major attractions are within walking distance, and in under five minutes you can walk to Cais do Sodré station, where a direct train will take you to the coastal resort town of Cascais. Feeling hungry? The Time Out food market is only a skip away.
4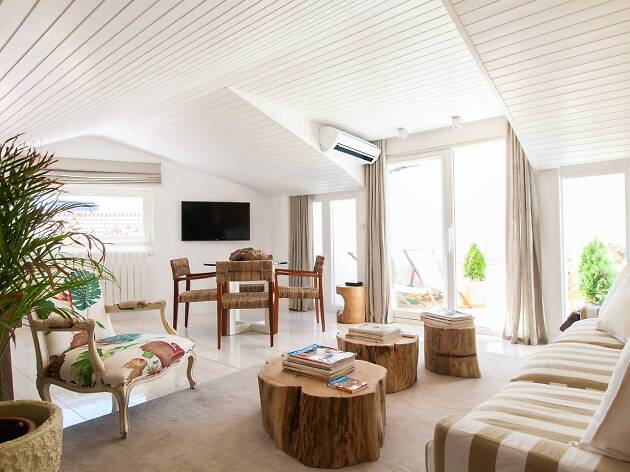 © Airbnb
This light and airy little studio apartment sleeps three but would suit a couple on a romantic getaway best. The low double bed is tucked snugly beneath the rafters, while the rest of the room opens up to accommodate a large dining/lounging area, with access to the spacious sun trap of a terrace. A quick descent down a few steps leads you to the cleverly laid-out bathroom and kitchenette, where the sleek interior is complemented by marble surfaces.
5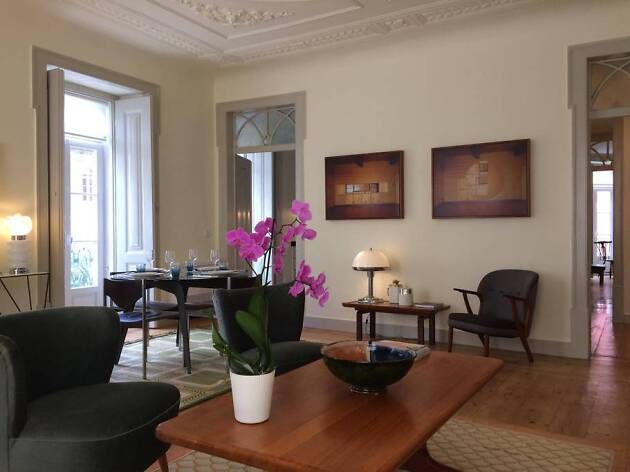 © Airbnb
Elegant mid-century flat, Chiado
If you can't stand the minimal look, then this place is for you. You won't find stark white walls here, only warm earthy tones and lots of solid wood furniture that was prevalent in from the 1950s to the '70s. Floor-to-ceiling windows let a whole load of light in and open up fully to the type of tiny balconies you'll find all over the city. There's a large bathroom with a walk-in shower and his-and-hers sinks, plus two beautifully understated bedrooms.
6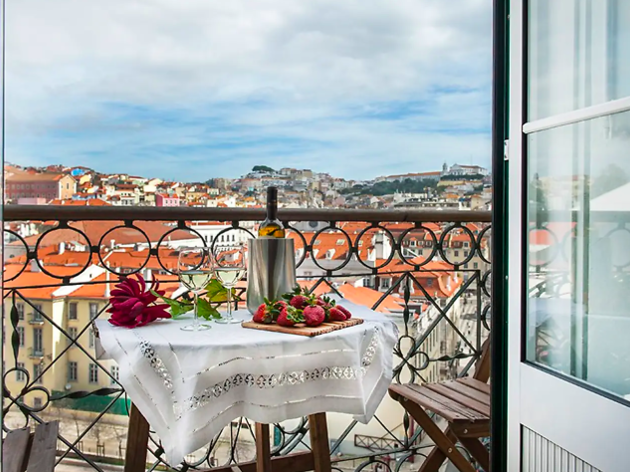 airbnb
Neat first-floor flat with a terrace, Rossio
This smartly furnished three-bed would make a good stop-off for a family or friends travelling together. There are three doubles a modern bathroom, a lounge, dining area and kitchen, plus a modest terrace and even a dressing room. It's located conveniently close to Rossio Square, where there's a big, beautifully detailed nineteenth-century station that can take you directly to the stunning Sintra mountains. Plus, the building façade is charmingly rustic.
7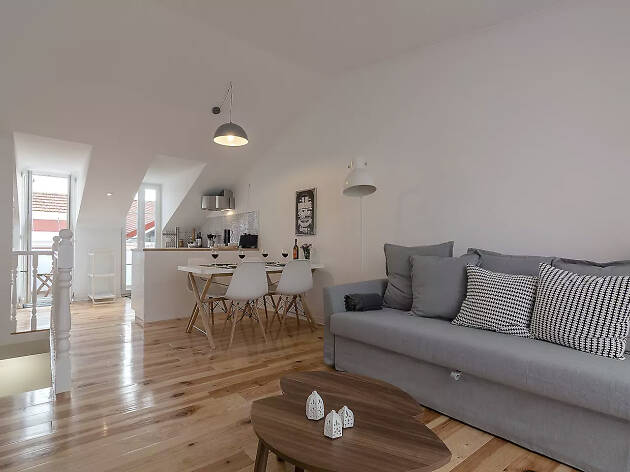 © Airbnb
Light and airy penthouse, Bairro Alto
What better to come back to than a penthouse when you're staying in the party district? With its many bars, restaurants and live fado joints, Bairro Alto is a hotbed for evening entertainment. And when you wake up with an inevitable hangover the next morning, you can do so in comfort, with plush beds to suitably horizontal in and lovely views across the city that can be enjoyed from a private balcony.
8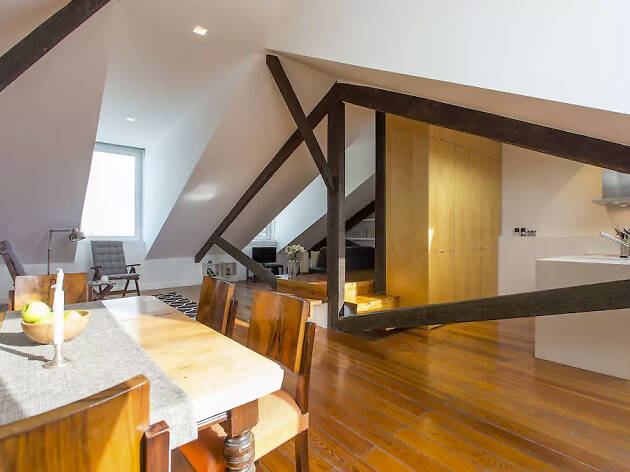 © Airbnb
Lovers loft, Principe Real
Head north of Rossio to find this lovely little loft, equipped with everything necessary for a romantic trip away for two. A grand entrance, plump double bed, a balcony with unobstructed views of the city and river thanks to a glass balustrade, and housekeeping (for €15 per day). Plus, given its central location, just about everything you'd want to see is in walking distance, but there's also a metro station ten-minute's walk away.
9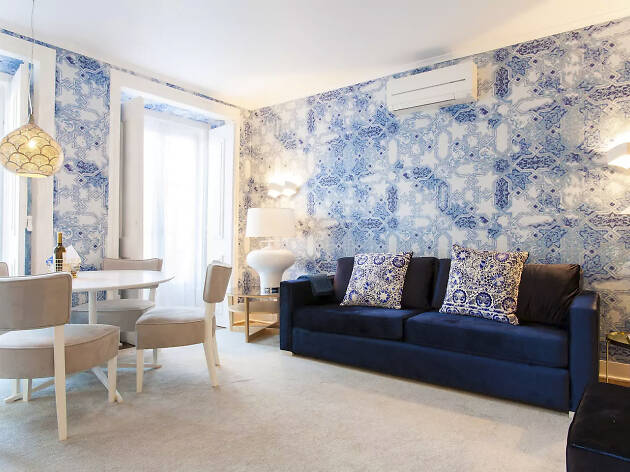 © Airbnb
Eclectic condo, Bairro Alto
The prints and patterns in this roomy one-bed may be eccentric, but they suit Portugal down to a tee. As you walk through the streets of Lisbon you'll see similar tiles adorning various buildings and walkways. The flat is in a traditional Portuguese building, with floor-to-ceiling windows, plus all the mod-cons. As an added bonus, the Tram 28 stops just outside, providing a clever way to do a bit of sightseeing, as these 1930s Remodelado trams run all the way from Martim Moniz up to Campo Ourique in the northwest.
10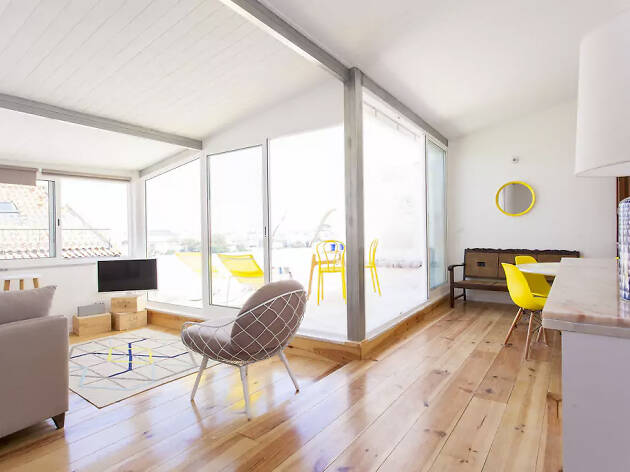 © Airbnb
The rooftop of a blue house, Principe Real
Given that the building is painted a bright shade of indigo, you're unlikely to struggle finding it. Once in, ascend the stairs (also partly blue) to the rooftop, where you'll find the spacious, open-plan living quarters. Don't worry, the two double bedrooms and bathroom are walled-in, but the rest is bathed in light that floods in through the huge, glass sliding doors, which open up to connect the lounge-diner and kitchen with the large and lovely terrace that overlooks the city. The rest of the apartment is just as understated and calm, making it a great space to unwind after sightseeing.
11
© Airbnb
Designer flat, Avenida da Liberdade
Dubbed a 'design flat', we're guessing a professional decked out this place because it's stunning. Located north of Rossio Square, this one-bed offers desirable decor in a well laid-out flat that flows seamlessly. The sunlit terrace leads through the lounge area-cum-kitchen, past the desk space under the stairs and down to a double bedroom with en suite and ample storage.
12
© Airbnb
Situated within an apartment block, this contemporary loft is within stumbling distance of the riverfront and Torre de Belém, one of Lisbon's most iconic structures. As well as its own pool (yes, you read correctly), this pad comes with two parking spaces and stellar views of the Tagus. A bit like a coachhouse in the air, this flat is long and each room runs into the next, from the double-bed, past the telly and sizeable dining set-up, into the kitchen. The place is filled with muted greys and creams that compliment the various bits of exposed concrete and although it's not the most spacious Airbnb on the market, it's certainly stylish.
13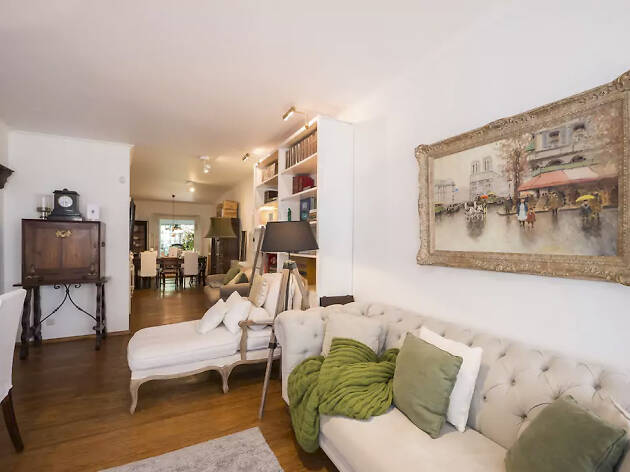 © Airbnb
Vintage gem with a secret garden, Belém
Over to the west of the city, where Lisbon's renowned Pasteis de Belém bakery/cafe lies, you can stay in a surprisingly spacious and elegantly decorated residence. There's a vintage theme running throughout, with oodles of character in the living room, kitchen, both bedrooms, bathroom and walk-in-closet. Plus, out back is a well-hidden tiled yard, surrounded by greenery, and accessed by two different staircases.
Check out Lisbon's best attractions
We wouldn't want to boast, but we know almost everything about visiting Lisbon. Follow our guide to uncover the top Lisbon attractions, landmarks and sightseeing areas...