Anicka Yi: 'In Love With The World' review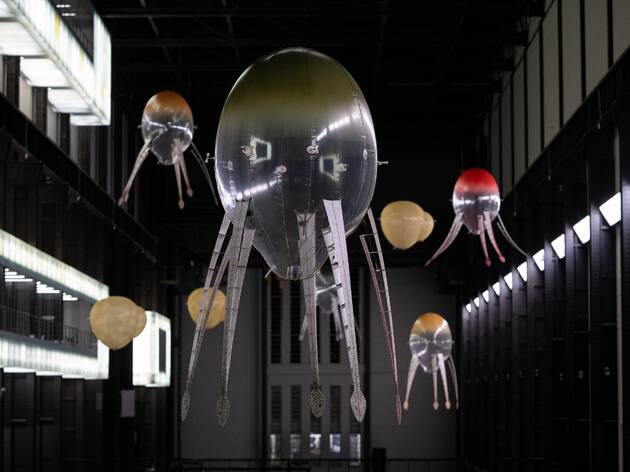 Time Out says
A flying squadron of alien machines has invaded Tate Modern. They are Anicka Yi's robo-army, sent from the future to make us consider what it would be like to share our world with machine intelligences. Quite nice, it turns out.
There are two different kinds of flying machines here: squid-like tentacled creatures called xenojellies and bulbous fleshy beasts called planulae. Powered by mini rotors, they float through the Turbine Hall's vast space, rising and falling on invisible currents, governed by complex algorithms that dictate their flightpaths.
They seem benevolent enough, and that's kind of the point. Yi wants us to imagine co-existence, not conflict.
Accompanying the xenojellies and planulae is a 'scentscape'. The odours Yi pumps into the space are meant to evoke different historical eras of the Thames riverbank: the pre-Cambrian, the cretaceous, industrialisation. But it smells so nice that really it's just like you're wandering around an enormous branch of Aesop.
The biggest problem here, as usual with this space, is that you can't help but measure the work against previous Turbine Hall installations. Does this stand up against what Olafur Eliasson, or Ai Weiwei, or Doris Salcedo, or Miroslaw Balka did?
It all feels a little bit like balloon animals in a perfume shop, but it's fun, and Yi's ideas are good, they're utopian, idealistic, they make you think about your relationship to technology and nature and the air you breathe. And at least the robots are friendly.
Details
Dates And Times