Banksy in London: all you need to know
Who is Banksy? Who knows. But what we do know is all this amazingly useful information about where to see, buy and appreciate the world's most famous graffiti artist in London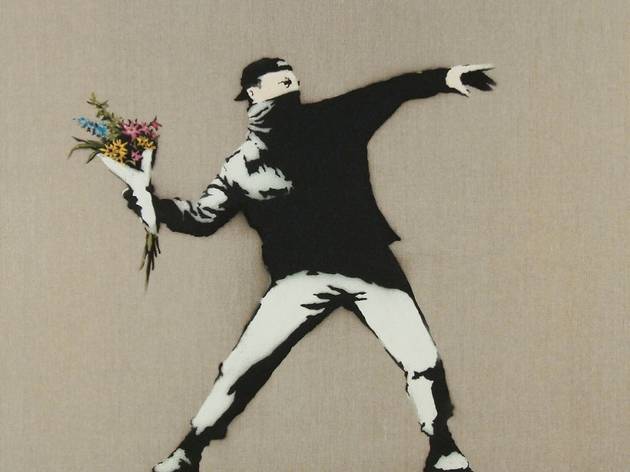 Ok, first things first, who is Banksy?
Who is Banksy? Good question. Since emerging in the Bristol graffiti scene in the early '90s, his identity has remained a mystery. Speculation has ranged from him being Massive Attack's Robert '3D' Del Naja, to being a whole collective of artists working under one banner. Then, a few years ago, a newspaper investigation claimed that he is in fact… a bloke, called Robin Gunningham, in his forties and living in Bristol. Which all makes absolute sense. But it's still a mystery. Kind of.
What does this Banksy fella do then?
A way more interesting question. Banksy, of course, is famed for his street art; it was his 1996 mural 'Mild Mild West' – still to be seen on Stokes Street in Bristol – that brought him widespread attention. And since then he hasn't really stopped, spraying his work across walls all over the globe.
Politics, consumerism, capitalism: it all comes under fire in Banksy's art. His below-the-belt satire is always delivered via strong images: the cash machine sprouting a robotic pincer in Clerkenwell; the kids hoisting a Tesco bag flag in Canonbury. He'll frequently rework famous images, too, like his addition of Ronald MacDonald to photojournalist Nick Ut's iconic 'Napalm Child' picture.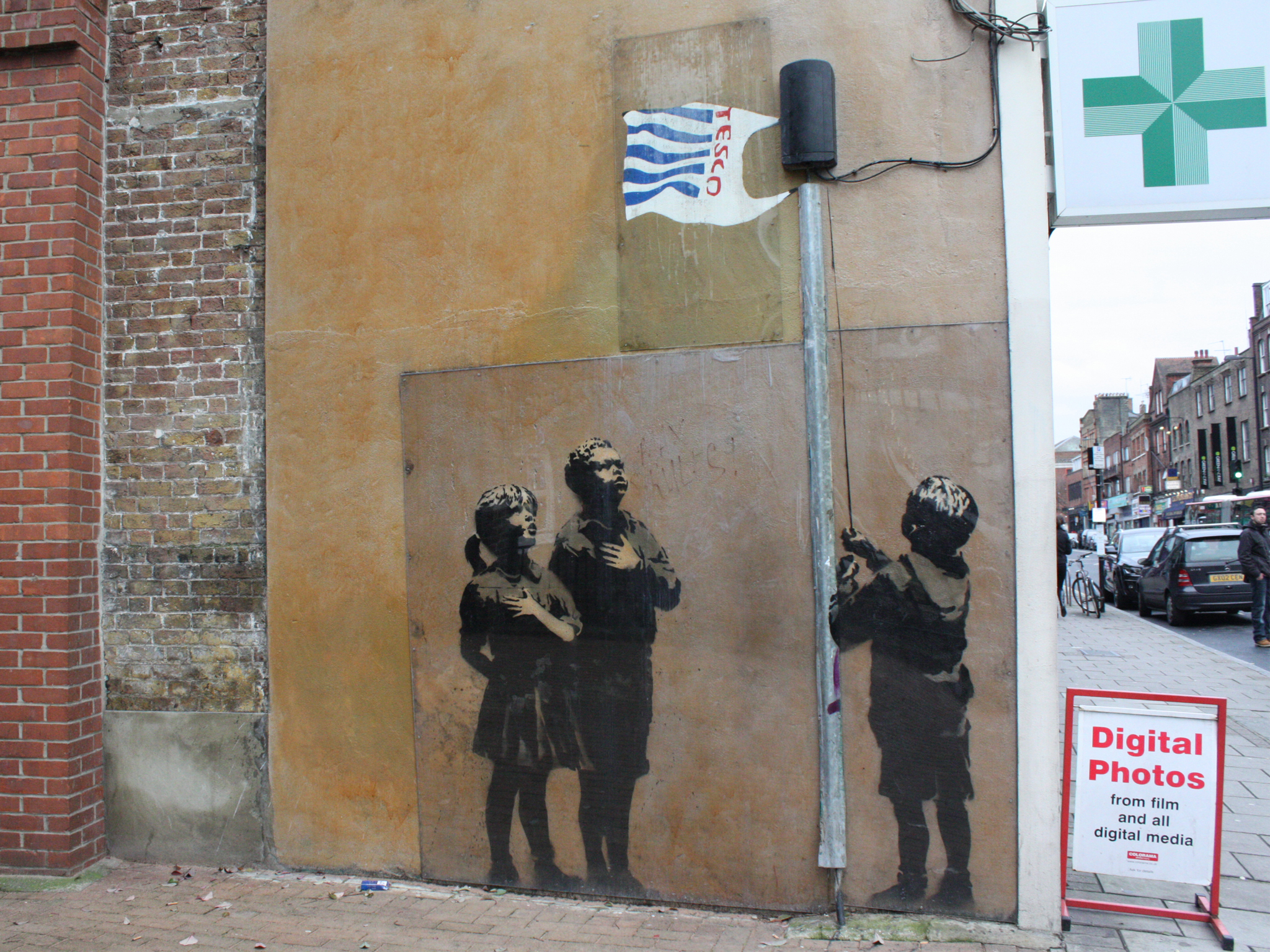 Banksy's 'Very Little Helps', Essex Road, Canonbury. © quite peculiar/Flickr (2009).
But the thing about Banksy – and what naysayers tend to call him out for – is that for all his fuck-da-man posturing, he's also become a massively successful commercial brand, regularly selling paintings, prints and objects in galleries for pretty tidy sums. His 2011 documentary 'Exit Through the Gift Shop' earned him an Oscar nomination. In 2015, he even created a kind of anti-theme park experience in the form of Dismaland, an ode to rundown seaside gloom in Weston-Super-Mare. And he's recently taken things to the next level with the Walled Off Hotel in Israel, a stone's throw from the West Bank wall.
Sounds good, where can I see Banksy's work in London?
Both outdoors and indoors. The outdoors stuff does tend to come and go, often getting painted over, added to by rival street artists, or, in a couple of cases, chipped away and sold on by property owners looking to make a quick buck. (Be warned: there are many Banksy pretenders out there, so if you see his stencilled aesthetic or one of his signature rats, don't take it at face value.) Luckily, we've created a guide to where you can find Banksy in London.
And what if I wanted to buy some of Banksy's art?
If you fancy making any purchases, you'll always be able to find his work at Stoke Newington's Hang-Up Gallery and at the Banksy Print Gallery on the South Bank. And with prices for his work still skyrocketing year upon year, you'll be making a sound investment.
Where to find more street art in London