Heads up! We're working hard to be accurate – but these are unusual times, so please always check before heading out.
Eight ways that Gilbert & George shocked the world
East End provocateurs Gilbert & George have been confounding London's art scene for decades. Here are eight of their pictures that really caused a fuss
Now in their seventies, Gilbert & George show no signs of growing old gracefully. Just take a look at their latest show, 'Gilbert & George: The Banners', where graffitied signs proclaiming 'Fuck the Planet' and 'Decriminalise Sex' hang from the walls. It's tempting to say they're back but, really, our favourite tweed-clad twosome never went away. They've been sharing their provocative, potty-mouthed pictures with us ever since they met at Saint Martin's School of Art in 1967. With nearly 50 years of anti-elitist art and mischief-making under their (probably matching) belts, they had a coffee with Time Out to muse on the images that have defined their career.
'The Banners' is at White Cube Bermondsey from November 25 2015-January 24 2016. Check out our London art exhibitions calendar or the top ten exhibitions for more great art across the capital.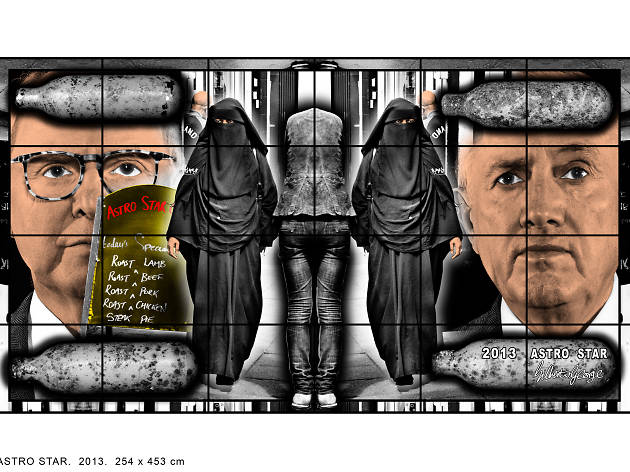 © Gilbert & George
George: 'Someone was up in arms about this picture. They said it was so offensive to see a burqa next to a sign for roast pork. But it was taken there. It's a single image. That's the joy of modern London.
Gilbert: 'Everything that surrounds us here becomes true. It is the centre of the world in some way and that's why we like it. It's active here. The Jewish were here, then the Bangladeshis started to come in, then the artists, the City is here, just all mixed up together, non-stop and it's interesting. We feel every sticker says something. We feel the people, the faces, they all become alive, like a futuristic idea.'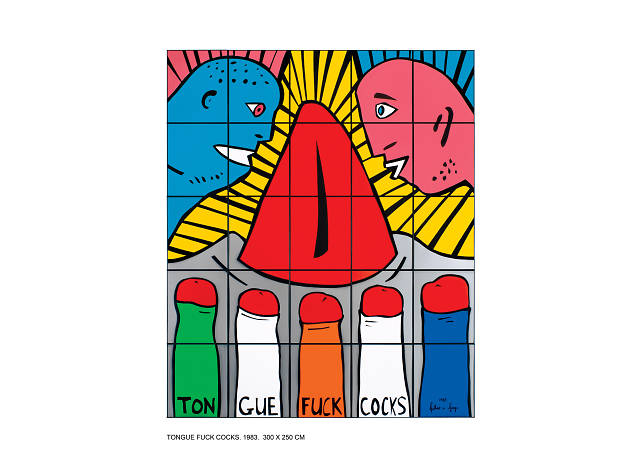 © Gilbert & George
2. 'Tongue Fuck Cocks' 1983
George: 'Whenever we're interviewed in Germany they always say: what happens when one of you dies? It's an appalling question to ask any two people in the world. I always say: do you mean if we walk under a London bus? Fear not, we always cross the road together.'
Gilbert: 'We have to make fun, otherwise it's a disastrous idea.'
George: 'And we're still bursting with pictures that we'll never be able to make. We still feel so many pictures inside.'
Gilbert: 'We are creating a foundation as well.'
George: 'We've found a fantastic building within a few minutes from here. And that will be forever, for a charity foundation. We say to our young friends that we wanted to do it because we want to become immoral. And they say: don't you mean immortal, and we say: That too!'
Gilbert: 'It will be the Gilbert & George Centre. Because we have so many pictures that belong to us. You could rotate the display three times a year. We have all the drawings of every art work we've done. We have all the invitation cards we ever made. We have an archive that goes back to 1968.'
George: 'You walk through the gate and it's like a magic garden. It's overgrown with trees and things and we want to keep that. We like that it's all gentle and sweet, then you get inside and see "Tongue Fuck Cocks"!'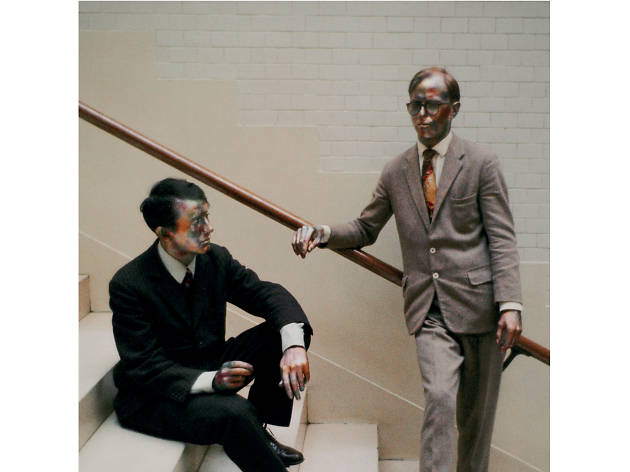 © Gilbert & George
3. Gilbert & George as living sculptures, 1969
Gilbert: 'In 1969, there was a show called "Live in Your Head: When Attitudes Become Form". It's quite a Gilbert & George title, really.'
George: 'The show moved from one city to another, and the unusual thing about it was that wherever it landed a local curator was appointed to add two or three more artists. We heard that the show was coming to London and we knew that Charles Harrison was the appointed curator, so we thought: Amazing, we're on! We had no doubt that we'd be chosen. And then to our amazement and horror we weren't. He didn't choose us; he chose three other artists whose names I've forgotten. We were so shocked. We thought this is probably an opportunity unique in our lifetime which will pass us by and it will mean we will never become something.'
Gilbert: 'Shows like that were so rare. We thought: We have to go to the opening. So we gatecrashed the opening. We went as "living sculptures", with metallic heads. We went on the tube together.'
George: 'And we just stood still in the middle of the private view, which was extraordinary because they had girls with fishnet stockings offering Philip Morris cigarettes. They were the sponsors, can you imagine? And we stole the show completely. People were amazed. We were an attitude.'
Gilbert: 'We weren't nervous. We were out there, doing it, winning.'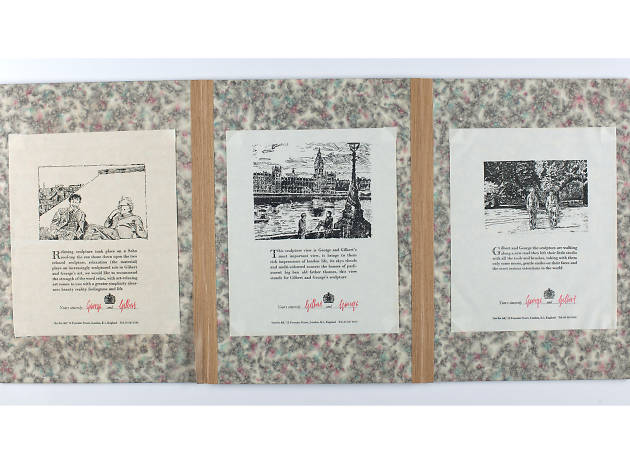 © Gilbert & George
4. 'Walking, Viewing, Relaxing' 1970
Gilbert: 'We sold our first work [with legendary German art dealer Konrad Fischer] for a thousand pounds.'
George: 'And that was because we didn't believe for one second that you could sell it. So when he asked the price, we just said the most astounding stupid amount. We thought: If he's not going to sell the work at least it's a fantastically good price. It was enough money to live for a year. I think houses near here were seven, eight, nine thousand pounds at that time.'
Gilbert: 'It was quite big headed in a way. And he sold it the next day! It was important for us to sell and to be independent. We never wanted to be part of the British Council or the Arts Council, getting some grant for doing something. We were totally independent. We made money from art and nothing else. That's what we did. It is important to make money from your art.'
George: 'Otherwise you're not an artist.'
Gilbert: 'But we stopped doing the drawings because they were too arty farty. We didn't want art that you need brushes to make, the artistic hand. We wanted the brain projecting new images on the wall. And we invented a language for ourselves that didn't exist before to make pictures. We still believe very much that it's our best invention.'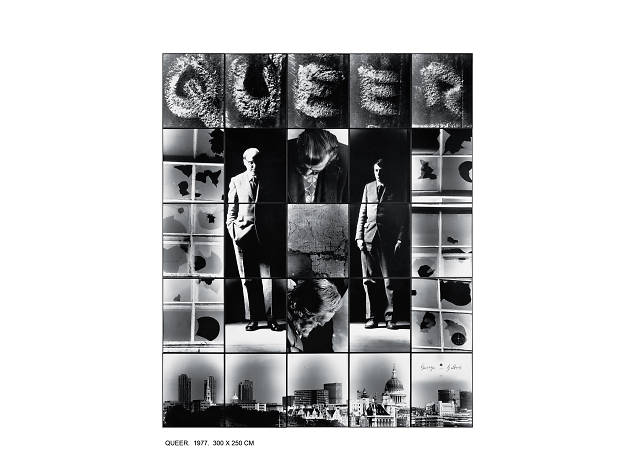 © Gilbert & George
George: 'I remember when we showed "Queer" in America. What they then called "the gay community" were very against the picture because they thought it was negative. But we said: We can steal it back!'
Gilbert: Woody Allen filmed our show at the Sonnabend Gallery for his film "Manhattan". There was another picture called "Prostitute Poof".'
George: 'They asked permission to film and we said fine, of course, and then we went to see the movie much later and they'd put the camera down to avoid the word "Prostitute" but "Poof" was all right. That's cheating!'
Gilbert: 'Americans were very big supporters of ours in the early days. But we were never tempted to move there.'
George: 'That's what all the lousy artists did. The best thing was to marry an American woman and, if possible, move to New York. Then you'd be photographed for the London colour supplements in a loft. With a stars-and-stripe cushion.'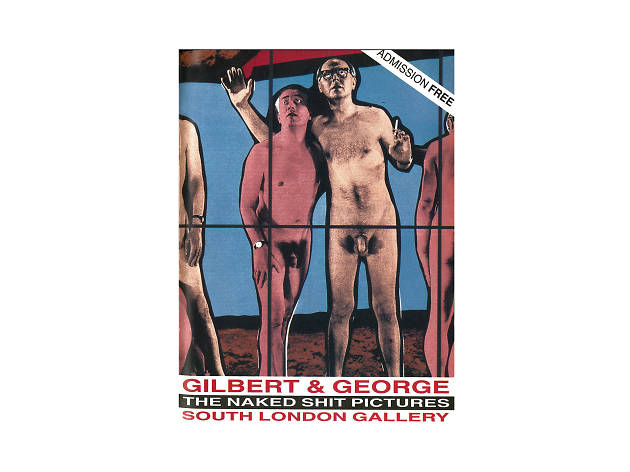 © Gilbert & George
6. The ad for 'The Naked Shit Pictures' that appeared in Time Out Magazine 1995
Gilbert: "The Naked Shit Pictures" was an amazing show. That was in the days when the South London Gallery had no public but we got nearly a thousand people a day.'
George: 'And 67 percent said they came from Time Out. We did some market research. The Advertising Standards Authority received complaints about the advert we ran in Time Out. The complaints were about the wording of the advertisement, which was "The Naked Shit Pictures" and about the naked male figure. So, months later the ASA sat ­– it's always retired judges, the odd bishop, quite distinguished people – and they found in favour of us on both counts. The nakedness they found in favour of us because there's a tradition of nakedness and nudity in fine art. And the title of the show they find in favour of us because it was a truthful and accurate description. It wasn't misleading. Those old boys got it right!'
Gilbert: 'We still have nearly all the "Naked Shit Pictures" because in the end the big collectors now only want safe art. We never did safe art. We always did art that asks questions because we believe that people can only liberate themselves through artistic feeling, through philosophers, or writing, or books. Not religion, not politics.'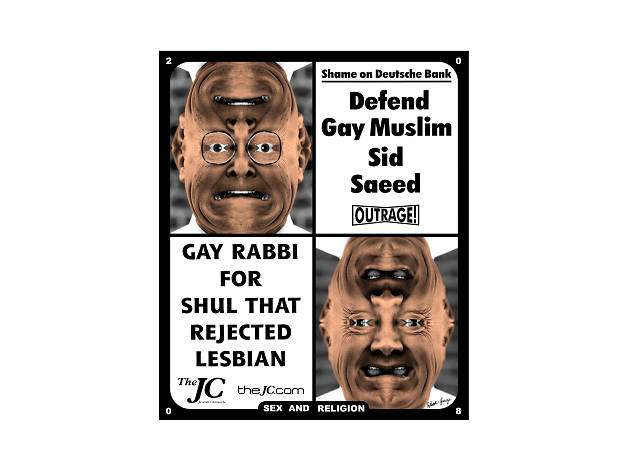 © Gilbert & George
7. 'Sex and Religion' 2008
Gilbert: 'We've met vicars. They gave a sermon in Munich about our show where they said that if Jesus was alive he would be standing right behind us. But I'm sure we have enemies.'
George: 'Once, a vicar made a speech saying we were sick, sad and serious. Serious, as in criminal. Extraordinary. But opposition has always been very good for us. It's always the enemy that makes you in the end. The more you're accused of something you more you have to think about what you are. If someone says: You're a big cunt…'
Gilbert: 'It's fantastic to be isolated. We don't feel obliged to do anything. We don't have to do anything.'
George: 'It gives us a great freedom.'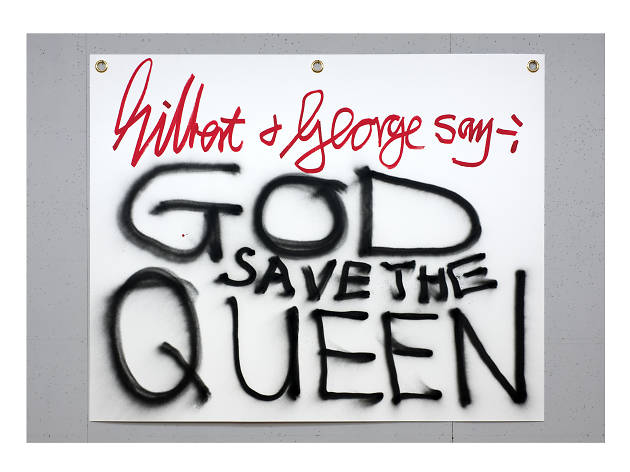 © Gilbert & George
8. 'God Save the Queen' 2015
Gilbert: 'So much has changed.'
George: 'The whole world, from when we emerged from St Martin's. At that time there were half a dozen artists in England, two Dutch ones, three French ones, eight Americans – and that was the art world.'
Gilbert: 'There were two or three little galleries.'
George: 'Now there are galleries in every side street. We get asked directions to galleries.'
Gilbert: 'And there's confusion because nobody knows what art is any more, because there are so many ways, so many art worlds. Not that that's bad.'
George: 'We wouldn't want the old days. We always said we wanted the whole world to become an art gallery, and in some ways that's become true. You can stop almost anyone in London and they'll know the name of a living artist – and they didn't in 1970. They only knew the name of a living murderer or golfer.'
Gilbert: 'There's an enormous public for art.'
George: 'It became part of a lot of people's life. There was a moment when it started to change. We had young Bangladeshi friends who'd heard of modern art but didn't like it because it was "too simple". What they meant was that it didn't discuss race, drugs, sex, immigration, unemployment, housing, fathers, all that stuff which is the fabric of life and, in a way, the fabric of our art. We stayed the same and the art world moved around so we weren't on the edges.'
Gilbert: 'But we only did that from standing still. We stood still and the art world became more like us.'