Francis Upritchard: Wetwang Slack review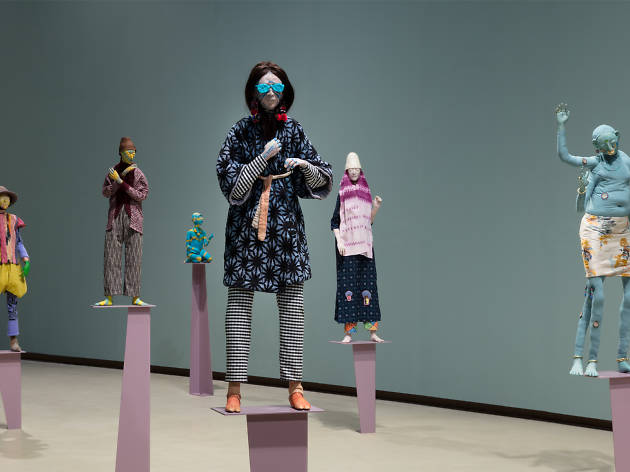 Time Out says
It's like every museum in London has been chucked into the Barbican's Curve gallery. Vases from the V&A, reliefs from the British Museum, hats from the Fashion and Textile Museum, figures from the Tate, artefacts from the Museum of London. But there's something slightly wonky with them. Those Parthenon-esque centaurs look desiccated and twisted, the hats are all tiny, the vases look like they're from another planet.
It's as if New Zealand-born artist Francis Upritchard has tried to recreate objects from all of her favourite museums from memory. You first stumble on two rows of figures: mystic priests and multi-limbed gods, all narrow nosed and sunken cheeked. Then there's a table of bronze monsters and severed feet that look like they've just been dug up, a series of display cases of jewellery still attached to ears, countless felt hats and little bonnets.
The stars of the show are Upritchard's glass and ceramic works. Grecian urns with gloopy mythical creatures, rearing mutants and canoodling ashen couples, frozen like lost lovers from Pompeii.
Upritchard has created her own artistic, anthropological and archaeological world. Tired of the soul-shrivelling fustiness of museums, she's just gone and made her own. What's here is a lifetime of aesthetics distilled down into something personal, fun and inquisitive. It's all a little twee for me, but also completely charming. Its clever, breathless enthusiasm and love of surreal aestheticism is totally infectious.
Details
Users say