Frieze Art Fair and Frieze Masters international gallery picks
Time Out's international editors give their inside view on galleries exhibiting at Frieze 2014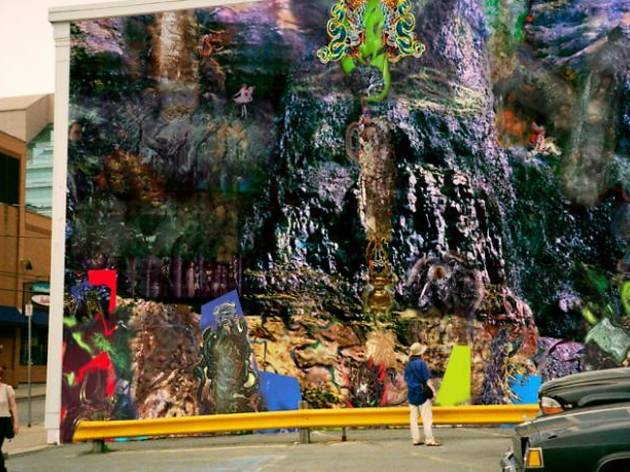 Frieze London and Frieze Masters
, we could do with some help hunting down the best of what's on offer. We asked some of Time Out's overseas editors for their recommendations.
Frieze London, stand J6
'Canada was one of the pioneers of the Lower East Side-Chinatown gallery scene, opening way back in 2000. Since then, it's been joined by one major institution (the New Museum on the Bowery) and dozens of other venues. Canada still keeps it real, though, with a programme that reflects the nabe's old-school, funky DIY aesthetic, as expressed by artists like Joe Bradley, Carrie Moyer and Michael Mahalchick. It's also mounted historical revivals of semi-forgotten post-minimalists from the 1960s and '70s such as Gerald Ferguson and the French Support/Surfaces group.'
Howard Halle, Editor-at-Large and Chief Art Critic, Time Out New York
Frieze London, stand B13
'The list of artists represented by the gallery is impressive, including Tatsuo Majima and Futo Akiyoshi, as well as international artists like Anton Henning and Ryan Gander. Ihei Kimura Award winning photographers Ryuji Miyamoto, Taiji Matsue, Cozue Takagi and young up-and-comer Akira Rachi are also involved.
'
Jun Igarashi, Editor, Time Out Tokyo
Frieze Masters, stand C6
'This contemproary art gallery-started by Italian art dealer Gian Enzo Sperone, Angela Westwater and German art dealer Konrad Fischer-is as old-school as it gets, having opened in 1975 in Soho, back when artists actually lived there. The gallery shortened its name to Sperone Westwater in 1982, and in 2002 relocated to West 13th Street in the Meatpacking District. Eight years later, the gallery moved to its current home, an eight-storey, purpose-built showcase designed by starchitects Foster + Partners. One innovative feature of the place: a moving exhibiton hall-actually a 12-by-20-by-13-foot elevator that can be connected to any one of the floors to extend the viewing space. Wim Delvoye, Guillermo Kuitca and Wolfgang Laib are among the artists the gallery reps. .
'
Howard Halle, Editor-at-Large and Chief Art Critic, Time Out New York
Frieze London, stand D8
'In São Paulo's thrumming gallery scene, Galeria Luisa Strina, one of the oldest and most prestigious of the lot, is very hard to beat for its enduring good taste and sharp eye for talent, backed by the time, money and clout to nurture the careers of some of the cream of Brazilian artists.
Works by the likes of Mira Schendel and Cildo Meireles underpin the selection the gallery brings to Frieze this year, along with a series of works in concrete by the phenomenal Anna Maria Maiolino. With a solo show currently running back at the gallery in São Paulo, at 72 years of age Maiolino's immense body of work stretches from 1960s neo-concretism to the stunning, large-scale installations in unfired clay she made for 2012's dOCUMENTA (13).
Look out too for the delicate, poetic works of Fernanda Gomes, one of Brazilian art's shining stars. The Rio de Janeiro artist conjures wordless recognition and joy from the very simplest of objects - a painted slat of wood; an iron hoop on a plain canvas, arranged with beautiful simplicity and grace. .
'
Claire Rigby, Contributing Editor, Time Out São Paulo

Frieze London, stand C6
'This gallery has locations in both Kiyosumi-shirakawa and Roppongi, and is named after Takashi Ishii, the owner. The gallery mainly exhibits the work of photographers, including Nobuyoshi Araki, Naoya Hatakeyama and Thomas Demand, but also deals in spirited works on canvas by artists such as Tomoo Gokita and Kyoko Murase.
'
Jun Igarashi, Editor, Time Out Tokyo
Snap up exclusive discounts in London
Time Out's handpicked deals — hurry, they won't be around for long...