Giuseppe Penone: Fui, Saro, Non Sono (I was, I will be, I am not)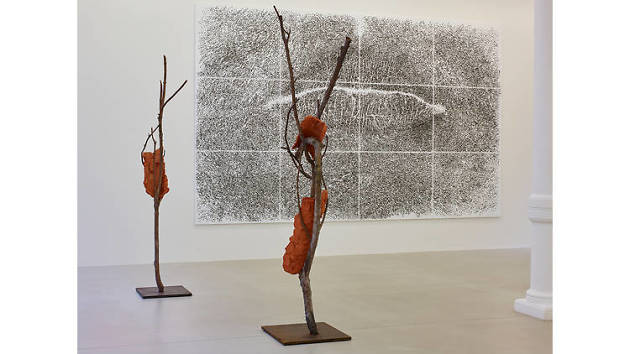 1/4
2/4
© Marian Goodman Gallery
3/4
© Marian Goodman Gallery
4/4
© Marian Goodman Gallery
Time Out says
Friendly warning! We're working hard to be accurate. But these are unusual times, so please check that events are still happening.
Getting old is the worst. I'm only 31 but I know it's all been downhill since I turned 18. So I can only imagine how Giuseppe Penone feels. The dude's almost 70 now, and it's weighing on him: age, ageing, time flitting by, youth evaporating. And that's what this big, spacious show by the founding member of the Italian Arte Povera movement is all about.
You're greeted by a mesh wall filled with spruce leaves. The work is eight years old: the leaves have dried, changing colour from bright green to light ochre. Opposite, three of his signature bronze tree casts hold clay masks of his face and chunks of clay that he's squeezed between his fingers. A single fingerprint in terracotta blooms into a stack of tile-like spirals. Casts of his young daughter's head bear marks from where he's touched her face. Bronze hands grasp into tall tree trunks. Drawings of fingerprints expand outwards like the rings of a tree. Upstairs, trees are encased in marble and black wax.
The whole way through, you get the feeling of a man trying desperately to leave his mark, to figure out his place in the universe. The trees are cast in bronze so that they stop ageing, the leaves are trapped to try and freeze them in the moment. Penone's fingerprint is everywhere, like he's trying to grasp something. Impending death hangs over it all – frustration at time's passing and its futility.
Look, a lot of this comes across as pretty old-fashioned, like pieces built for fusty backwater modern art museums, and some of it's terrible (a woman's lips made out of thorns? Mate…), but this is deeply personal work about a super-relatable subject, and lots of it is beautiful. Not bad for an old man.
Details