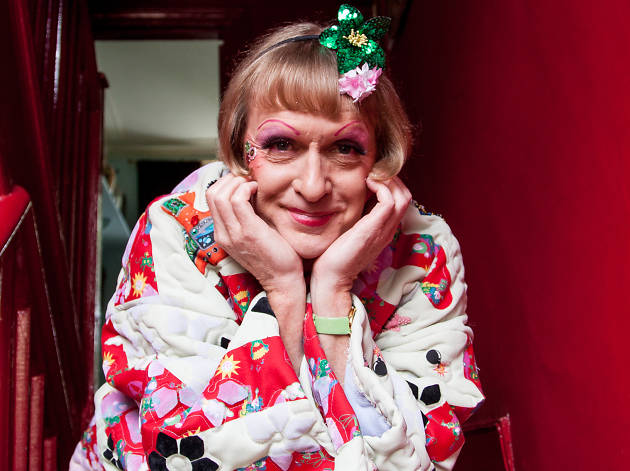 Grayson Perry's guide to bloody everything
The outspoken Turner Prize-winning artist, broadcaster and author is back with a major new show at the Serpentine Gallery. We hear his thoughts on the major topics of the day
Grayson Perry is everywhere. You can hear the Turner Prize-winning artist waxing lyrical on the radio about the art world; you can see his face on TV in his Channel 4 shows trying to figure out how Brexit happened; you can read his book where he's tearing apart the idea of masculinity. He's about as public-facing as an artist can be. And that's not by accident, but by design. Perry wants to communicate with everyone, not just an arty minority. He wants to put across his ideas about everything from gender to government, and he wants everyone to engage. His latest show is all about politics, populism and cross-dressing. Suffice to say, Perry has an opinion on pretty much anything.
On... popularity
'I think there's a sort of lingering snobbery about the idea of popularity. I'm quite aware that there are people who really don't like what I do and they see me kind of, not quite kitsch, but cheesy, or I think the term they might use is "pseudo-intellectual". But then, as I said the other day: "How do you tell the difference between an intellectual and a pseudo-intellectual? A pseudo-intellectual has a TV series and a great book deal!" [laughs]. The first people to criticise me are academics. I knew that would happen!'
Grayson Perry, Animal Spirit, 2016.
On... museums
'Anybody in the cultural sector should be under no illusion that art isn't still a really minority pursuit. I think "getting people over the threshold" is a big thing. Getting them to feel that the Tate Modern is theirs as much as anyone else's, or the British Museum. And often the snobs may look at it like, "Oh, you're just a big gift shop with a few exhibitions attached", but understanding the cultural position of people who don't go to art galleries, whoever they are [is important]: making intelligent concessions to that.'
On...cycling
'The bicycle has become a sort of lame lip service symbol of hipster green ecological culture. They hang it in the window of shops now almost like putting a political poster up. But snarking aside, cycling's great. Because the more people that cycle, the more seriously it's taken. I think there is no greater pleasure than being slightly tipsy and going through central London at about 11 o'clock on a summer's evening. It's one of the loveliest things to do.'
Grayson Perry, 2017 © Thierry Bal
On... the gender gap
'Gender is such a deep part of us as human beings, it's going to take more than a few decades of awareness training to change what that is. So you have to keep banging on about it. These things take time. I still think there's a gender gap: of course there is. We're attached to it, particularly in our sexuality. Our sexuality is always at least a generation out of date. We're turned on by things that are politically incorrect. Who has sexual fantasies about equality? Nobody. Nick Clegg, maybe.'
On... masculinity
'I talk about masculinity as a thing to do at the weekends. Don't do it at work! I remember a conversation I had with a women's group when I was researching my book and this woman said: "Middle class men now, they're such wets, they're not real men." And I said to her: "Would you really like an old-school macho man as a husband?" She said, "No, but in the bedroom, yes." And that kind of nailed exactly how we operate. That's why something like "Fifty Shades of Grey" sold so well, because women now feel confident enough that submission is a leisure activity. And I joked at the time, "Yeah but I bet it didn't sell well in Afghanistan." Because for women in Afghanistan, submission is not a leisure activity, it's a fucking awful state of being.'
Grayson Perry, Death of a Working Hero, 2016
On... trans rights
'Often what can seem like politically correct madness at the beginning becomes common sense and then just becomes background normality. We've seen it happen with women's rights, with gay rights and we've seen it become "normal". Things just change.'
On... toilets
'I was at Tate Modern years ago and I was wearing a really frilly little dress. I usually use the cubicles because I think that at least keeps a little bit of dignity, but I went up to the urinals because all the cubicles were full and there was a man changing his baby on the flap-down thing. Another man came into the loo and looked at me and looked at the man and said: "Very modern!".'
Grayson Perry, Puff Piece, 2016
On... Brexit
'All the people who voted Leave, they voted with how they felt. It wasn't about the facts, but their feelings do not lie. That's how they felt. That's being human. Tell someone their ideas are rubbish, they're still going to believe in what they feel. You can tell them that God doesn't exist, or the NHS is not gonna get £350 million a week, but they will still vote the way they want. You've got to change their feelings, not their thoughts.'
On... politics
'I think that a lot of people don't give a damn about politics. I think that's why a lot of politicians say the same phrase over and over again and those of us who are interested in politics get sick of it. But they're talking to people who probably know Theresa May and Jeremy Corbyn and they're the only two politicians they know. And so they're talking to the whole electorate, not just to us political fetishists.'
Grayson Perry, The Digmoor Tapestry, 2016
On...nightlife
'I had a nightclub phase in my twenties: I would be the person who would turn up when the nightclub was cheap or free entry, dance until the dancefloor got crowded and then go home. People my age still go to nightclubs and I'm like, "What are you doing!" because I'm quite deaf now and the thought of going into the hazardous environment of a nightclub…'
On... gentrification
'It's a worry because it turns a place into a cultural desert. When I'm in one of the really rich areas of London, I get the feeling everyone kind of takes it all a bit for granted. And I'm like: Life isn't like this. It's really important that there's cheaper accommodation for creatives or whatever because a lot of the super-rich don't add to the cultural vibe of a town. If they're even here.'
Grayson Perry 'The Most Popular Art Exhibition Ever!' is at the Serpentine Gallery from Jun 8-Sep 10 2017.

See which other art shows we're excited about
Get your diary out for a new season of must-see exhibitions
Support Time Out
We see you're using an ad-blocker. Ad revenue is Time Out's main source of income. The content you're reading is made by independent, expert local journalists.
Support Time Out directly today and help us champion the people and places which make the city tick. Cheers!
Donate now