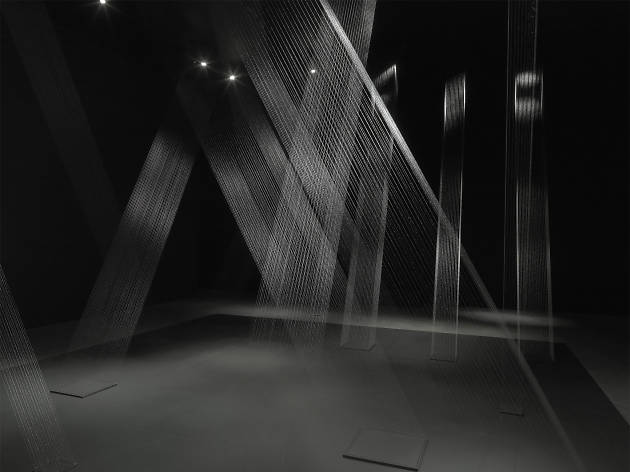 Light's important in art. Obviously. From the stark contrasting light and dark of Caravaggio to Monet and his shimmering naturalism, all the way through to Antony Gormley and his big cloud box, artists have always been obsessed with light and how to capture it. Then there's Brazilian modernist Lygia Pape. In her own, perfectly abstract way, she might be one of the great unrecognised masters of light.
Walk into the back room of this show and you'll find a criss-crossing set of spotlit glittering wires in an otherwise pitch-black space. They intersect and clash, like columns of light frozen in a moment. They make you feel like you're looking at a real-life, giant, physical version of a great abstract painting – it's modernism made real. It's light, captured perfectly.
In another installation, piles of blue powder are formed into little pyramids on white sheets, with dark blue lights shining down on them. Seeing them is like looking down at the pyramids of Giza from the sky, but when you're really, really high on psychedelics.
There are early geometric drawings here too, which are so lovely you'll want to nick the lot, but the installations are the real gold. They're properly illuminating.