Heads up! We're working hard to be accurate – but these are unusual times, so please always check before heading out.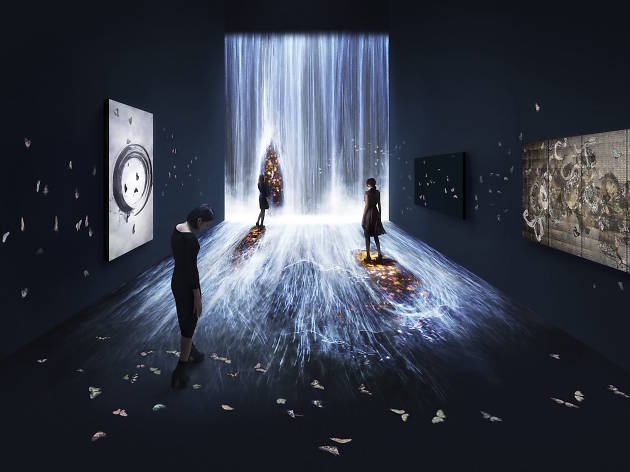 TeamLab: the Tokyo 'ultra-technologists' creating totally immersive art
Here's what you need to know about the renegade animators, programmers and engineers that want to bring you into their art-tech mash-up
They're Japanese ultra-technologists

This Tokyo collective of 'ultra-technologists' (no idea, sorry) create awe-inspiring digital installations that walk a tightrope between art, technology and design. They are programmers, engineers, animators, mathematicians, web designers and artists. Freaks and geeks, basically. Their aim is to mash art and technology up together and produce a different kind of goo, creating installations out of light, projections and interactive technology, taking inspiration from pre-modern Japanese art. The point of their show is to get you completely lost in the work. And to make you ask what an 'ultra-technologist' is.
They create totally immersive art
In one work, a waterfall flows down the wall on to the floor, parting around your feet. In another, they've mapped how hundreds of thousands of water particles interact and re-visualised themas ghostly undulations surrounding you in an otherwise pitch-black room. In one of the main pieces, flowers are projected on to you – if you move, the flowers crumble and die, but if you stay still, more will grow.
© TeamLab, courtesy of Pace Gallery

The aim isn't just to play around with ideas of birth and death, but to create something that's constantly changing and unique to each viewer. Butterflies will emerge from where you're standing, waves will roll, flowers will bloom. You'd get a similar experience if you took a good fistful of something illegal, but there's no comedown from this.
It's all about breaking down barriers
There are no ropes around paintings or guards standing in the corners of this show. The TeamLab masterminds want to do away with the boundaries between you and the art, so that it literally comes off the walls and spills on to the floor or fills the air, so that you – the viewer – become an integral, vital part of the art.
You interact with it, change it, manipulate it – and it does the same right back to you. You get utterly lost in it. For TeamLab, art isn't something to just be looked at, it's something to be experienced. The way they see it, it's like the difference between looking at a menu and actually eating the food. Sure, menus are great, but actually eating the food is the best bit. This is the same. Ish.
TeamLab's 'Transcending Boundaries' is at Pace Gallery from Wednesday January 25 until Saturday March 11. Entrance is free but tickets need to be booked in advance. Click here for tickets.
More essential contemporary art
Here's our guide to the giant project spread across London that's showcasing work from 21 contemporary art galleries around the world. Think of it as a massive art party.