Heads up! We're working hard to be accurate – but these are unusual times, so please always check before heading out.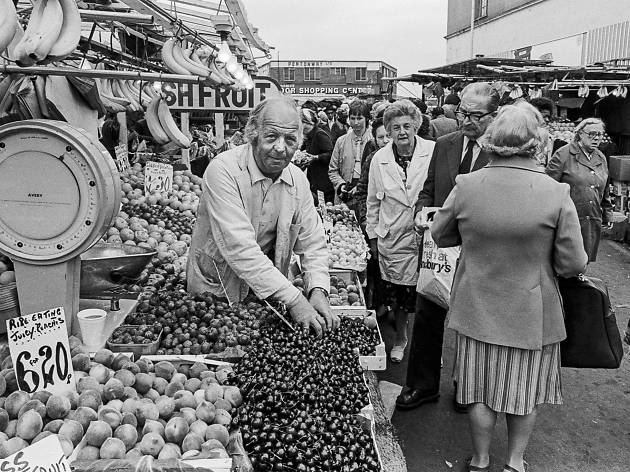 This archive photo shows that Ridley Road Market hasn't changed much
What did life in Hackney look like 40 years ago? We chat to photographer Neil Martinson about the story behind this 1981 snap of Ridley Road Market
Hackney has changed a lot since the 1950s. Gentrification is rife in the east London borough, but these archive photos by local photographer Neil Martinson show that not everything is different. This picture of Ridley Road Market, for instance, shows a scene you might still see on that road today.
Martinson began documenting the area in the '70s. From nurses campaigning for a fairer wage outside Bethnal Green Hospital to families running errands, he captured all aspects of everyday life. Five decades later, he's published his photos in a new book, 'Hackney Archive'.
'At the time of the photo, times were tough in Hackney,' explains Martinson. 'The largest factory, Lesney, was facing closure, with hundreds of women losing their jobs. There was cut-throat competition in the rag trade and conditions were poor. Ridley was always jammed with people looking to buy cheap food and clothes.' But it wasn't just about doing your weekly shop – Martinson says it was the focal point for the community. 'Street markets have always been an important part of London's history and culture. Ridley Road was a meeting place – a place to demonstrate and be seen.'
As a child, he found the market intimidating. 'I'd go with my mum to do her weekly shop. Back then I found it a bit scary, lots of shouting and shoving, but my mum gave as good as she took.'
The stall in the photograph is still going today. Back then it was run by Bill Julian (pictured) and it's still in the family. 'Bill Julian's family have had their fruit and veg stall in Ridley Road for around 100 years,' says Martinson. 'His granddaughter Kiely now works on the stall. I took her photo recently as I've been revisiting these places.'
Martinson doesn't live in London these days, but when he comes back he always visits this corner of the capital. 'I relish the energy and diversity of Hackney', he says. 'It's a place of constant change – not always for the better – but there is a resilience there.'
Now check out more London photography
Addicted to Instagram or permanently attached to your SLR? Find the the best exhibitions at the most beautiful galleries in a flash with our guide to the best photography London has to offer.