Heads up! We're working hard to be accurate – but these are unusual times, so please always check before heading out.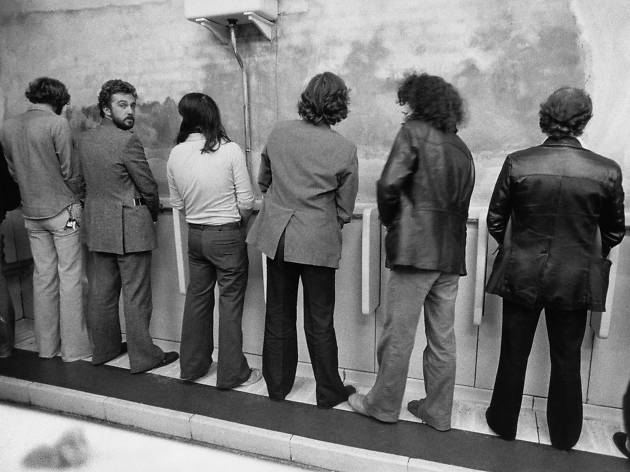 This photo captures London life at a 1970s beer festival
We unzip this candid shot from the urinals taken at an Alexandra Palace beer festival in 1979
Photographer Peter Marlow, who died in 2016, lived in London for much of his life. He began his career as a photojournalist: capturing conflict in Northern Ireland, Angola and Lebanon. Later, he stepped away from documenting war and became known for his candid photography of life in the UK. This 1979 photo, 'A Beer Festival in Alexandra Palace', features in the Barbican's new exhibition, 'Masculinities: Liberation Through Photography'. Curator Alona Pardo explains why it's such a compelling image. 'This is a public urinal, which says something about men's lack of privacy, but also their togetherness,' she says. 'The men look equally comfortable and yet deeply uncomfortable about the whole situation. One guy is looking around directly at Marlow – he's annoyed. It's such a private moment, and yet utterly public.'
Although taking photos in toilets is probably not recommended, Pardo sees this image as empathetic, not sexualised or sensationalist. 'This is just the everyday bloke taking a piss at a beer festival. It's respectful. This isn't the lads puking up around the back of Ally Pally, though I'm sure they were doing that!'
Pardo says that Marlow's skill was in documenting small, unassuming snapshots of everyday moments around the city and beyond. 'He often captured the things that weren't of interest to other photographers,' she says. 'Whether it's men in the bleachers or a dad taking his son to the chip shop, he gets up close and personal.'
'Masculinities: Liberation Through Photography' is at the Barbican until May 17.
Find more exhibitions in London
From exciting new gallery openings to upcoming London photography shows, keep your eyes peeled and your paintbrush poised for as much art as your diary can handle. Or, if you can't wait that long, here's the best new art in London this week to satisfy those creative cravings sooner.