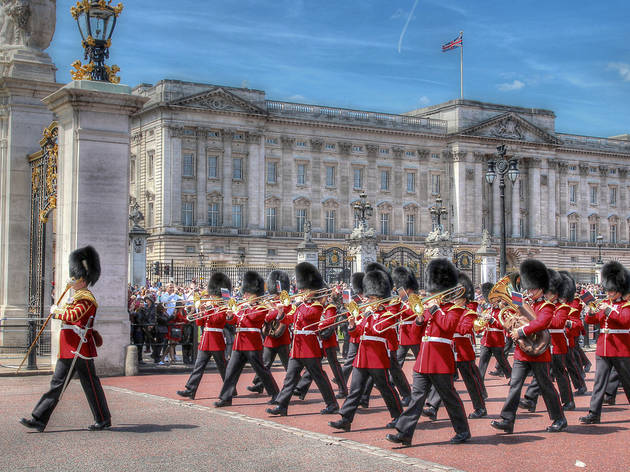 1/11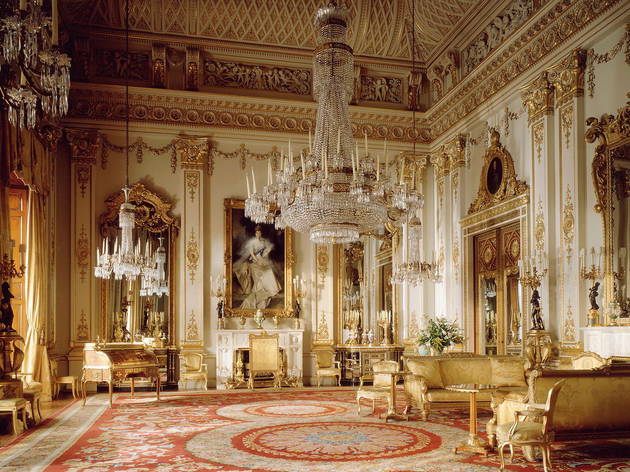 2/11
White drawing room, Derry Moore / Royal Collection Trust / © Her Majesty Queen Elizabeth II 2013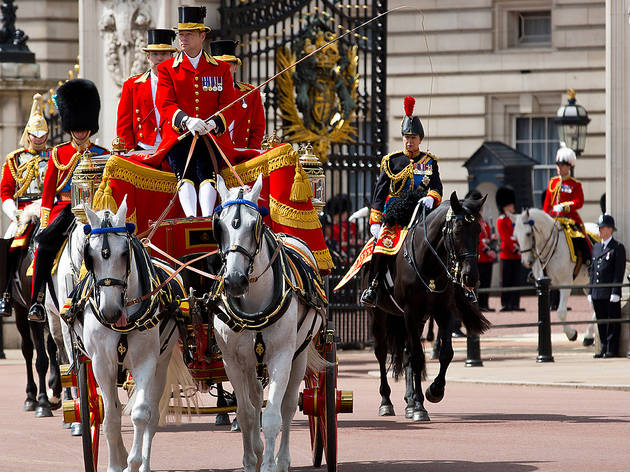 3/11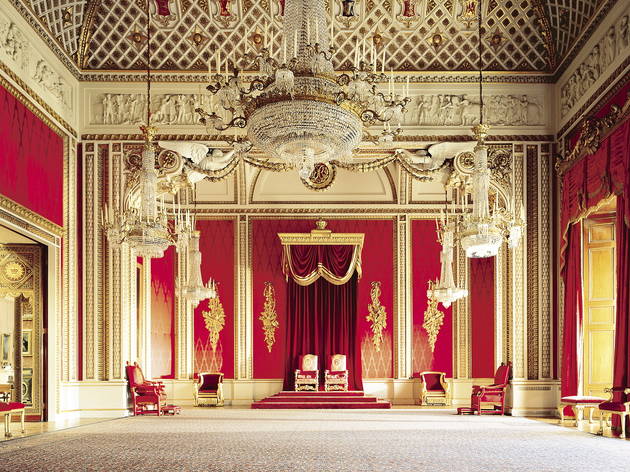 4/11
The throne room, Derry Moore / Royal Collection Trust / © Her Majesty Queen Elizabeth II 2013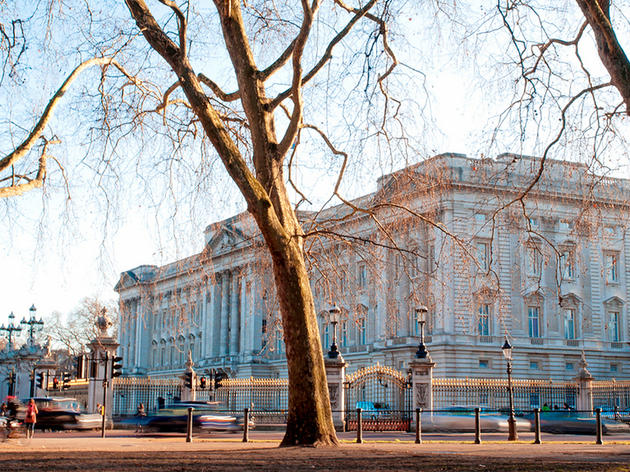 5/11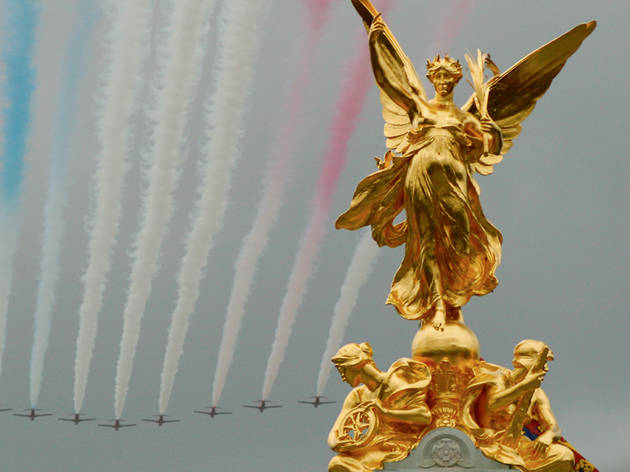 6/11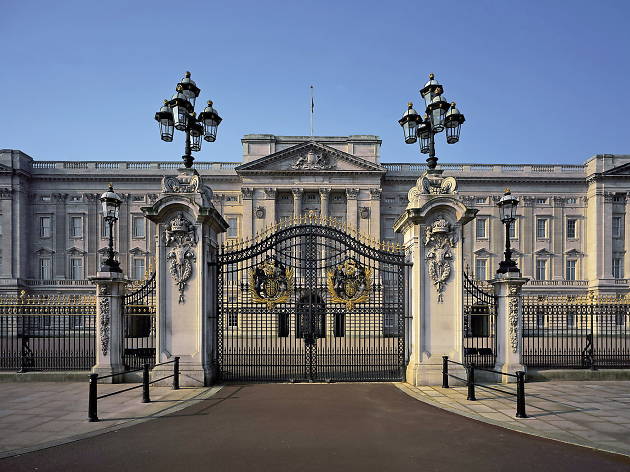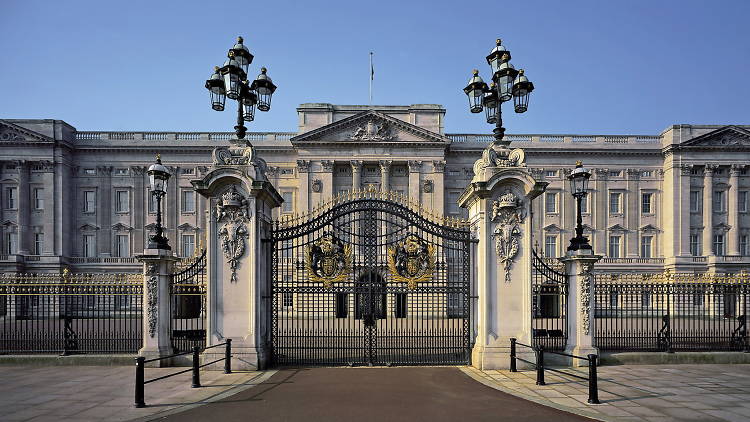 7/11
The palace gates, Andrew Holt / Royal Collection Trust / © Her Majesty Queen Elizabeth II 2013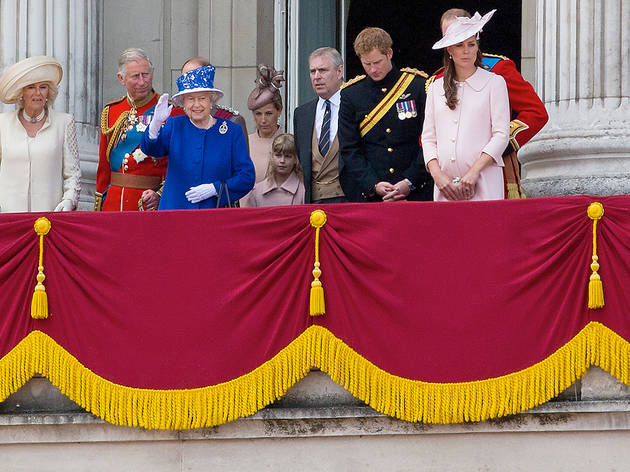 8/11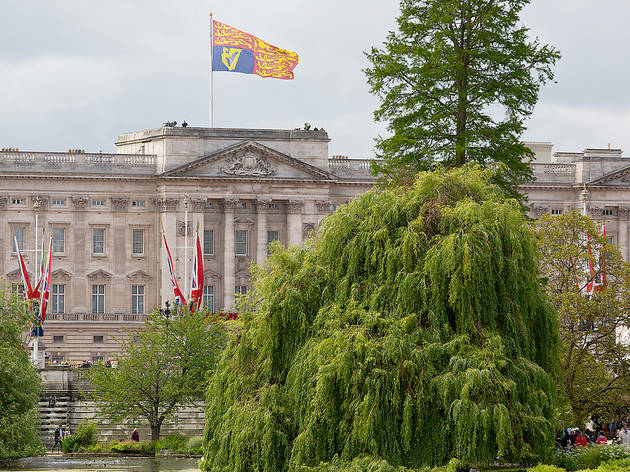 9/11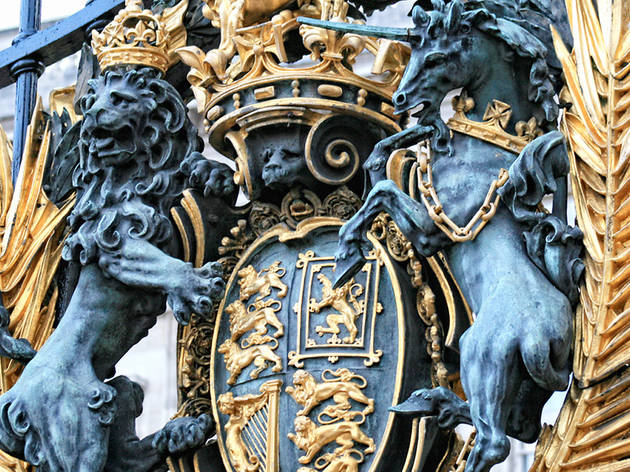 10/11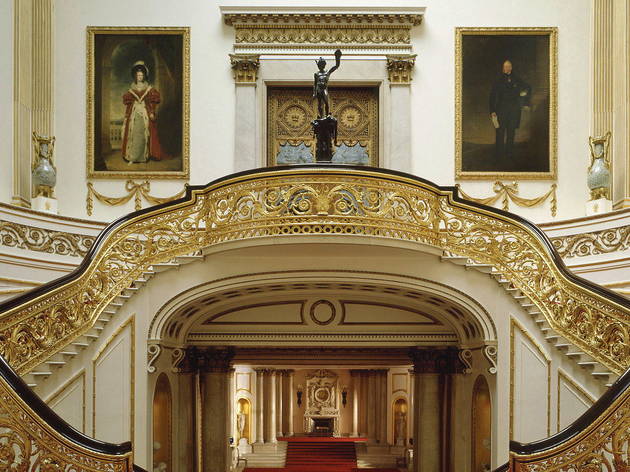 11/11
The grand staircase, Derry Moore / Royal Collection Trust / © Her Majesty Queen Elizabeth II 2013
A chance to see world famous art, glimpse regal opulence and get inside HRH's HQ
In its choice location, surrounded by parkland and close to the Houses of Parliament, Buckingham Palace has been a high-class address for centuries, though much of the magnificence dates back only as far as John Nash's extravagant upgrade during George IV's reign, and it was in the twentieth century that George V and Queen Mary had the famous grand façade in Portland stone added to the front.
Still, give Queen Victoria her due – she requested a large balcony from which she could send off and welcome back her troops. To this day, this is where the Monarch and Royal Family appear for a wave or three on big occasions.
As anyone knows who saw The Queen being collected by James Bond before her helicopter drop into the Olympic Stadium for the London 2012 opening ceremony, Buckingham Palace is the working headquarters of the Monarchy. From daily meetings to huge ceremonial occasions with heads of state from all over the world, this is where it all happens.
However, The Queen and the Duke of Edinburgh live in private apartments on just one side of the Palace, leaving plenty for us non-royals to see elsewhere – The Queen's Gallery which is open all year round, the Royal Mews open from February to November, and the State Rooms which are accessible to visitors in August and September and for special tours on certain dates throughout the year (when the Queen isn't home).
Venue name:
Buckingham Palace
Contact:
Address:
Buckingham Palace Rd
London
SW1A 1AA

Opening hours:
State Rooms: Jul 23-Aug 31 daily 9.15am-7.45pm; Sep 1-Oct 2 daily 9.15am-6.45pm. Royal Mews: Feb 1-Mar 24 Mon-Sat 10am-4pm; Mar 26-Oct 31 daily 10am-5pm; Nov 1-30 Mon-Sat 10am-4pm. 2016 closures May 18, 28, Jun 4, 11, Nov 12. Queen's Gallery Jan 1-Jul 29 daily 10am-5.30pm; Jul 30-Sep 25 daily 9.30am-5.30pm; Sep 26-Dec 31 daily 10am-5.30pm.
Transport:
Tube: Victoria/Green Park/Hyde Park Corner Rail: Victoria
Price:
£21.50, £19.60 student/over 60s, £12.30 disabled/under 17s, free under-fives, £55.30 family (up to two adults, three under-17s). State Rooms and Garden Highlights tour: £30.50, £27.50 student/over 60s, £18.20 disabled/under 17s, free under-fives, £79.20 family (up to two adults, three under-17s). Royal Day Out (incl State Rooms, Queen's Gallery and Royal Mews): £37, £33.80 student/over 60s, £20.80 disabled/under 17s, free under-fives, £94.80 family (up to two adults, three under-17s).
Do you own this business?
You may be interested in:
Rating Breakdown
5 star:

3

4 star:

5

3 star:

3

2 star:

0

1 star:

0
Great place to visit if you get the chance, its not open all year round so check before making the trip. State rooms are amazing, even the kids loved the tour.
It was a great day out! Took a girlfriend and we walked through all of the state rooms and got to go at our leisure! it was great to see inside the palace and was a fun little treat to know the Queen was home while we were there!
We had a lovely visit from start to finish. There was some inevitable queueing to get in with the security check, however, there was plenty of seating in the waiting area so it wasn't really a problem. The optional commentary was well worth having and I actually preferred the individual headset than having a guide, as I could hear everything really well and could take things at my own pace on the way round. There were plenty of stewards around to ask additional questions if you wanted to. Inside the palace itself was immaculate and it was great to see some of the rooms that you see on the news or in photographs for yourself. The Coronation exhibition was fabulous. It was lovely to see the clothes, jewellery etc. actually worn by the Royal Family on Coronation Day - never realised the Queen was so small!! When we got to the end of the exhibition, we finished by a tearoom and the gardens. We were going to go into the tearooms but I was a little disappointed that the tea was served in a paper cup, so we didn't bother!! We would probably have hung around a little longer in the gardens but it wasn't very warm so we just wandered through. I think the only negatives are the fact that I needed to go to the loo before we started, as there are no facilities until the end of the tour. I was then sent on a route march up the road, around the corner and into some public loos near Marks and Spencer. Some temporary loos near the beginning would have been welcome! Also, I would have loved to have gone on the Barracks tour too but didn't want to do it all on the same day - I think it's a little disappointing that you can do the Palace without the Barracks but not the other way round. However, overall this was a brilliant experience and I have already recommended it to many friends on my return home.
Overall it was what I expected. A BIG minus for Buckingham organization for putting a Brazilian flag instead of a Portuguese flag when referring to the Portuguese language. There is no such thing as Brazilian language! It is the same as English language were represented by the US flag or Spanish by the Mexican flag!! It is a shame that so many years of history, and friendship between Portugal and England seemed to be forgotten. England and the English should never forget that was a Portuguese Queen that brought the 5pm tea, the orange jelly and cutlery habit to the island. Despite this enormous linguistic/historical error, the visit went pretty well.
It was very difficult to find the ticket booth. There were signs inside the fences of Buckingham Palace, but they were easy to miss because they were hidden by the crowds and there are no staff around to ask. You have to walk around the left hand side of the palace and eventually you will spot the signs. The ticket buying process is very inefficient. We had already pre-booked ours but we still had to queue with others who hadn't to collect them. Once that was done we had to go back out and join another queue elsewhere to enter the venue! We visited the Mews first and they are quite a long walk away from the ticket office. We thought maybe we'd missed the entrance but we kept going and eventually found it - the signage wasn't very good again. Once inside the Mews were excellent, although there weren't enough horses for my liking. The carriages are really impressive as you'd expect, and the layout is very good. We found 40 minutes was plenty of time. We then had to go back out and queue again to get into the Palace, but once inside we had a wonderful time. The exhibits (for the coronation) were excellent and beautifully displayed. Despite the crowd there was plenty of room to walk around and we were still able to view everything properly. The staggered entry times certainly work! The Palace rooms are magnificent and very worth the visit. At the end of our stroll through the Palace we were able to walk through part of the garden which was very pleasant. We decided to sit on one of the benches and enjoy the scenery and sunshine for a little while (and eat an ice team). Overall we had a really great time and would recommend it, but be prepared for the inefficient queuing!