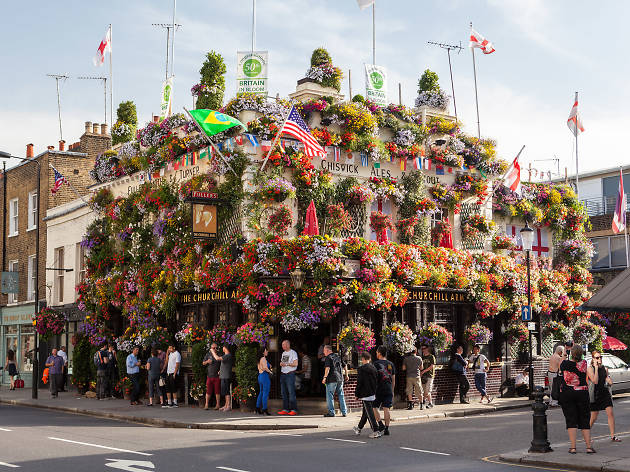 Time Out says
Not that most tourists would know, but there seems to be a contradiction here. The Churchill, a celebration of the wartime leader (they even estimate the number of champagne bottles the man consumed), is in fact an Irish pub – didn't Ireland remain neutral during World War II?
Regardless, this is a fine establishment, part homely tavern (it's a Fuller's, and the beer is excellent) and part Thai restaurant. Character is provided by the lived-in feel and mass of junk – portraits of prime ministers and American presidents, the documented triumphs of the Clare GAA hurling team, shiny copper things. The verdant frontage, embellished by an image of Churchill giving the V, is a regular winner in its category of the London in Bloom competition. Tourists love it, yes, but the regulars here include locals, and not just the posh ones.
Details
Address:
119 Kensington Church Street
London
W8 7LN

Transport:
Tube: High Street Kensington or Notting Hill Gate tube
Price:
Free
Contact:
Opening hours:
Mon-Wed 11am-11pm, Thu-Sat 11am-12am, Sun 12pm-10.30pm
Do you own this business?
Average User Rating
3.9 / 5
Rating Breakdown
5 star:

4

4 star:

9

3 star:

4

2 star:

1

1 star:

0
A lovely traditional British pub, it can get very busy sometimes.
It has lots of British memorabilia from the Churchill era and during Christmas time it's lit up with lots of lights and Christmas trees.
Drinks are standard London prices.
The pub also houses a small Thai restaurant at the back.
5 Stars are mainly for its longevity. Like many, I have frequented this pub for many years and I return from time to time because it IS one of London's treasure pubs. Beautiful, lovely bar-staff & proprietor.....Great Bitters (Fullers), decent wine selection. Even if it is crowded you'll get a seat eventually. Thai staff who (on the whole) are terribly rude; oh and by the way...the Thai food is good (not magnificent), this being the UK's first Thai-pub outfit. Pity Time Out do not update their very dated reviews or reviewers. A 5 star pub without a doubt.
I had a good thai food with beer under hanging plants. If you look for thai food near Nothinghill gate, I would recommend it. Nice atmosphere! Service(thai) was not that great.
My workmates and I never get to have an afternoon all out together, but this past Bank Holiday we decided to close the restaurant and head out for a family dinner. Our bar manager suggested a place in Notting Hill, The Churchill Arms and we headed there to be astounded by the hilariously overgrown outside and very entertaining Granny's house meets hoarding Caveman decor. They have an awesome selection of beers, I had a Czech Budvar which is always delicious. We decided because it was a rainy day outside that we all really wanted some heavy food, and the place served Thai which was perfect. We asked the hostess if there was any room for us (we had 10 people in the group) and she said there wouldn't be any until 9pm (it was around 6:30 then). We drank our beer, started to try to find somewhere else while hoping some people in the corner would vacate the table so we could sit down. Finally the woman told us we could have dinner if we vacated the table by 9, but we had to order then and there and pay as well and then wait 40 minutes to sit. It was a total pain in the arse, but we were all so starving by that point, we didn't care. When we were finally sat, the food was brought out two at a time with up to 15 minute intervals, they just shouted the numbers at us, which none of us could remember, and then didn't even seem to know what was in the dish if we responded with, "Beef? Pork?" I had a Pad Thai which was all noodles and a few veggies, tasty but definitely not the best I've ever had. My friend and I also had a green curry which was delicious. The restaurant area is ridiculous, it was like being on acid in a cramped English cottage, though I do love eccentric decor. The only problem at this place was the service, the hostess was so unbelievably rude and made us feel like we were at McDonald's, constantly speaking in demeaning tones and barking at us orders. I would have walked out if I wasn't starving. It was disappointing because we all work in hospitality and manage the most supreme service because we know how important it is. The place is fun, beer is good, food decent, service horrendous.
We got sucked in my the most unique exterior we'd ever seen in a pub (or most anything else for that matter). The interior and service were every bit as nice. Try the Red Fox!
Extremely impressed with this pub when we visited this evening. Chose it because it is dog friendly and for the food. Service was excellent, food top notch, and it literally oozes character from every seam. Great find.
I like noodles and Guinness.