London's best Irish bars and pubs
Guinness, whiskey and dancing – get a hit of craic at one of the most authentic Irish pubs in London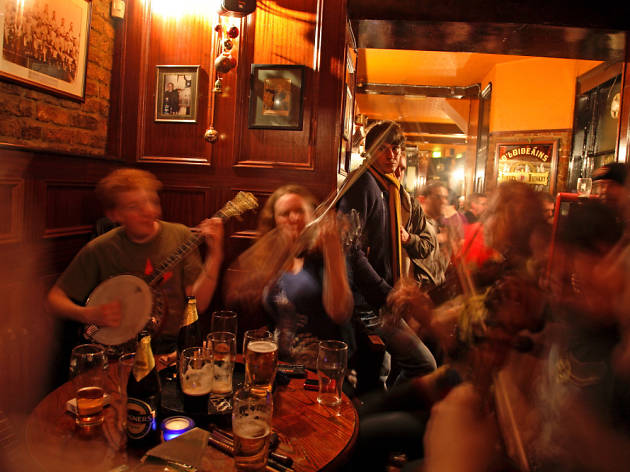 In theory, if not in practice, anyone can pour a pint of Guinness. But if you're looking for a London pub that's Irish-owned, stocks Irish ales and whiskeys, or often hosts traditional music, food and even dancing, then look no further. Here's a round up the best Irish pubs in London for St Patrick's Day and beyond.
Irish pubs and bars in London
Known for its exceptional Guinness, always poured with care, and occasional raucous entertainment. It's the kind of pub where the wine list runs to 'red or white', and the staff are so matey and hospitable that they'll offer to bring your Guinness over to your table.
Read more
Three tiny, dark, wood-panelled rooms, with a bar in each housing framed jockey portraits. The pumps have four regularly changing, well-kept guest ales. There's Guinness, of course, a fair few Irish whiskeys and Irish music on Thursdays. Smart, tie-clad bar staff are knowledgeable and friendly.
Read more
This huge, resolutely ungentrified Victorian boozer is a popular and sometimes raucous Irish pub located just opposite Tufnell Park tube, with Irish music on Saturday nights. Check out the adjacent Boston Music Room and Tufnell Park Dome for even more live tunes.
Read more
This Hendon pub is as legendary as Father Ted Crilly, with 25 years in the business. As such, catch All-Ireland Cup games and see Irish sporting legends stop by, while bands on tour from the homeland make this their gig spot of choice when in town. Among the standard pub grub fare you'll find soda bread sandwiches. For St Patrick's Day, find Irish dancing and live bands across two floors throughout the day.
Read more
This vaguely Irish pub has long been a Finsbury Park favourite, and that's 98 percent down to its amazing garden. But drinks are reasonably priced, the Thai food is good and it's a sport-watchers paradise. Obviously, Irish teams dominate, especially when it comes to rugger.
Read more
Irish family-operated Mc & Sons pulls in the ex-pats, despite being relatively new on the London pub scene. It's a wood-clad space with framed photos and newspaper clippings paying homage to past generations. Come on a quiet evening for Thai grub and a pint of lager, or visit on match days or folk nights when that famous Irish welcome is in full effect.
Read more
Don't expect rowdy hell-raising and four-leaf-clover decor from Nuala Bar: you'll see winks to Irish tradition in old Guinness artwork, a wood-panelled room with red leather bar stools and flashes of green tiling – and The Pogues on the sound system. The bar specialises in punch and slick whiskey cocktails, but it's also having a stab at pouring the best Guinness going in London.
Read more
A Covent Garden outpost of the Dublin brewery, this cavernous hostelry has an impressive selection of own-brewed ales, including three stouts – the An Brain Blásta, at 7%, lives up to its name. Bottled beers are a global lot.
Read more
Show more
Find even more options for drinking in London
The best tipplehouses in all of London town. Read our extensive guide to drinking in style in bars, pubs and watering holes that are a cut above the rest.
Read more