Camden bars
Camden's packed with great bars. Here's a list of Time Out's favourites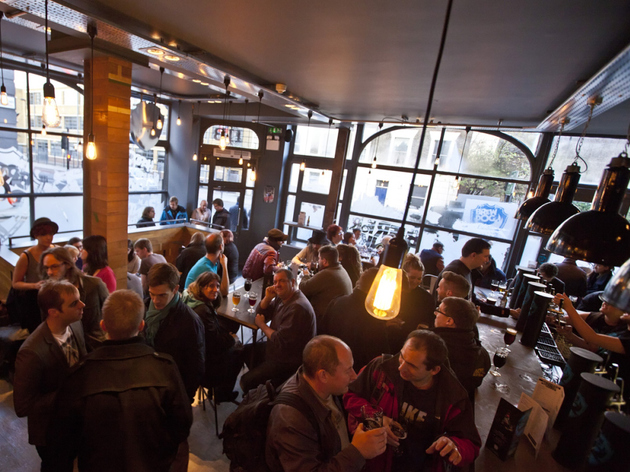 You're not short of bar options in NW1, but use this list of our favourites to make sure you end up in one that will mean maximum satisfaction. Read on to see Time Out's recommendations for the best bars in Camden.
It's no exaggeration to describe this corner venue as an institution, since it's welcomed across the threshold of its rather shabby upstairs room Coldplay, Franz Ferdinand and The Futureheads – just a few of the many bands who played very early London gigs here. The Barfly retains its reputation for seven-day championing of cool and upcoming talent, making it a destination venue for serious music fans and partygoers alike.
Book now
Read more
This lively, contemporary bar-diner on the main Camden drag celebrates American musical heritage in song (live shows, DJs, free harmonica lessons), spirits and sustenance. Dino Ribs is currently cooking cooking up - you guessed - ribs in the kitchen. There are around 50 bourbons in a variety of categories, some used as bases for cocktails.
Book now
Read more
The Scottish craft brewery's London outpost is an initiation into the exciting and groundbreaking world of craft beer, but never feels intimidating. Admit to a bartender you've no idea where to start and they'll gladly guide you through the list, offering tasters. And what a list it is – every one of Brewdog's groundbreaking beers on keg draught (with occasional guests) and bottle, from the smooth, amber 5am Saint to the quadruple IPA 'Sink the Bismarck' at 41 per cent.
Read more
Although it's away from the ever-busy heart of Camden, Fifty-Five is party central. Its dog-leg terrace spread over a corner, the bar fills with a loud crowd of late teens here to breeze through happy hour and beyond. Two-fers are currently offered on all 190 cocktails during happy hours; no wonder it gets a little boisterous. Spirit bases are quality – martinis with Ketel One or Tanqueray – while the list of rums, tequilas, vodkas and other spirits runs close to 200. The bartenders are adept and quick; they have to be.
Read more
A pleasant ten-minute walk past an array of bars clustered around the bridge, this first-floor boathouse-like venue above Caffe Crema makes great use of its location. It's occasionally hired for private parties but when it's open to all, you can gaze over the twinkling lights around the lock and the bobbing barges as you sip your Erdinger. If it's too nippy, the interior is long and artily loft-like, and fairly relaxed – at least compared to the glug-'em-quick vibe on the main drag.
Read more
Venue says: "From Drizzy to Dizzee, we play you the best in hip hop, trap and grime every Wednesday at Proud Camden."
It might be the kind of place you're likely to find Fearne Cotton slumming it, this venue was once stables for horses who were injured pulling barges along the nearby canals. Nowadays, the 200-year-old, Grade II-listed horse hospital plays host to far less lame attractions, focusing on Radio 1-ish indie-electro and synth-pop to delight Sadie Frost, the late Amy Winehouse and other slebby visitors.
Read more
See our pick of pubs in Camden
Sponsored listing
Belushi's Bar Camden
A popular late-night bar in Camden, just down from Camden Lock Market. It's one of several Belushi's in London, with a fair few across Europe, too. It's pretty much all about the party here, with DJs, open-mic nights, live music and a fair few special events keeping the crowds drawn. Large screens show many of the big sporting events, too. There's a solid selection of drinks, with classic cocktails, sharers and shooters alongside a few wines and plenty of beers on draught. Keep an eye out for happy hours, too. Burgers feature prominently on a food menu influenced by dishes from the States. Expect nachos, quesadillas and potato wedges to share, alongside wings, BBQ racks of ribs, tacos, wraps and indulgent desserts such as the 'whoa black betty' - a slice of chocolate brownie covered in chocolate cookie crumbs. You can add a shot of Kahlua to it too, if you like.