Clerkenwell bars and pubs
Read Time Out's list of the best pubs and bars to visit in Clerkenwell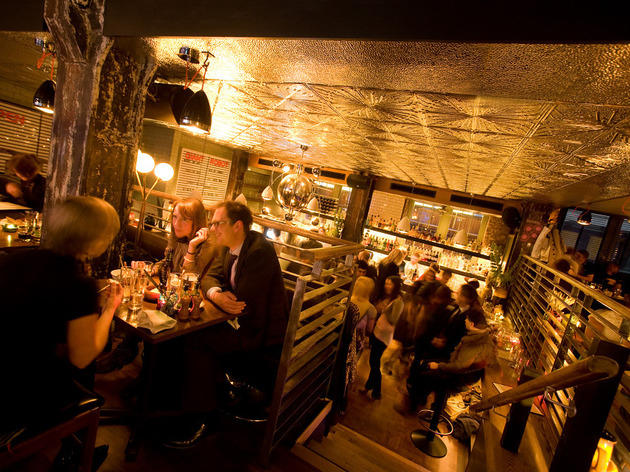 From the heavily decorated interior of the Zetter Townhouse, to the bottle-lined walls of Vinoteca, there are plenty of interesting bars to explore in Clerkenwell. Sip American-themed cocktails at Giant Robot, or slurp on a hearty ale at Gunmakers, as well as checking out these bars and pubs...
Bars and pubs in Clerkenwell
The decor at Townhouse embodies a 'more is more' philosophy. Every square inch of surface area is occupied by something lovely, as if a couple of eccentric collectors moved from a country manse and felt compelled to fit all their possessions into two rooms.
Check prices
Read more
Something is most definitely brewing in London – beer is making a quiet and classy comeback. Usually synonymous with long-established locals and males of a certain age, real ales and proper lagers are finding their way into cooler quarters.
Read more
The Jerusalem is both fabulously historic and a complete fabrication. Although the premises date from the early 18th century, the current shopfront wasn't added until 1810 and the place didn't open as a pub until the 1990s.
Read more
It's claimed the royal trio of the name turns out to be Elvis, Henry VIII and King Kong, a suitably eccentric trio for this most excellent of pubs, although in truth the building predates the first and latter by more than 100 years.
Read more
The old red cow herself, if she wasn't apocryphal, probably didn't have a pleasant visit to this pub's manor – Long Lane was an ancient cattle route to Smithfield meat market. You can see the cupolas, domes and reliefs of London's temple of butchery through the front windows of this refurbed Victorian site, which no longer uses its antique 'Ye Olde' prefix and has turned its focus to serving very good beer.
Read more
Upstairs: a buzzy bare-brick space with elaborate carved-wood bar and close-packed tables heaving with shirts-and-ties. Downstairs: a demure, even dowdy, dining room with spacious booths sporadically occupied by a quieter, older crowd.
Book now
Read more
Pristine mosaic tiling and etched glass scream 'sensitive refurbishment' from the moment you arrive at this stalwart. Inside, the dark wood bar is lined with pewter tankards (don't expect to be given one if you want to drink outside); to the back is the Fox's Den, a series of intimate booths used for both drinking and dining.
Read more
Find more amazing bars in London
Searching for the best bars and pubs in London? You're in the right place. The capital's drinking scene is one of the best in the world, with boundary-breaking cocktail bars taking mixed drinks to the next level, while traditional pubs bring you back down to earth in the best possible way. Here's our list of the 100 best bars and pubs in London.
Read more
Sponsored listing
VOC
From Fluid Movement, which brought us Purl and the Worship Street Whistling Shop, VOC occupies a smallish, cosy space in one of north London's most restaurant-intensive precincts. The name derives from the Dutch East India Company, and there's a nautical and historical theme to the drinks list. Punches based on old recipes figure large, though modern technology brings them right up to date. Playing it safe with the classics is by no means the inferior option, however, as textbook martinis and caipirinhas proved. It took us a while to get our drinks because of lack of staff behind the tiny bar (barely five feet long), and there's no table service, so you have to queue. But no one seemed to mind. Interestingly, more people were drinking beer or wine than cocktails, at least on our visit. VOC now has a restaurant too, majoring on grilled meat.  
Venue says: "New small plates introductory offers: two dishes £9, three dishes £12 and set menu £20 - Nibbles, two dishes, dessert & drink."
You might also like