This Saturday and Sunday, head to east London's Printworks, or as it will be known for the weekend: Afrocentric heaven. Afropunk is one of the most diverse festivals on the circuit – it's grown in leaps and bounds since its beginnings in Brooklyn 12 years ago. The Afropunk mantra is very inclusive. Based on last year's inaugural London event, the outfits will be vibrant, the melanin will be popping and everyone will be dressed to slay. It's a place to relax, enjoy the creative energy and patronise the stalls, where you can buy everything from jewellery to art. They're all likely to be run by local businesses as well, so it's great to support those when you can. It's also worth tucking into the cuisine, as there'll be a range of multicultural dishes available. On top of all that, the musical offerings are a dream. With so many performers packed into the two days, here's our pick of who not to miss.
Saturday
Little Simz
As prolific as she is talented, Little Simz has four mixtapes, five EPs and two albums under her belt. With cosigns from A-Listers like Kendrick, Stormzy and having sold out venues on this side of the Atlantic and across the Pond, she's definitely no stranger to putting on a good show either.
Jazzie B
Founding member of pioneering '80s group Soul II Soul, Jazzie B came up playing all kinds of parties around town in that era. His soundclash style is a hallmark of this, as he deftly blends all sorts of genres. From soul, reggae and R&B to hip hop, rock and dancehall, everything is getting mixed. Expect the unexpected, as your favourite songs get mashed up in ways you didn't think possible.
The Internet
Can't miss the headliners, so be sure to catch The Internet as they cycle through fan favourites like 'Special Affair' and select cuts from each member's individual projects.
Sunday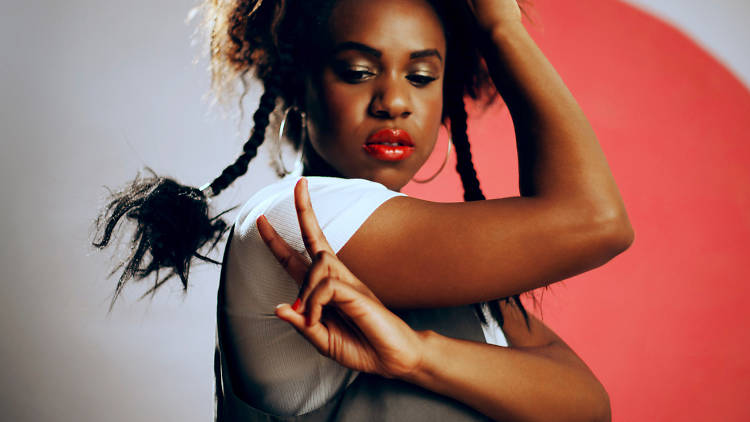 Nao
Alternative R&B songstress Nao is all about the chilled vibes. Her airy vocals over stripped-down bass-heavy beats produce a glorious and almost otherworldly R&B sound. Expect irresistibly silky tracks and remixes from her 2016 debut 'For All We Know'.
Willow Smith
Singer, songwriter and actress Willow is already an Afropunk veteran, having performed at various versions of the festival all around the world. This is her first time at Afropunk London and, going by previous performances over the last year or so, she will not disappoint.
Lianne La Havas
With a voice that has been described as having a youthful lightness balanced with a seasoned gravitas, expect soulful headliner Lianne La Havas to shut the show down with crowdpleasers from both her debut and sophomore albums. From 'Tokyo' and 'Unstoppable' to 'Is Your Love Big Enough?' and 'Green & Gold'.
Plus: loads of ace DJ sets
With sets by rising magazine and collective Gal-dem, Radio 1 DJ Clara Amfo and Soulection mainstay Hannah Faith, it's almost impossible to pick and choose.
Afropunk Festival is on Sat Jul 22 and Sun Jul 23 at The Printworks. Tickets are £56.50 and still available for both days.
Have a gander at 22 awesome photos from last year's inaugural Afropunk festival. Looking for more brilliant things to do in London? Check out what else is happening in July.