The boundary-smashing festival hits Victoria Park this weekend. James Manning plots a perfect course through two days of party action.
Friday
1pm
Make your excuses and ditch the office: it's time to crack open that Lovebox! Get warmed up at the Corona Sunsets stage with some energetic lunges to Kasra V's super-'80s house trax.
3.30pm
Lovebox 2016 is the first time that London superclub Fabric has ever hosted a festival stage. Head there for Virginia MC Goldlink who, despite being crazy young, has already worked extensively with Def Jam founder and super-producer Rick Rubin. Or for something a little wavier: south London garage head Oneman goes back-to-back with Bristol bass duo My Nu Leng in the Big Top. Their previous link-ups have been stunners; don't miss this one.
4.10pm
Crank things up a notch with Chronixx, one of the biggest new stars in Jamaican music, playing an hour-long set on the Main Stage.
5.35pm
Stay there for new-generation grime star Stormzy, who made history last year by smashing into the Top Ten with his 'Shut Up' and 'Wickedskengman 4' freestyles.
6pm
The Visions team get pulled out of their cool-as-fuck Dalston basement to host a stage at Lovebox again this year. Check it out during a sure-to-be-banging set by grime producer Darq E Freaker and the Nu Brand Flexxx crew.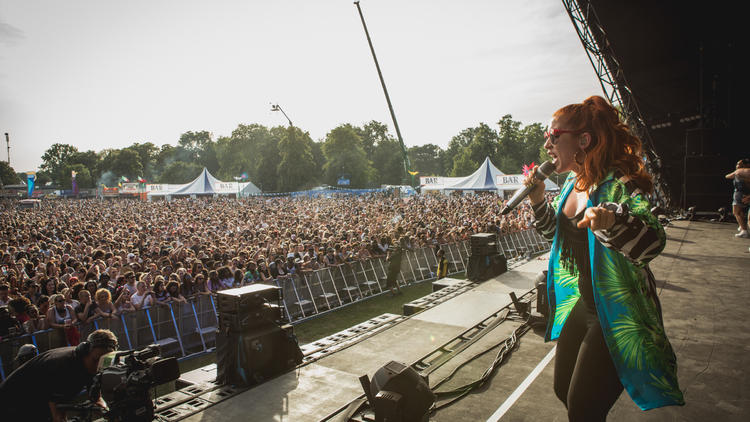 6.40pm
It's back to the Main Stage for the wonderful Katy B. Her new album 'Honey' had a hugely on-point cast of collaborators, so special guests are likely.
7pm
Introspective grime OG (and 'Top Boy' actor) Kano is on at the Fabric stage. Go to hear 'Ps and Qs', stay for some killer new tracks from his 'Made in the Manor' album.
7.50pm
It's time for one of the most thrilling acts in contemporary hip hop: Run the Jewels. El-P and Killer Mike hit the Main Stage to drop enormous, edgy beats and ultra-inventive bars.
9.30pm
Diplo and co then take to the Main Stage for Major Lazer's big headline set. Brace yourself for epic drops, ball-based crowd-surfing and bogle fever, plus a 'Lean On' singalong (MØ will be on site).
10.50pm
Things wrap up in Victoria Park. Wait, don't go home! Head instead to a Lovebox After Dark afterparty at Oval Space, Village Underground, Mangle in Hackney or Fabric – and keep the vibes flowing till way past your bedtime.
Saturday
Noon
Get up, lazybones! It's time for another day of Lovebox party mayhem. If your perfect hangover cure is trippy videography and grime, start Saturday at the NTS stage with Just Jam/Don't Watch That duo Tim & Barry.
1pm
It's over to the Kopparberg stage as London R&B suprema Emily Rawson brings her Supa Dupa Fly night to the festival. Dirty dancing is obligatory at this point.
2pm
Big up Canadian bass queen B Traits, who should be dropping an eclectic mix of techno, dubstep and whatever else she fancies in the high-production Elrow arena.
2.45pm
Prepare for tonight's headliners with one of the many bands they've influenced: south London brothers Formation, doing their hard-grooving punk-funk thing on Soundcrash's West Stage.
3.10pm
What's that up in the sky above the Main Stage? Is it a bird? Is it a plane? No, it's P-Funk originator George Clinton descending to Planet Earth for 60 minutes of pure funk magic. Dig.
4pm
Keep on funkin' at the Corona Sunsets stage with Norman Jay MBE, a London DJ legend whose house, soul and funk expertise has been putting imitators to shame for decades.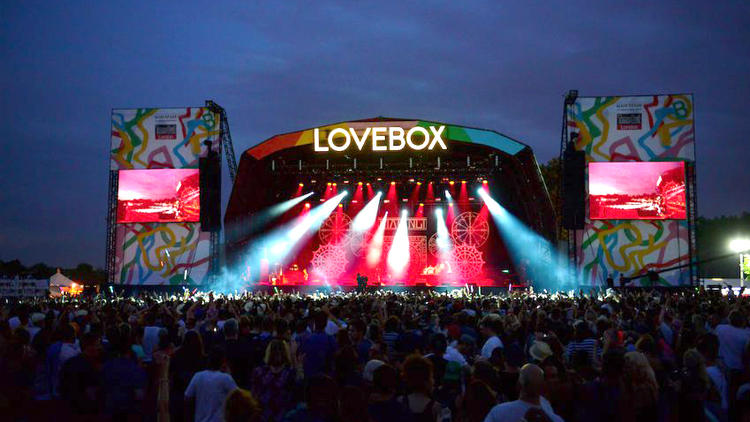 5.35pm
South-west London soul boy Jamie Woon steps out on the West Stage for an ultra-chill live set of finger-clicking grooves and super-smooth vocals. Use this as an opportunity to gather yourself for the final push.
6.10pm
Shabaka Hutchings is one of the brightest stars in British jazz right now, and the London-born sax dude hits the Victoria Park bandstand with his band The Comet Is Coming for an hour of whacked-out, synth-edged, pulsing space-jazz grooves.
7.20pm
We haven't heard much from west London crew Jungle since they rode a wave of viral videos and slinky funk to become one of 2014's biggest buzz bands. Their Main Stage set should be a welcome chance to see what they've been working on.
8.30pm
Before the headliners, there's just time for a last dance with Daphni, the techno-focused alter ego of Caribou main man Dan Snaith. Get involved, but leave yourself some energy, because…
9pm
This is it, ladies and gentlemen: the long-awaited return of LCD Soundsystem, five years after their last London show. James Murphy's dance-rockers were one of the most influential and celebrated bands of the noughties, so keep your best friends close for a glorious, cathartic, near-two-hour set by the band who'll put the 'love' in Lovebox.
Set times, must-see acts, afterparties and more – here's our full Lovebox Festival guide.
Set times may be subject to change.