Londoners are busy people and don't have time for too much choice. So what better way to speed up the decision-making process than by heading somewhere where choice doesn't exist? Chicken Shop, Burger & Lobster and Flat Iron were some of the groundbreakers of this trend, and now Pickle & Toast, a new grilled cheese sandwich café, is set to open on Wardour Street in early 2016, proving the appetite for single-dish restaurants has never been stronger. And coincidentally, they all seem to be popping up in Soho. Here are a few to look out for:
The Potato Project
The Potato Project on Noel Street opened its doors in October, serving up – you've guessed it – baked potatoes. But unlike '90s chain Spud-U-Like, these are potatoes with a twist. Expect everything from the seriously moreish and decadent raclette cheese and roast artichoke to the punchy chilli beef ragu and blue cheese, and even an all-day breakfast potato, all for around £5.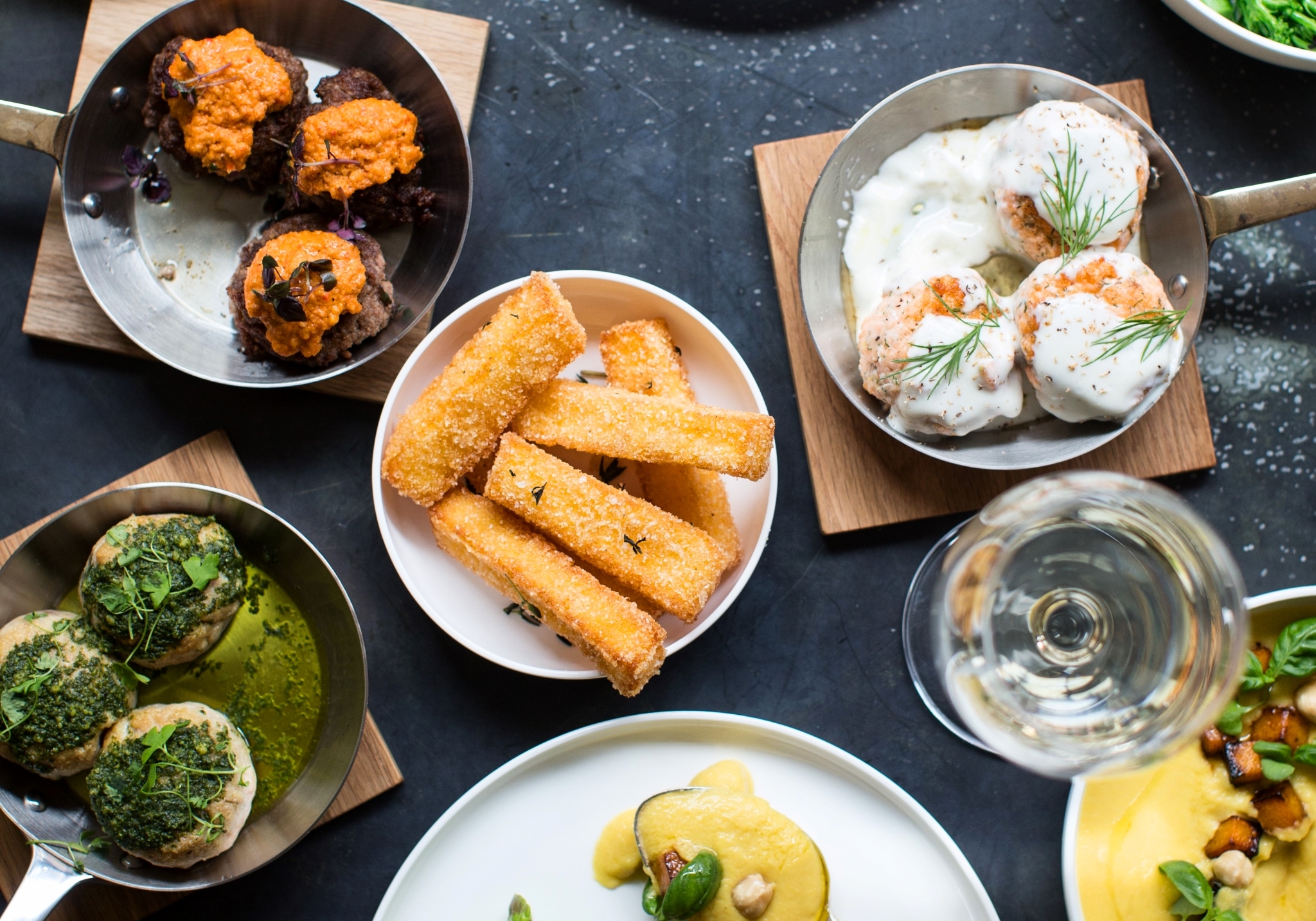 Balls & Company© Helen Cathcart
Balls & Company
Balls & Company is a meatball restaurant on Greek Street headed up by MasterChef Australia finalist Bonny Porter, previously of The Arts Club and Village East. The menu is very simple: five types of balls – Wagyu beef, pork, chicken, salmon or quinoa – are topped with the sauce of your choice. Try the classic tomato sauce, the creamy béchamel or maybe the more robust romesco (a red pepper and nut sauce), all served in cute copper pans and affordably priced at £9 for four balls. You can get the extra 'company' of spaghetti, mash, fries or salad for a fiver.
Ma'Plucker
For a taste of the Deep South, Ma'Plucker on Beak Street is serving up chicken three ways: rubbed and rotisserie-roasted, buttermilk-dipped and crispy or spiced and pulled. Pop on a base of bun, salad or maple waffle and top off with sauce (chicken skin gravy, chipotle chilli sauce, Kansas barbecue, herb dressing and maple chilli glaze). However you have it, this chicken is finger-lickin' good.
Chicago Hot Dog, Top DogSimon Mackenzie
The people behind Boujis nightclub and Bumpkin brasserie bring this Frith Street hangout that serves 100 percent free-range dogs which are cured, smoked and hung right here in London. With variations including the pulled pork and slaw, beef chilli and cheddar and 'corn 'n' guac' tofu, these dogs are all nestled inside soft, squishy buns (also freshly made in the capital).
Melt Room
For something sweet, head back to Noel Street for the Melt Room's mind-blowing Nutella and mascarpone melt on toasted milk bread. They do other melted cheese and bread-based things but this is the winner. It's soft, gooey Nutella and creamy mascarpone encased in a lightly toasted sweet bread – all for just £3.50.
Feeling peckish? Take a look at the 100 best dishes in London.