You may still be trying to get your head around the difference between a latte and a flat white (spoiler: one's a bit smaller), but in the meantime the coffee world has moved on. London now lives in the era of third-wave coffee – a movement that comes with a new level of appreciation for the humble bean-based brew. Forget foams and flavoured syrups – the third wave is all about origin, processing methods and artisan roasting.
Most third-wave roasts are lighter than what you might be used to. It might be brewed the old fashioned way, poured through a paper filter, but with precision amounts of coffee at just the right temperature. It's a complex new world of caffeine, but one well worth exploring - especially in some of the most unlikely places in the capital. Here's where to get involved:
Tim Rogg
Sharps Barber and Shop
Need a crop and a cappuccino? Then head to Sharps in Noho – a barbershop that also serves great coffee. Offering several brewing methods, Sharps has had input from third wave heavyweights Dunne & Frankowski – who are also responsible for the cuppas at Protein – and now they're serving one of Berlin's finest coffees, The Barn.
Tim Rogg
Chatsworth Launderette
Sticking a cafe inside a launderette is clever in itself but Chatsworth Launderette and Coffee Shop managed to go one step further with their artisanal offering. They currently have limited brewing methods but serve one of London's finest roasters, Caravan. It's a bit of a trek to Lower Clapton but worth it just to drink a cup of joe at a very cool launderette.
Tim Rogg
Finisterre
Covent Garden has loads of cafés but almost none serve anything close to third wave coffee – except this surfer clothing shop. Surprisingly, Finisterre has a large bar and is serving Small Batch Coffee, one of Brighton's finest third wave roasters which is not readily available in London. So if you're in the area and can't stand the sight of human statue performers anymore, nip in to Finisterre for a fix.
Chief Coffee, ChiswickTim Rogg
Chief Coffee
West London is almost a desert when it comes to third wave coffee but one of the few bright spots is a new café in Chiswick called Chief Coffee. Located off the picturesque high street, it's spacious and bright and in the basement there's a packed-out pinball arcade. They use most brewing methods (and the only hybrid serving Kalita filter coffee) and currently serve Sweden's best, Drop Coffee. Pinball wizards have already started making the pilgrimage to this rare west London treat.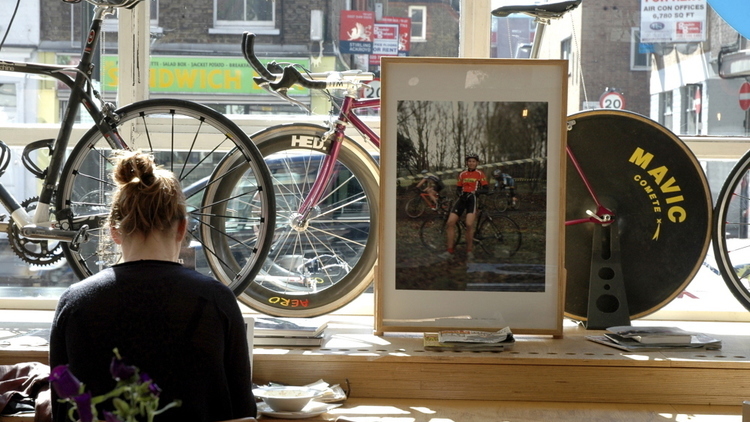 Ben Rowe
Look Mum, No Hands!
For reasons unknown, bicycles are the unofficial symbol of third wave coffee. You'll find them everywhere in the specialty coffee community so naturally, there should be a place to get that hot stuff and have your bike fully serviced. The Old Street branch of Look Mum, No Hands! is a working bike shop and offers limited brewing methods – but they serve espresso blend Square Mile Coffee which is one of London's biggest and best third wave coffee roasters.
Need a buzz? Get a (caffeine) kick out of our list of London's best cafes and coffee shops.