Offering a more affordable floral tribute than its neighbour, the venerable Chelsea Flower Show, this colourful festival sees 37 Chelsea retailers compete to make the most beautiful flowery display in their store windows and on shop fronts. Pick up a trail map or just hitch a free rickshaw ride from Sloane Square to see the lot, before settling in the pop-up gin bar.


Inspired by the dozen handkerchief-sized gardens in the City of London, artist Rebecca Louise Law created an installation in a Guildhall gallery: fresh flowers entwine with copper wire above head height. Over the summer, each stem will be left to dry out until the installation has changed entirely. (Make what you will of Law's message). The exhibition also features a couple of films about gardens in the Square Mile, as well as an app giving you all the horticultural history of the City's best green spaces for a sunny lunch hour.

Stepping into Sketch is always a magical experience – their interiors have to be seen to be believed – but it's looking even more magical this week thanks to a quartet of flowery installations. Until May 29th its ground floor rooms will be draped in greenery and colourful stems.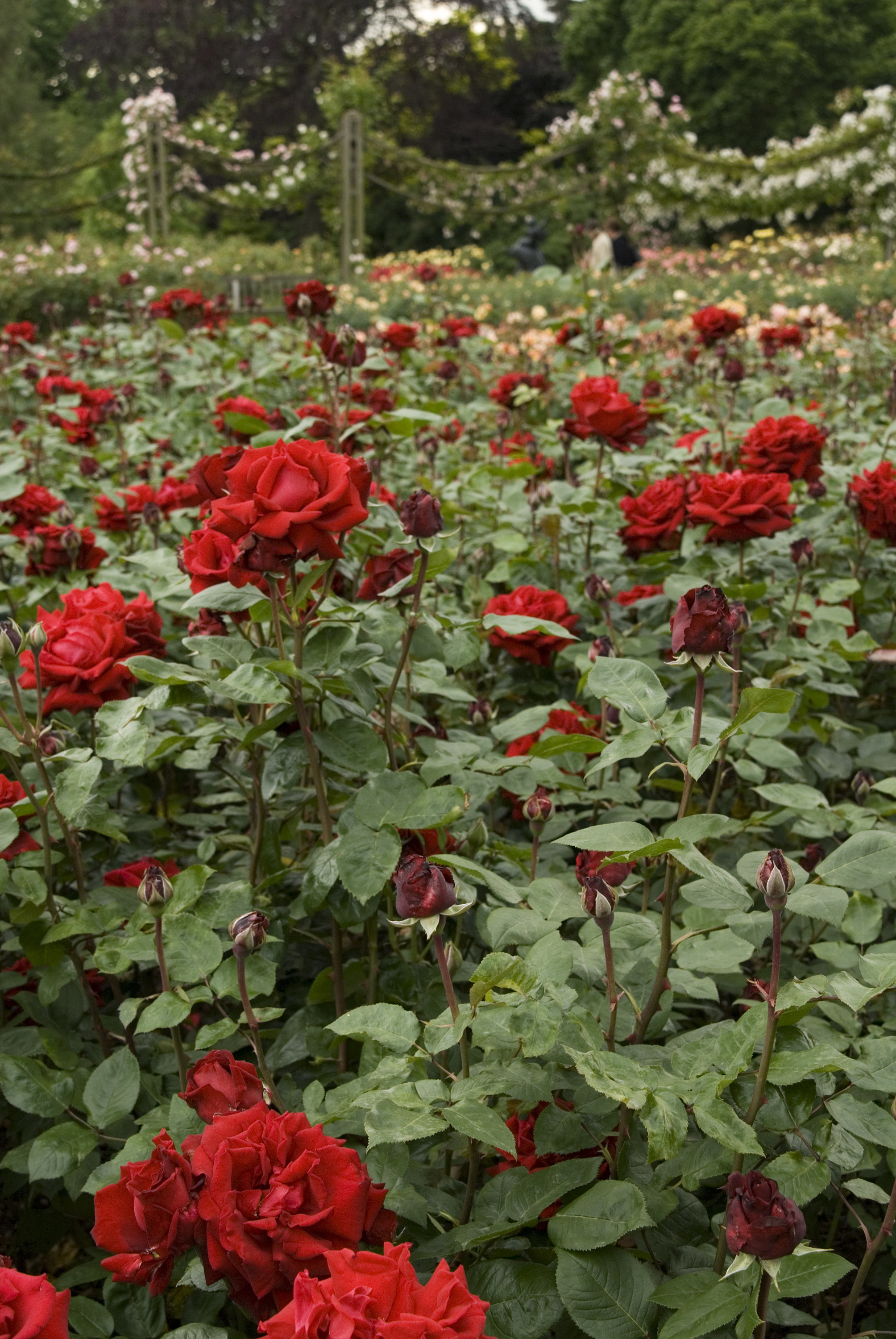 Roses in Regent's Park© Royal Parks

London Zoo, an open air theatre, a 'Withnail & I' location: just when you thought Regent's Park couldn't pack in any more reasons to visit, you discover this perfumed paradise. It's London's largest rose garden, boasting 12,000 flowers in 85 beds and delighting Londoners every summer since its completion in 1934. It even cheered up Sylvia Plath, who lived in Primrose Hill for a bit and once called the garden 'a wonderland/hedged in'. Bonus points for the person who finds the silliest name for a variety ('Sheila's Perfume' will take some beating).
South London has long been a place to grow lavender – records for 'Lavender Hill' go back to 1774 – but the farms have slowly been elbowed out to places like Mayfield or Carshalton in Surrey. Still, a little purple patch remains in one corner of Vauxhall Park, where it will just be starting to flower now, attracting bumble bees and butterflies. The community then harvests the patch at the end of the summer, before selling the oil on South Lambeth Market. Find it in the south-eastern corner of the park, any time between 7.30am and sunset.
Using the skips and scaffold builds left over from the redevelopment of the King's Cross area, this community kitchen garden by King's Cross Pond is also a social project for local school kids. Peas, beans, marjoram and blackcurrant sage are in season right now, cornflowers are going nuts, and other nectar-rich flowers have just brought all the bees to the yard. Pop by for homegrown lunch Tuesday to Saturday, candlelit yoga on Tuesday nights, or one of their delicious twilight supper clubs in the polytunnel.

Queen Elizabeth Hall Roof Garden
Established as part of the Festival of Britain anniversary in 2011, the roof garden on top of brutalist QEH was set up (and is still run by) volunteers who have experienced homelessness, addiction and mental health problems. The garden is home to over 150 species of native wildflowers, a picnic lawn, fruit trees, a scented garden and even a beehive. The roof and café/bar are open every day through to September, from 10am until 10pm, and is still the best place to catch a Waterloo sunset, beer in hand.


A very East End take on the flower show, this installation by Hackney florists Grace and Thorn in Bethnal Green's Town Hall hotel promises a floral makeover for the building's Council Chamber. The designers have taken the feel of the room to create a space within a space using the finest plants and flowers. Pop in between 10am and 6pm on Friday May 27.
Want more flora? Check out our guide to London's loveliest secret gardens.