What's up at the docks? Watersports, outdoor sculpture and a music hall.
Why go there?
After the decline of the British shipping industry, the three Royal Docks – Royal Victoria, Royal Albert and King George V – became a neglected part of the East End.
Peter Landers/Courtesy Pangolin London and the Artist's Estate
Wow, you're really selling it.
Wait a second. Things are changing! The area recently underwent a massive revamp and there's plenty of culture to be found. First, visit the futuristic city sustainability exhibition at The Crystal (Siemens Brothers Way). Then make like Johnny Cash and walk The Line, a sculpture trail that runs all the way up to the Olympic site in Stratford. At the docks end of it, you'll find works by Martin Creed and Eduardo Paolozzi.
And it's definitely not all urban desolation?
No, there's actually loads of green space. Thames Barrier Park (Barrier Point Road) boasts wildflower meadows, a riverside promenade and 32 fountains, while Newham City Farm (Stansfeld Road) is home to alpacas and birds of prey. In the summer, a corner of Royal Victoria Dock is transformed into a sandy beach – so cross your fingers for sunshine, pull up a deckchair and kick back.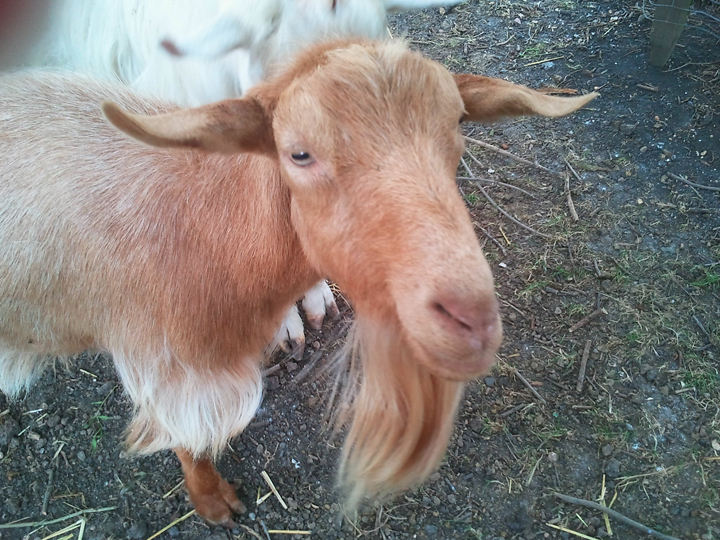 Karen Bryan/flickr
I'm starving. Where can I get a bite to eat?
If you're on a budget, head to Al Masar (Western Gateway) for delicious Lebanese food; it's BYOB, so stop by the Nisa across the road first. Order the roast lamb and the kalaj (baked bread filled with strips of halloumi). Tasty Japanese food can be found at Mino (Western Gateway). And for traditional British fare, there's no better place than the Reach Bar and Kitchen on Albert Basin Way.
How about a nightcap?
Hop aboard The Oiler Bar (Dock Road), an ex-Royal Navy refuelling barge that's been converted into a floating beer garden with stunning views of the docks and Canary Wharf. Or if you'd sooner stay on dry land, pop into the WXYZ bar at the trendy Aloft London Excel hotel (Eastern Gateway) to sip cocktails while listening to acoustic sets by emerging artists.
Since we're in the East End, is there anywhere I can go for a good old cockney knees-up?
You're in luck, me old china. On North Woolwich Road you'll find Brick Lane Music Hall, the UK's only permanent home for traditional music hall entertainment. There are shows on every night.
And if I only do one thing?
Give stand-up paddleboarding a go at WakeUp Docklands in the Royal Victoria Dock – it's the only place in the city that does it.
By Natasha Wynarczyk, who's sick of Uber drivers not being able to find Western Gateway on their satnav.
Fancy a change of scene? Take a look at the best bits of Barnes