The Euro 2016 Championships kick off this Friday, which means London is about to be whipped into a football frenzy. Whether you want to watch the action on a big screen, or just fancy some footie-themed food, we've rounded up the best places to get stuck in.
Euro Bingo
If all that football has got you feeling competitive but you're no good on the pitch, Hoxton Square Bar & Kitchen will be inviting punters to play Euro Bingo in a football-themed bingo hall. It kicks off this Saturday (June 11) and will be running every England game. But don't panic, football fans, they'll also be screening all the games so you won't miss out on any of the action. But you might win a bingo champions cup. 2-4 Hoxton Square, N1 6NU
Tapas Revolution Shoreditch
Unsurprisingly, the folks at Tapas Revolution will be championing Spain in the Euros, serving up plenty of tapas and Estrella Galicia beer by the bucket load (literally – they'll be selling buckets of four Estrella Galicia for £12). They'll also be screening the games on a big screen – and not just the Spanish ones. Tapas Revolution Shoreditch. 58 Bethnal Green Road, E1 8JW.
Urban Food Fest 'Euro Championships' street food market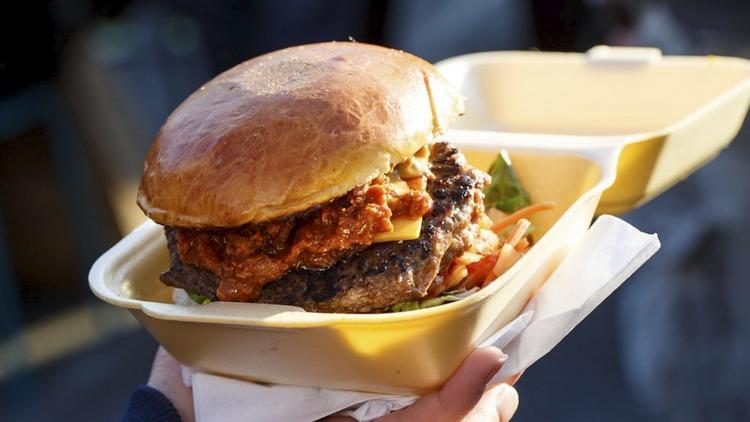 Want to get into the spirit of the game but not that bothered about actually watching it? Head to Urban Food Festival's Euro-themed street food market, where they'll be serving up footie-inspired fare (with slightly tenuous names), including a 'Joe Hart me beef & feta cheese burrito', a 'pulled hamstring pulled pork bun' and 'offside deep fried crispy popcorn chicken with spicy mayo'. Or, you can pledge your allegiance through booze, with a choice of Belgium Vedett IPAs, blond craft beers, English Somerset Orchard Pig cider and football-themed cocktails. Euro Car Parks, 162-167 Shoreditch High Street, E1 6HU. June 11.
Buy-one-get-one-free burritos at Chipotle
If you've convinced your office to show the Euro games, you're going to need some half-time fuel, but a soggy supermarket sandwich just won't do. Luckily, Chipotle is offering buy-one-get-one-free on burritos, burrito bowls, salads and tacos every Thursday throughout June. All you have to do is show up wearing your country's national shirt and you and a pal can get two burritos for the price of one. Or you could just keep them both for yourself.
L.C. at Climpson's Arch
Fancy some upmarket football fare? Hotfoot it over to Climpson's Arch, where chef Leandro Carreira is in residence and will be serving up Portuguese-inspired small plates for the Euros. Forget stale packets of pork scratchings, they'll be cooking up crispy pig's ears, Pica Pau (diced beef with coriander, white wine and vinegar) and squid with smoked seaweed butter. They'll also be screening all the Euro games from Thursdays to Sundays on an outdoor projector – so let's just hope that London's had its rain quota for the month. L.C. at Climpson's Arch, Arch 374 Helmsley Place, Hackney, E8 3SB.
RED market
Sack off your tiny TV and watch the action on a big screen at the RED Market in Shoreditch. As well as screening the games, they'll have street food from Le Bao, Crabbieshack and purveyors of all things unhealthy, We Serve Humans. For the first weekend of the Euros, it's free entry before 7.30pm (or £5 after), so get down there early and bag yourself a good spot. RED Market, 288-299 Old Street, EC1V 9DP.
Koko
Not satisfied with your local pub's screen size? Head to Koko, where they'll be showing all the England games on a 20-foot cinema screen. It kicks off this Saturday, and entry is totally free – you'll just need to register here. Koko. 1A Camden High St, NW1 7JE.
Want more places to watch the Euros? Check out the best football pubs in London.
Or catch the action on one of London's outdoor sports screens.