January can be a cruel month – it's cold, you're broke and everyone's attempting to subsist on green smoothies after the gluttony of the festive period. To save you from yourself (and that sad-looking salad), we've rounded up six places you can get tasty food this month, without breaking the bank.
The folks behind Shoryu Ramen and The Japan Centre are opening new noodle joint Ichiryu, where they'll be serving up hot and cold udon, tempura, rice bowls and sides of steamed hirata buns, salad and miso soup. It's soft launching January 9-10, with a tasty 50 percent off udon and tempura, as well as £5 udon dishes all day (or until they run out) when it officially opens on January 11. 84 New Oxford Street, WC1A 1HB.
Three Cheers pubs
Sack off your plans for #cleaneating and get stuck into some good old fashioned pub grub instead. Three Cheers pubs are offering 50 percent off all food throughout January. And this is a gift that keeps on giving – sign up on their website and you can reuse the voucher as many times as you want throughout the month. Cheers! Various locations, throughout January.
December was all about being on the nice list, but this month Wahaca are rewarding light-fingered Londoners who've been stealing their specially designed spoons. Every year, 5,000 spoons go missing – and to entice thieving folks to give them back, they're offering free tacos for anyone who returns a stolen spoon this January – and you won't even get a slap on the wrist. Who says crime doesn't pay? Various locations, throughout January.
Martina O'Shea
Forget greasy chips and soggy batter – Hook specialises in fish and chips with a twist. The fish is battered in Japanese panko breadcrumbs and you can take your pick from traditional fish, jerk, cuban or cajun – all served with seaweed salted chips. They're offering 50 percent off all food until January 18 – just quote 'hookmeup' when you arrive, and be prepared to stuff your face.
Still working your way through mince pies and leftover stilton? Head to Busaba Eathai for the ultimate antidote to all that festive fare, where you can get 25 percent off all food until January 28. All you have to do is download and pay through the Busaba app. Various locations. Until January 28, Sunday-Thursday.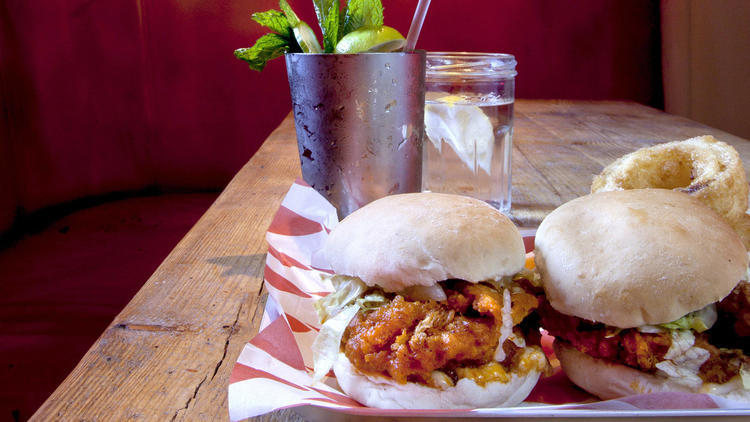 Rob Greig
It's been five years since the meaty maestros behind Meat Liquor first came up with Meat Easy, the original incarnation of Meat Liquor. To celebrate five years of banging burgers, they're giving everyone 50 percent off their bill, which is the perfect excuse to order yourself a Dead Hippy burger AND a chilli dog. Sign up here.
Take a look at ten reasons to sack off the diet this January.
Can't face any more food? Get tips on how to keep fit this winter from London's fitness bloggers.