If you're not familiar with the term Scandi-cool, take a minute to people watch somewhere near the nucleus of British Scandinavia – i.e. & Other Stories – in the Carnaby Street vicinity. Look for the telltale signs: a crisp boxy shirt worn beneath a grey cashmere knit, thick-denim cropped jeans, a cross-body bag too small to fit anything bigger than an iPhone 6, cat-eye sunglasses worn with persistence through grey November. Listen carefully for the words minimalism and aesthetic.
Let's face it, anything Scandinavian is automatically cool: Ikea, ABBA, The Bridge, Tiger (where you can buy a bus-shaped pencil sharpener that you definitely don't need). It's no wonder we have so many H&Ms lined up on Oxford Street – we yearn over the effortlessness that seems to be programmed into Nordic folks since birth. Luckily, you can save yourself the £22 Ryanair flight to Copenhagen you've been thinking about booking since 2014, and visit these Scandi-cool spots without leaving zone 2.
Shop knick-knacks at… thethestore, Hackney
This indie lifestyle store on Hackney Road was designed by Swedish design house Nonuform and stocks an edit of fashion, beauty and homeware (otherwise known as the three pillars of millennial shopping). But seriously, the aesthetic here is on-point and every item has been handpicked by founder Meryl Fernandes.
Drink coffee at… Nordic Bakery, Marylebone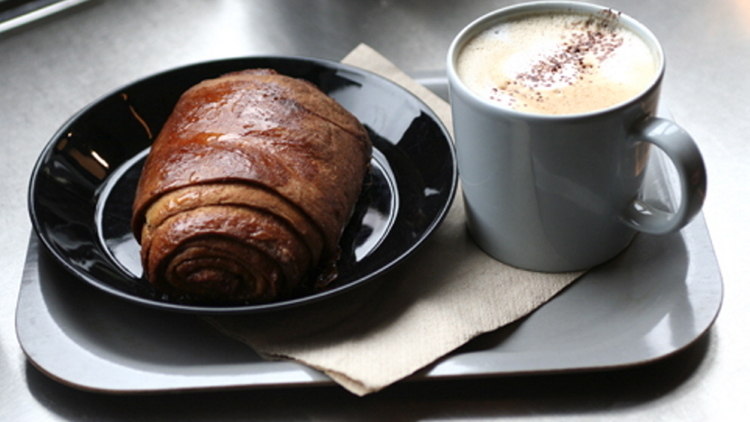 Who said Scandinavian interiors have to be overwhelmingly white? This dark blue dream of a coffee shop can be found in Golden Square and Marylebone, specialising in deliciously rich cinnamon buns and dark rye bread.
Buy a new wardrobe at… Other/SHOP, Soho
Turn your nose up at the holy grail of minimalism – Acne Studios, of course – and acquaint yourself with this painstakingly stylish independent boutique. Both male and female wannabe-Scandinavians can be inspired by Peter Jensen knits, Aries jeans and the layer-friendly own brand.
Eat at… Rök, Islington
A smoked meat-heavy menu featuring duck with lingonberry bacon jam and dark wooden interiors complete with hanging lamps? SO SCANDI.
Kit out your home at… Haus, Victoria Park
Aside from its obviously German name, Haus draws inspiration from the homeware boutiques of Copenhagen. Its colourful furniture and lighting caters to Hackney's newest residents and lovers of contemporary northern European design.
Sip a glass of wine at… Sager + Wilde, Bethnal Green
The head chef may be Australian, but there's rustic European style aplenty in this wine bar and restaurant. Whether you ponder over the award-winning wine list, splash the cash on a tasting menu or sample (just one... or two?) cocktails, you'll find it difficult not to Instagram your Scandi surroundings. If you're already halfway through that bottle of wine, you might just 'accidentally' tag your location as Södermalm.
Here's how to have a Scandinavian Christmas without leaving Zone 2.