As we're into December, you can now officially go totally festive. Where to start? Andy Hill rounds up the most Christmassy places in London
It's the most wonderful time of the year at the South Bank, as its annual Alpine marketplace returns with gingerbread, bratwurst and mulled cider for the bobble-hatted Thames-side masses. The Southbank Centre itself is hosting a busy programme of music including free indoor gigs from regular Queens Walk buskers and live wassailing by a local Southwark kids' choir, plus a Scandi-themed cider lodge in the Hungerford Car Park. To honour the season of giving, there's a chance to contribute alms to the Waterloo Food Bank. It's what Jesus would do. 􀀀Waterloo.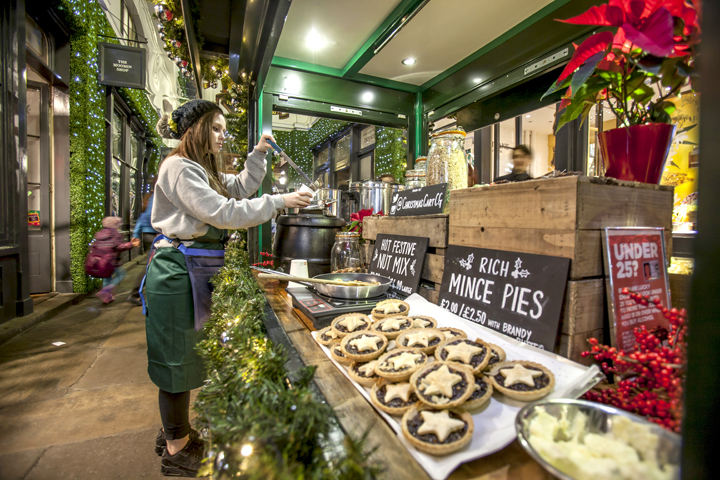 Rob Greig
Surprise that special someone at the covered market, where thickets of three-metre mistletoe chandeliers lure lovestruck Londoners to a sloppy seasonal snog. Fans of spectacle won't be disappointed either because the tallest Christmas tree in London has just been erected in The Piazza, alongside a 22-foot-tall silver reindeer. The Apple Market, WC2E 8RF.
Hoang Viet Photography
Feel positively Dickensian as you saunter down this beautifully preserved Victorian thoroughfare, preferably with something mulled inside you. Best known for its weekly Sunday flower market, Columbia Road is the place to grab a festive fir or a wreath for your door. And every Wednesday until the big day dozens of local independent shops will stay open till 9pm. Grab a thoughtful stocking-filler, such as sweets from vintage confectioner Suck and Chew (no humbugs please). Columbia Rd, E2 7RG. Hoxton Overground.
Life After Print Ltd
It wouldn't be Christmas without a lap or two on London's favourite ice rink. This year Fortnum & Mason is running the show with a classy après-skate eatery offering upmarket scran and tipples from its new botanical bar, alongside popup stalls flogging fine festive fayre. It's not all prim and proper, though. A season of club nights invites you to bust a move to banging tunes from Island Records, Future Disco and others, while DJs from Dalston Superstore spins tracks for tipsy skaters to (literally) get down to. Strand, WC2R 1LA. 􀀀Temple.
Fortnum & Mason
Established in 1707, Fortnum & Mason knows all there is to know about Noël. As official grocer to the Royal Household, the venerable Piccadilly institution can be pricey. A box of six crackers for a grand, anyone? How about 150 quid for an advent calendar? But its famous hampers are as classy as it gets and not always ruinously expensive: the Winter Warmer basket of pudding, posh tea, preserves and port will dazzle even the pickiest in-laws for a relatively modest £55. 181 Piccadilly, W1A 1ER. 􀀀 Green Park or Piccadilly Circus.
The Grinch would have a real job stealing all the Christmas from Hyde Park's massive tribute to festive fun. At Winter Wonderland you can wander through the cosy Christmas markets, skate on the biggest outdoor ice rink in the country and go to not one but two family-friendly circuses. Plus there's the magical ice kingdom filled with mythical frozen beasts, illuminated fairground rides and a selection of themed-bars with real fires. Just be prepared to hear those songs on repeat. Until Jan 3. Hyde Park. 􀀀 Queensway, Hyde Park Corner, South Kensington or Lancaster Gate.
© Andrew Firth
Love Christmas music? Make a pilgrimage to God's own venue for a varied December programme of candlelit treats including the baroque splendour of Handel's Messiah ('Haaaallelujah!'), free carol concerts and toe-tapping, cheesy pop covers of Wham!, Slade et al courtesy of 'Yule Rock - The Ultimate Christmas Singalong'. The 'Winter Warmers: Christmas Fair' (December 13) promises mince pies, a chance to make your own tree decorations and seasonal singing along to handy on-screen lyrics. It's like midnight mass but with booze and no pressure to sit with your gran. Compton Terrace, N1 2UN. 􀀀Highbury & Islington.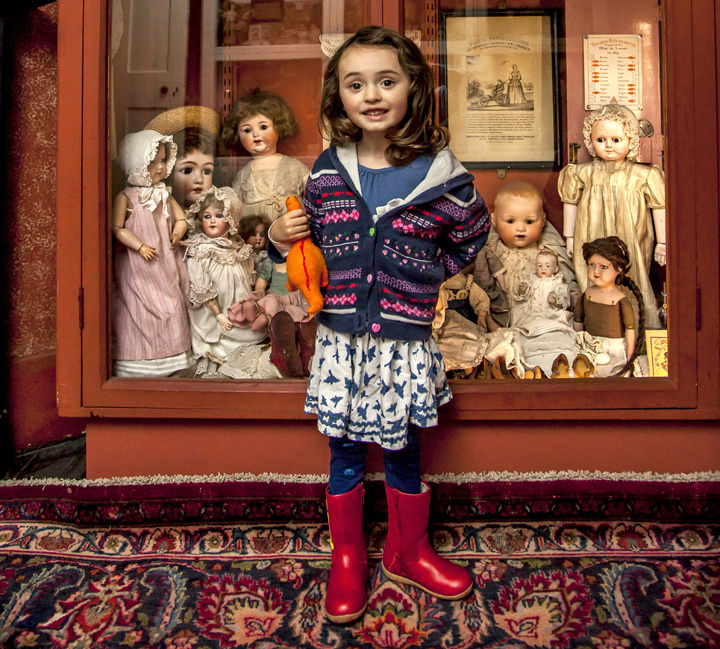 Rob Greig
Once upon a time, long before Anna-and-Elsa were emblazoned on every present under the tree, East End craftsman Benjamin Pollock delighted ruddy-cheeked Victorian urchins with miniature puppet theatres. His spirit is alive and well at this Covent Garden emporium specialising in exquisitely crafted marionettes, music boxes and advent calendars. Once you're bitten by the old-timey-toy bug, wander up to Pollock's Toy Museum in Fitzrovia, home to fascinating antique curios like Eric, the world's oldest teddy bear. Shop: 44 The Market, WC2E 8RF. Covent Garden. Museum: 1 Scala St, W1T 2HL. 􀀀Tottenham Court Rd.
Countdown to Christmas with our advent events calendar.
Prep your stomach for the big day with these Christmas burgers.