It's been a couple of weeks and the sun's still (mostly) holding up! Here's everything you need to know about partying outdoors in London this summer – on land, on sand or in the sky.
Rooftop parties
The Queen of Hoxton's party-friendly Shoreditch rooftop is open again for the summer, with a trippy Summer of Love theme. Head up on any day of the week for food, fun and flower power – psychedelic ice-cream sandwich, anyone? And check out the venue website for details of special events.
Ever-hip Parisian electro label Kitsuné hosts a day-to-night party across two venues in Shoreditch. Spend sunset with tropical house DJs on the alfresco dancefloor at The Magic Roundabout (located in the middle of the Old Street gyratory), then stroll down the road to the Ace Hotel for further shenanigans indoors.
Art's House returns this summer with a series of day-and-night parties. Daytime sessions take place at The Magic Roundabout (except July 9: a boat party!) Then after each event, it's back to XOYO for a heads-down afterparty.
…or check out even more rooftop parties.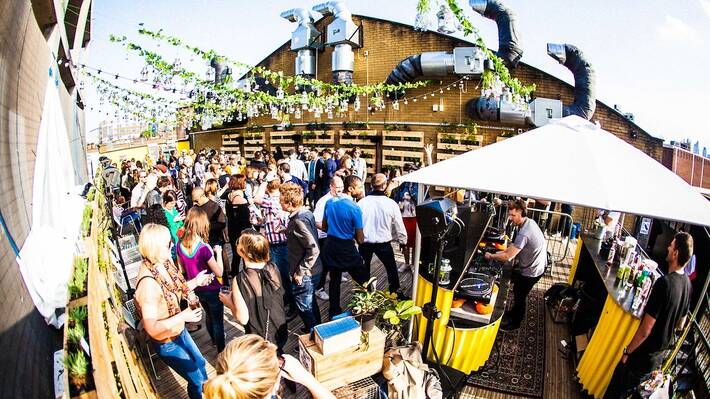 Outdoor parties
Krankbrother Present Day And Night Terrace Party
Vinyl obsessive DVS1 headlines this 14-hour party, flanked by Night Moves founder Jane Fitz, techno softy Erdemin and the Krankbrother siblings.
The series of all-day reggae and bass sessions at Tottenham's prime party yard wraps up this week with a DJ set from Island-signed reggae singer Kiko Dan. Fuel up on food and drink from Mama's Jerk, Loven and Wray & Nephew too.
East London Summer Solstice Party
Located canalside in Hackney Wick, the ace and versatile Shapes venue will be a destination all summer. One to look out for is this solstice-celebrating weekender, featuring foodie fun plus excellent, disco-tinged producer The Revenge.
Sizey Greenwich club Studio 338 is opening a huge beach arena this summer, comprising 180 tonnes of sand, sunbathing decks, hammocks and cabanas. No doubt making great use of this new terrain, Barcelona party experts Elrow are back for a high-production daytime shindig themed on Barcelona's traditional Feria de Abril.
…or check out even more outdoor parties.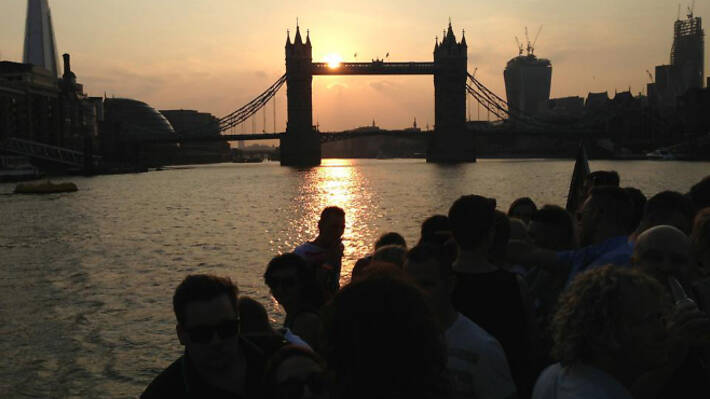 Boat parties
From the people behind The Blitz Party, here's a nautical soirée aboard a boat decked out like a 1930s ocean liner. Dine finely like the upper classes in the early twentieth century, while dressed in your best suits, silks and furs.
Electro hip hop and ragga duo The Nextmen lead a Doctor's Orders party that's sure to be full of mammoth basslines and nautical mischief. Get ready to do some bouncing – just don't go overboard, literally.
Tropicalista Thames Boat Party
Take to the waves with two of London's most globetrotting club nights: Arriba La Cumbia and Movimientos, dropping Latin and Brazilian beats, samba, merengue, ghetto bass and baile funk.
Step aside, Boaty McBoatface –it's time to set sail on Bangy McBangface! Borderline lunatic rave revivalists Bang Face take to the Thames for their annual boat party, promising an all-out acid/jungle/techno/breakcore assault until 2am. Dress code: 'Ravid Attenborough'.
…or check out even more great boat parties.