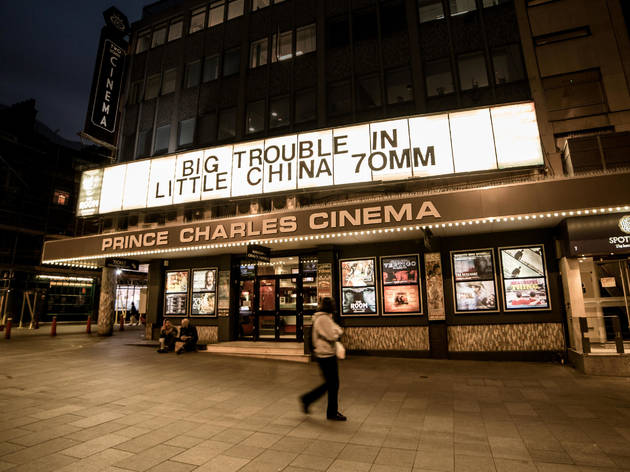 The legendary Prince Charles Cinema in Leicester Square is central London's wild-card cinema. Its two screens offer a fantastic blend of new-ish blockbusters, independent and arthouse titles with horror, sci-fi and teen-flick all-nighters, double bills and short seasons. The basic premise of the cinema is, 'If they can screen it, they will'. Akira Kurosawa seasons run alongside strands celebrating the performances of Greta Gerwig and Richard Pryor; epic 70mm presentations of '2001: A Space Odyssey' run take place in one screen while people aca-alonged to 'Pitch Perfect' in the other, and if you've ever fancied watching every 'Harry Potter' films back-to-back in one 22-hour sitting, yep, they do that too.
It's comfy, cheap and very cheerful, and the programming is as good as it gets. Voted 'best for fun' in Time Out's cinema awards, it's also Quentin Tarantino and Paul Thomas Anderson's favourite UK cinema.
Venue name:
Prince Charles Cinema
Contact:
Address:
7 Leicester Place
London
WC2H 7BP

Transport:
Tube: Leicester Sq
Do you own this business?
The second sequel to Tim Burton's 1989 blockbuster makes its predecessors appear models of subtlety and coherence. In theory the film marks a new lease of life for the caped crusader (new star, new faces, new director); in practice everything abou...

Read more

No sooner has Marty McFly (Fox) returned to 1985, than Doc Brown (Lloyd) turns up to whisk him and perfunctory romantic interest Jennifer (Shue) off to 2015, in order to prevent grown-up Marty's kids going to jail. Meanwhile, mean old man Biff Tan...

Read more

The fourth Bat-flick finds this juvenile franchise running on empty. Oozing insincerity and perplexed paternalism, Clooney plays Batman as an irrelevant bystander. Screenwriter Akiva Goldman sets up a 'revenge of nature' theme, with Schwarzenegger...

Read more

John Nada (Piper) is grouchy because ever since he arrived in Los Angeles from Colorado, there's been nothing but trouble. People are rude, he lives on a campsite, and then the place is demolished by the cops. Things get worse when he happens acro...

Read more

Lynch has toiled to condense Frank Herbert's mammoth SF novel into two hours twenty: the life-and-death struggle between the Atreides and Harkonnens for the vital spice melange takes place on a third planet - Arrakis, the desert planet, home to th...

Read more

The laughs keep coming even when the music numbers and plot fall short in 'Popstar: Never Stop Never Stopping'. This is the second film from YouTube comedy trio The Lonely Island (collaborators and ex high school buddies Andy Samberg, Jorma Taccon...

Read more

Perhaps Kubrick's most perfectly realised film, simply because his cynical vision of the progress of technology and human stupidity is wedded with comedy, in this case Terry Southern's sparkling script in which the world comes to an end thanks to ...

Read more

'Listen, you fuckers, you screwheads, here is a man who would not take it any more…' Re-released at a time when the grievances of white men are once more setting the world agenda, Martin Scorsese's unflinching plunge into the darkest recesses of t...

Read more
The Ultimate Harry Potter Marathon

Come and have a go if you think you're wiz-ard enough at this all-night Harry Potter marathon at the Prince Charles Cinema. The films will begin with 'Philosopher's Stone' at 8.30pm on bank holiday Sunday, and will run right through the night until 5.25am...

Film events

Sunday May 26 2019 - Sunday July 28 2019
Average User Rating
4.5 / 5
Rating Breakdown
5 star:

16

4 star:

11

3 star:

1

2 star:

0

1 star:

0
It does't matter if you are looking to watch the newest blockbuster, or a cult film from the 80s, because the Prince Charles has got it all. Their calendar is packed full of events, from premieres to 35mm screenings, from pajama parties to sing-alongs. With a fantastic concession stand that sells everything from salted popcorn to alcoholic beverages, the Prince Charles is a must for any cinephile.
I highly recommend their member pass that is only £10 a year. The member pass offers a special £1 Sunday show, as well as discounts on nearly every film playing throughout the year.
The best independent cinema ever!!
One of my favorites cinemas when it come to seeing those classics that we all grew up with.
So far I've seen 'Home Alone', 'Gremlins', 'Alien', 'Lord of the Ring' and the latest one (and it's already a tradition) was 'Elf' Quote along.
The staff makes every thing very friendly and fun and you feel at home and as a kid again.
Vintage art house cinema showcasing a great range of recently released European and International films.
We very much enjoyed 'Raleigh Ritchie Presents'. The format of the evening was a great idea: first Raleigh's "old" music video, then one of his favourite films "eternal sunshine of the spotless mind", his new music video and a Q&A. It was insightful to learn more about how music videos are made. I had not seen the film before, so it was great seeing it on the big screen. The cinema has friendly staff and comfy seats. I'd very much like to go to more of these events :)
'Raleigh Ritchie Presents' was a great evening, looking into the two different music videos he had made for his single Blood Sport, a Q&A with Raleigh himself and the team that put the music video together and in the middle of it all a viewing of the classic film Eternal Sunshine Of The Spotless Mind.
It was an entertaining evening because it was great to get an insight into how music videos are made and that Raleigh was such an enthusiast and likeable guy, completely different to the character he plays in Game Of Thrones. I was also surprised about how much I enjoyed seeing Eternal Sunshine again but this time on the big screen in such a nice cinema. It was only a shame that people seemed to shy away from asking questions in the Q&A.
We really enjoyed the full evening and the presentation of Raleigh Ritchie new video. Great atmosphere and cinema! Definitely coming back. X
Snap up exclusive discounts in London
Time Out's handpicked deals — hurry, they won't be around for long...