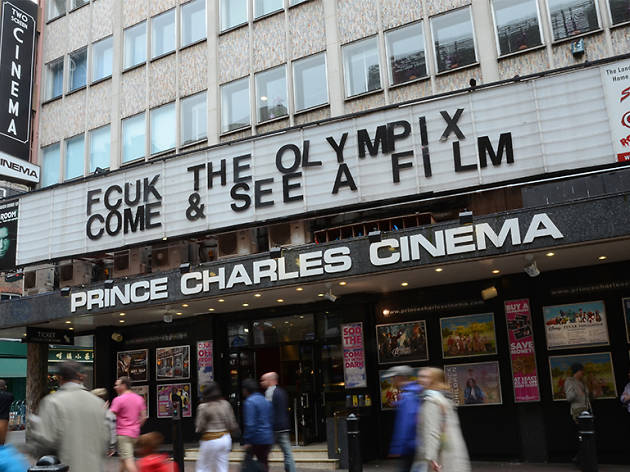 The Prince Charles in Leicester Square is the only cinema in London where no one is going to shush you. In fact, it's all about audience participation. Aca-along to 'Pitch Perfect', sing-along to 'Frozen' or get on your best jimjams and settle in for a marathon all-night pajama party. The Prince Charles started life as a porn cinema and it's still central London's wild card cinema. The programme isn't quite as sleazy as it might've been 40 years ago, but it's still a fantastic blend of new-ish blockbusters and arthouse titles with heaps of horror, sci-fi and teen-flick all-nighters, double bills and short seasons, often screened from 16mm or 35mm celluloid. Luxurious it ain't, but it's comfy, cheap and very cheerful, and the programming is as good as it gets. Voted 'best for fun' in Time Out's cinema awards.
Venue name:
Prince Charles Cinema
Contact:
Address:
7 Leicester Place
London
WC2H 7BP

Transport:
Tube: Leicester Sq
Do you own this business?
Werner Herzog's mad masterpiece from 1972 still has its hallucinatory charge. Its star, Klaus Kinski, terrorised his fellow cast and crew, and in its own way 'Aguirre' has become cinema legend (director Herzog says the only way he could keep Kinsk...

Read more

Amid all the shifting mirrored surfaces and hazy ambiguities of Olivier Assayas's bewitching, brazenly unconventional ghost story, this much can be said with certainty: Kristen Stewart has become one hell of an actress. The former 'Twilight' star ...

Read more

At the start of 'Elle', the final credit to appear in the darkness (over the sounds of fucking) tells us that we're about to watch a Paul Verhoeven film. Really? Call it a delicious redundancy. 'Elle' might just be the most Verhoeveny film yet, du...

Read more

A prodigiously talented cast is drowned out by a cacophony of gunshots in 'High-Rise' director Ben Wheatley's entertainingly absurd riff on a 'Reservoir Dogs'-style crooks 'n' quips caper. It's the kind of guns-blazing free-for-all that might be d...

Read more

The first miracle of Barry Jenkins's exquisite coming-of-age drama 'Moonlight' – and this heartbreaker of a film is filled with miracles – happens around a kitchen table. We've already seen quiet, sullen Chiron (Alex Hibbert), a 10-year-old with f...

Read more

The British explorer Percy Fawcett – driven crazy by his obsession to find a lost Amazonian city – vanished in the jungle in 1925. His story has everything you could possibly want in an adventure tale: treacherous colleagues, cannibals with bubbli...

Read more

Masterfully addressing the American racial divide – past and present – director Raoul Peck's six-years-in-the-making documentary, 'I Am Not Your Negro' thrums with a sense of history repeating itself. It's inspired by 30 pages from the writer and ...

Read more
Average User Rating
4.5 / 5
Rating Breakdown
5 star:

10

4 star:

8

3 star:

1

2 star:

0

1 star:

0
The best independent cinema ever!!
Worth becoming a member for £10/£7.50 p.a. for the member screenings alone (£1) - and a reduction on the bar prices! Generally the cinema area itself feels a little "tired" but excellent value for money, friendly staff and wonderful sing-along parties.
Vintage art house cinema showcasing a great range of recently released European and International films.
We very much enjoyed 'Raleigh Ritchie Presents'. The format of the evening was a great idea: first Raleigh's "old" music video, then one of his favourite films "eternal sunshine of the spotless mind", his new music video and a Q&A. It was insightful to learn more about how music videos are made. I had not seen the film before, so it was great seeing it on the big screen. The cinema has friendly staff and comfy seats. I'd very much like to go to more of these events :)
'Raleigh Ritchie Presents' was a great evening, looking into the two different music videos he had made for his single Blood Sport, a Q&A with Raleigh himself and the team that put the music video together and in the middle of it all a viewing of the classic film Eternal Sunshine Of The Spotless Mind.
It was an entertaining evening because it was great to get an insight into how music videos are made and that Raleigh was such an enthusiast and likeable guy, completely different to the character he plays in Game Of Thrones. I was also surprised about how much I enjoyed seeing Eternal Sunshine again but this time on the big screen in such a nice cinema. It was only a shame that people seemed to shy away from asking questions in the Q&A.
We really enjoyed the full evening and the presentation of Raleigh Ritchie new video. Great atmosphere and cinema! Definitely coming back. X