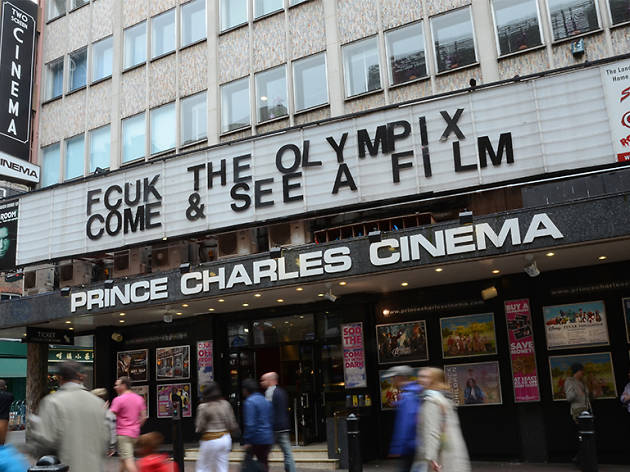 The Prince Charles in Leicester Square is the only cinema in London where no one is going to shush you. In fact, it's all about audience participation. Aca-along to 'Pitch Perfect', sing-along to 'Frozen' or get on your best jimjams and settle in for a marathon all-night pajama party. The Prince Charles started life as a porn cinema and it's still central London's wild card cinema. The programme isn't quite as sleazy as it might've been 40 years ago, but it's still a fantastic blend of new-ish blockbusters and arthouse titles with heaps of horror, sci-fi and teen-flick all-nighters, double bills and short seasons, often screened from 16mm or 35mm celluloid. Luxurious it ain't, but it's comfy, cheap and very cheerful, and the programming is as good as it gets. Voted 'best for fun' in Time Out's cinema awards.
Venue name:
Prince Charles Cinema
Contact:
Address:
7 Leicester Place
London
WC2H 7BP

Transport:
Tube: Leicester Sq
Do you own this business?
Fun. It's a crucial but often overlooked element in a summer blockbuster comic-book adaptation and it's in 'Hellboy' by the spadeload. How could it not be when the central figure is a grouchy 60-year-old adolescent seven-foot half-human devil wi...

Read more

Playing it more low key and less brash than in 'Marie Antoinette', Sofia Coppola is back in another rarefied world for her fourth feature and her first on home turf since 'The Virgin Suicides'. This time she swaps Versailles for Sunset Boulevard a...

Read more

Heckerling still appears to edit her movies by random select, and, despite reference to Jane Austen's Emma, her narrative is anorexic; but this satiric portrait of California rich kids has plenty of charm and wit, and a winning central performance...

Read more

Is it possible to make a film that evokes both 'Barry Lyndon' and 'National Lampoon's European Vacation'? Sofia Coppola has had a decent stab at it. Her schtick in writing and directing this dreamy evocation of the Versailles life of Marie Antoine...

Read more

'All events and characters in the film are entirely sick, any resemblance to persons living or dead is a sad coincidence.' As disclaimers go, that's on the nail: Miike's adaptation of Hideo Yamamoto's notorious manga is alarmingly faithful. Which ...

Read more

On paper, with its fascinating premise - a helmet-like device to enable people to experience other people's experiences - this has a lot going for it. On screen, however, it's an interesting and ambitious package that doesn't quite work. Use of th...

Read more

'You are relentlessly annoying,' barks arms dealer Ed Skrein to Ryan Reynolds's wisecracking, fetish-clad anti-superhero midway through this latest romp inspired by a Marvel comic. It's an insult that applies just as easily to the film itself. Blo...

Read more

Decadence is both the subject and the style in 'Oldboy' director Park Chan-wook's elegant, intensely romantic adaptation of Sarah Waters's spicy bestseller 'Fingersmith'. Shifting the action from Victorian England to pre-war Korea under Japanese r...

Read more

'I demand satisfaction!' These words echo throughout Stanley Kubrick's sedate, sumptuous eighteenth-century satire, as men in outrageous frocks challenge one another to pistols at dawn over matters of love and honour. But any audience member who g...

Read more
Average User Rating
4.5 / 5
Rating Breakdown
5 star:

12

4 star:

8

3 star:

1

2 star:

0

1 star:

0
The best independent cinema ever!!
Vintage art house cinema showcasing a great range of recently released European and International films.
We very much enjoyed 'Raleigh Ritchie Presents'. The format of the evening was a great idea: first Raleigh's "old" music video, then one of his favourite films "eternal sunshine of the spotless mind", his new music video and a Q&A. It was insightful to learn more about how music videos are made. I had not seen the film before, so it was great seeing it on the big screen. The cinema has friendly staff and comfy seats. I'd very much like to go to more of these events :)
'Raleigh Ritchie Presents' was a great evening, looking into the two different music videos he had made for his single Blood Sport, a Q&A with Raleigh himself and the team that put the music video together and in the middle of it all a viewing of the classic film Eternal Sunshine Of The Spotless Mind.
It was an entertaining evening because it was great to get an insight into how music videos are made and that Raleigh was such an enthusiast and likeable guy, completely different to the character he plays in Game Of Thrones. I was also surprised about how much I enjoyed seeing Eternal Sunshine again but this time on the big screen in such a nice cinema. It was only a shame that people seemed to shy away from asking questions in the Q&A.
We really enjoyed the full evening and the presentation of Raleigh Ritchie new video. Great atmosphere and cinema! Definitely coming back. X
Media is no longer visible.