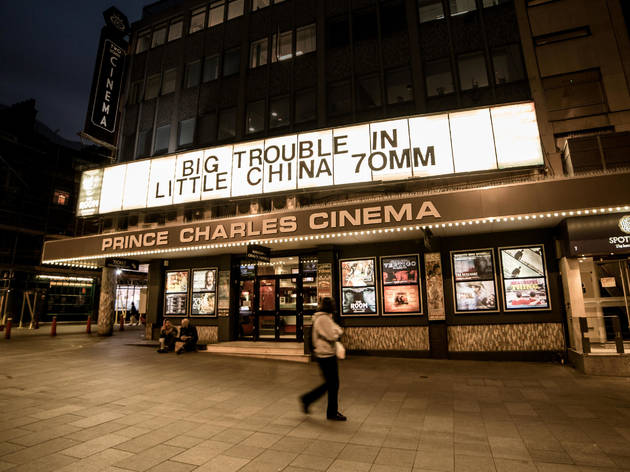 The legendary Prince Charles Cinema in Leicester Square is central London's wild-card cinema. Its two screens offer a fantastic blend of new-ish blockbusters, independent and arthouse titles with horror, sci-fi and teen-flick all-nighters, double bills and short seasons. The basic premise of the cinema is, 'If they can screen it, they will'. Akira Kurosawa seasons run alongside strands celebrating the performances of Greta Gerwig and Richard Pryor; epic 70mm presentations of '2001: A Space Odyssey' run take place in one screen while people aca-alonged to 'Pitch Perfect' in the other, and if you've ever fancied watching every 'Harry Potter' films back-to-back in one 22-hour sitting, yep, they do that too.
It's comfy, cheap and very cheerful, and the programming is as good as it gets. Voted 'best for fun' in Time Out's cinema awards, it's also Quentin Tarantino and Paul Thomas Anderson's favourite UK cinema.
Venue name:
Prince Charles Cinema
Contact:
Address:
7 Leicester Place
London
WC2H 7BP

Transport:
Tube: Leicester Sq
Do you own this business?
Arnie's the dad running round town trying to buy his son an action man toy for Christmas, but they're all sold out. And that's about it. This valiantly hypocritical, uninflected movie keeps its most cynical role for the 'good father' Ted (Hartman)...

Read more

Eight or nine plotlets, a castlist the size of a rugby scrum. Whatever persuaded first-time director Curtis that he could handle this lot, we can only hope that a hype-happy press and the biggest audience money can buy won't persuade him he's carr...

Read more

A treat from Hollywood's most unlikely Midas: an original fairy tale, screenplay by Caroline Thompson from a story and characters created by Tim Burton, adapted by Michael McDowell and told in stop-motion animation with a lively score by Danny E...

Read more

A hi-tech thriller with a human heart, offering slam-bang entertainment on a par with Lethal Weapon or Aliens. On Christmas Eve, visiting New York cop McClane (Willis) enters the high-rise LA office block where his estranged wife works, not realis...

Read more

In this classy all-action thriller, Mel Gibson oozes charm the way his victims ooze blood. As a Vietvet-turned-cop, his only talent is for killing: since his wife's death in a road accident, he's known to his LAPD colleagues as a man with a death ...

Read more

In update on the Dickens classic, with Murray as a miserly TV network president who rejoins the human race following spectral visitations. The tone is set by a machine-gun assault on Santa's North Pole toy workshop and the timely arrival of the fi...

Read more

The only Yuletide favourite to pivot around an attempted suicide, Capra's post-war fable is a fascinating melange of social and personal impulses and the questionable charms of home. James Stewart is impeccable as George Bailey, the Bedford Falls ...

Read more

In a year with no Baz Luhrmann movie, 'The Greatest Showman' fills the gap with a big, brassy, unashamedly over-the-(big)-top circus musical with one eye on the multiplex and one on the pop charts. As befits an origin story for legendary American ...

Read more
Christmas at the Prince Charles Cinema

Thanks to the Prince Charles Cinema, you won't get bored this December. Their extensive list of Christmas film screenings spans everything from the classics to alternative Christmas favourites. Purists can get their fix of 'It's a Wonderful Life' and...

Film events

Until Wednesday December 26 2018

'Elf' Quote Along

Watched 'Elf' so many times you could recite the script? Use your niche knowledge to shout out all your fave lines at this special screening. There'll also be a fancy dress competition on the night, so be sure to wear your best elf outfit. You'd be a...

Film events

Until Monday December 24 2018
Average User Rating
4.5 / 5
Rating Breakdown
5 star:

16

4 star:

11

3 star:

1

2 star:

0

1 star:

0
It does't matter if you are looking to watch the newest blockbuster, or a cult film from the 80s, because the Prince Charles has got it all. Their calendar is packed full of events, from premieres to 35mm screenings, from pajama parties to sing-alongs. With a fantastic concession stand that sells everything from salted popcorn to alcoholic beverages, the Prince Charles is a must for any cinephile.
I highly recommend their member pass that is only £10 a year. The member pass offers a special £1 Sunday show, as well as discounts on nearly every film playing throughout the year.
The best independent cinema ever!!
One of my favorites cinemas when it come to seeing those classics that we all grew up with.
So far I've seen 'Home Alone', 'Gremlins', 'Alien', 'Lord of the Ring' and the latest one (and it's already a tradition) was 'Elf' Quote along.
The staff makes every thing very friendly and fun and you feel at home and as a kid again.
Vintage art house cinema showcasing a great range of recently released European and International films.
We very much enjoyed 'Raleigh Ritchie Presents'. The format of the evening was a great idea: first Raleigh's "old" music video, then one of his favourite films "eternal sunshine of the spotless mind", his new music video and a Q&A. It was insightful to learn more about how music videos are made. I had not seen the film before, so it was great seeing it on the big screen. The cinema has friendly staff and comfy seats. I'd very much like to go to more of these events :)
'Raleigh Ritchie Presents' was a great evening, looking into the two different music videos he had made for his single Blood Sport, a Q&A with Raleigh himself and the team that put the music video together and in the middle of it all a viewing of the classic film Eternal Sunshine Of The Spotless Mind.
It was an entertaining evening because it was great to get an insight into how music videos are made and that Raleigh was such an enthusiast and likeable guy, completely different to the character he plays in Game Of Thrones. I was also surprised about how much I enjoyed seeing Eternal Sunshine again but this time on the big screen in such a nice cinema. It was only a shame that people seemed to shy away from asking questions in the Q&A.
We really enjoyed the full evening and the presentation of Raleigh Ritchie new video. Great atmosphere and cinema! Definitely coming back. X
Snap up exclusive discounts in London
Time Out's handpicked deals — hurry, they won't be around for long...