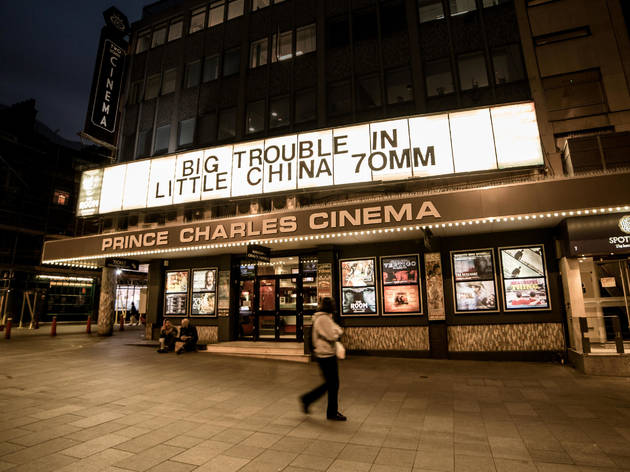 The legendary Prince Charles Cinema in Leicester Square is central London's wild-card cinema. Its two screens offer a fantastic blend of new-ish blockbusters, independent and arthouse titles with horror, sci-fi and teen-flick all-nighters, double bills and short seasons. The basic premise of the cinema is, 'If they can screen it, they will'. Akira Kurosawa seasons run alongside strands celebrating the performances of Greta Gerwig and Richard Pryor; epic 70mm presentations of '2001: A Space Odyssey' run take place in one screen while people aca-alonged to 'Pitch Perfect' in the other, and if you've ever fancied watching every 'Harry Potter' films back-to-back in one 22-hour sitting, yep, they do that too.
It's comfy, cheap and very cheerful, and the programming is as good as it gets. Voted 'best for fun' in Time Out's cinema awards, it's also Quentin Tarantino and Paul Thomas Anderson's favourite UK cinema.
Venue name:
Prince Charles Cinema
Contact:
Address:
7 Leicester Place
London
WC2H 7BP

Transport:
Tube: Leicester Sq
Do you own this business?
Varda's tribute to her husband Jacques Demy, who died in 1990, takes the form of a fictional reconstruction of the boy Jacquot's childhood, deriving its sense of authenticity not only from being shot in the real locations where Demy grew up, but f...

Read more

A quiet New York computer programmer (Dunne) travels downtown to SoHo for a vaguely arranged date. Losing his taxi fare en route is only the first of the night's many increasingly menacing situations, with neurotic New Yorkers all apparently deter...

Read more

Having annoyed Carroll purists in 1951 with his cartoon version of Alice in Wonderland, Disney went on to exasperate Barrie fans by using American boy star Bobby Driscoll's voice for Peter Pan, modelling the usually unseen Tinkerbell on Marilyn Mo...

Read more

Lynch has toiled to condense Frank Herbert's mammoth SF novel into two hours twenty: the life-and-death struggle between the Atreides and Harkonnens for the vital spice melange takes place on a third planet - Arrakis, the desert planet, home to th...

Read more

'You was my brudda. You shoulda looked out for me a little bit… I coulda been a contender. I coulda been somebody, instead of a bum…' When the washed-up Jake La Motta (Robert De Niro) quotes 'On The Waterfront' to himself, it tells us as much abou...

Read more

Anderson's meandering multi-story megasoap with a message is over-ambitious, self-conscious, self-indulgent, self-important and clumsy into the bargain. But it's also one of the most enthralling and exhilarating American movies in ages. Much in th...

Read more

New version of the classic musical, which allows audiences to follow the words on screen and deafen fellow cinema-goers with impromptu renditions of all of the hits. The story centres on Danny Zuko and Sandy Olsson, the bad boy and the good girl w...

Read more

In a year with no Baz Luhrmann movie, 'The Greatest Showman' fills the gap with a big, brassy, unashamedly over-the-(big)-top circus musical with one eye on the multiplex and one on the pop charts. As befits an origin story for legendary American ...

Read more

The serene yet forceful presence of tiny US Supreme Court powerhouse Ruth Bader Ginsburg – now 85 years strong – is a spectacle in itself, played to the hilt in Julie Cohen and Betsy West's you-go-girl profile. Ginsburg does push-ups! She appears ...

Read more
Average User Rating
4.5 / 5
Rating Breakdown
5 star:

16

4 star:

11

3 star:

1

2 star:

0

1 star:

0
It does't matter if you are looking to watch the newest blockbuster, or a cult film from the 80s, because the Prince Charles has got it all. Their calendar is packed full of events, from premieres to 35mm screenings, from pajama parties to sing-alongs. With a fantastic concession stand that sells everything from salted popcorn to alcoholic beverages, the Prince Charles is a must for any cinephile.
I highly recommend their member pass that is only £10 a year. The member pass offers a special £1 Sunday show, as well as discounts on nearly every film playing throughout the year.
The best independent cinema ever!!
One of my favorites cinemas when it come to seeing those classics that we all grew up with.
So far I've seen 'Home Alone', 'Gremlins', 'Alien', 'Lord of the Ring' and the latest one (and it's already a tradition) was 'Elf' Quote along.
The staff makes every thing very friendly and fun and you feel at home and as a kid again.
Vintage art house cinema showcasing a great range of recently released European and International films.
We very much enjoyed 'Raleigh Ritchie Presents'. The format of the evening was a great idea: first Raleigh's "old" music video, then one of his favourite films "eternal sunshine of the spotless mind", his new music video and a Q&A. It was insightful to learn more about how music videos are made. I had not seen the film before, so it was great seeing it on the big screen. The cinema has friendly staff and comfy seats. I'd very much like to go to more of these events :)
'Raleigh Ritchie Presents' was a great evening, looking into the two different music videos he had made for his single Blood Sport, a Q&A with Raleigh himself and the team that put the music video together and in the middle of it all a viewing of the classic film Eternal Sunshine Of The Spotless Mind.
It was an entertaining evening because it was great to get an insight into how music videos are made and that Raleigh was such an enthusiast and likeable guy, completely different to the character he plays in Game Of Thrones. I was also surprised about how much I enjoyed seeing Eternal Sunshine again but this time on the big screen in such a nice cinema. It was only a shame that people seemed to shy away from asking questions in the Q&A.
We really enjoyed the full evening and the presentation of Raleigh Ritchie new video. Great atmosphere and cinema! Definitely coming back. X
Snap up exclusive discounts in London
Time Out's handpicked deals — hurry, they won't be around for long...